Productivity Boosting Methods for a Remote Team
Featured Best Practice on Virtual Teams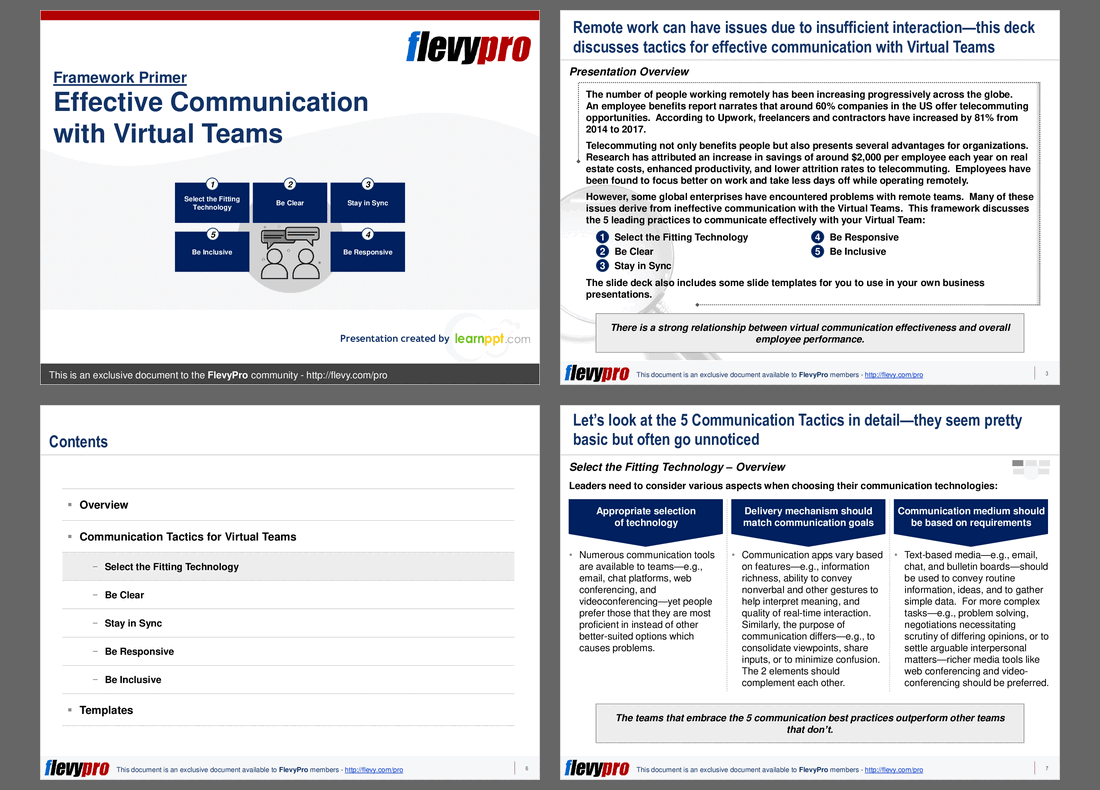 23-slide PowerPoint presentation
The number of people working remotely has been increasing progressively across the globe. An employee benefits report narrates that around 60% companies in the US offer telecommuting opportunities. According to Upwork, freelancers and contractors have increased by 81% from 2014 to 2017.
[read more]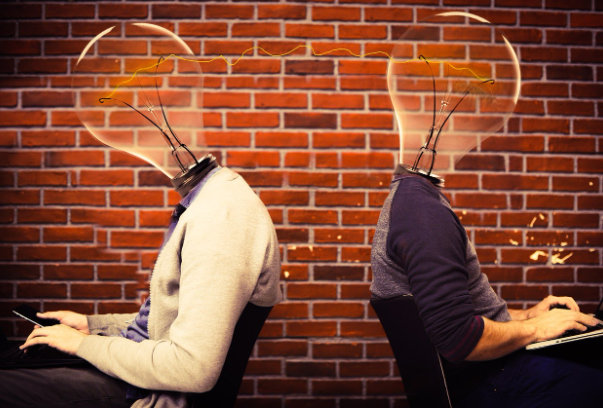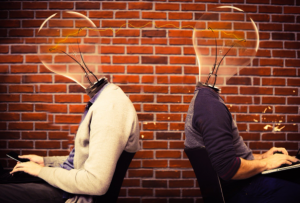 While remote work is not a new trend, COVID-19 has changed the situation. Even companies that were not considering telecommuting had to adapt to the new circumstances or lose their profits. According to the recent research, during the lockdown 88% of companies moved their operations online.
Some aspects of the workflow were easy to adjust; some others, including work effectiveness took a considerable hit.
Here we gathered 5 tips that will help you to improve remote work productivity:
Adopt right Collaboration software
Arming your team with the right tools is a half way to boost productivity. Most likely, you've been using communication software before, but remote work calls for additional tools. Project management software like Jira or Trello will help you to have a clear overview of all the projects, see the dependencies and improve team collaboration.  When it comes to working on internal files, Google suite may not be the best solution as they bring security concerns ( i.e. permissions to share can be given only to individual email addresses). On the other hand, using the local storage and open access only via VPN can slow down the work. Remote file server solutions like Gladinet can optimize collaboration on files over the internet, enhancing the security as they are compliant with.
With the availability of market options, you can choose the software that would correspond to all your business goals and support integrations with the tools that are already in place to make your team more productive.
Support and guidance
For the majority of employees who are not used to distant work, it may be difficult to adjust to the new circumstances. So having clear instructions on how to properly arrange the working environment and how to configure remote desktop connection, and other internal software setup will facilitate the process of shifting to remote work for your employees.  Also, the clear documentation and description of the flows will help during onboarding of new members. Encourage your workers to report any issues occurring to the remote work and offer them advice on organizational matters to spot and eliminate the work blockers. Creating a separate channel in a corporate messenger for sharing productivity tips and lifehacks can help people to adapt faster.
Reduce the number of meetings
While meetings are a great way to boost communication as it's much faster to discuss, work from home dragged attention to the other side of meetings. If you overuse them, it can have an opposite effect, as people are distracted from their primary responsibilities and lose the focus. Spending half a day in meetings may result in overworking hours and emotional burndown. Make sure to avoid meetings for the sake of meetings, and use messages when it's possible. All the meetings that you decide to keep need to serve some purpose, have a clear agenda, and participants who are directly involved in a matter under discussion. It will help to avoid passive listeners. After any meeting there should be action items and a short summary to make sure everyone is on the same page and understands what needs to be done.
Track the progress
One of the options is enabling time trackers to monitor the progress. It works well for big companies where it's impossible to see what everyone is doing, but unfortunately, it does not guarantee the high productivity levels. It works much better to introduce short daily standups (10-15 minutes) for groups working on the same project where every team member shares what they managed to complete and arrange the weekly or bi-weekly retrospective checks by manager on the number of completed tasks. Setting the deadlines for time-sensitive tasks also helps proper prioritization and give an additional stimulus for employees to complete them within the specified period.
Productive remote workspace requires certain efforts and changes to the business strategy taking into account the global economic situation and brings new processes in place that were never needed for in-office work. However, by putting employees first it's possible to achieve even better results in remote setup than before pandemic.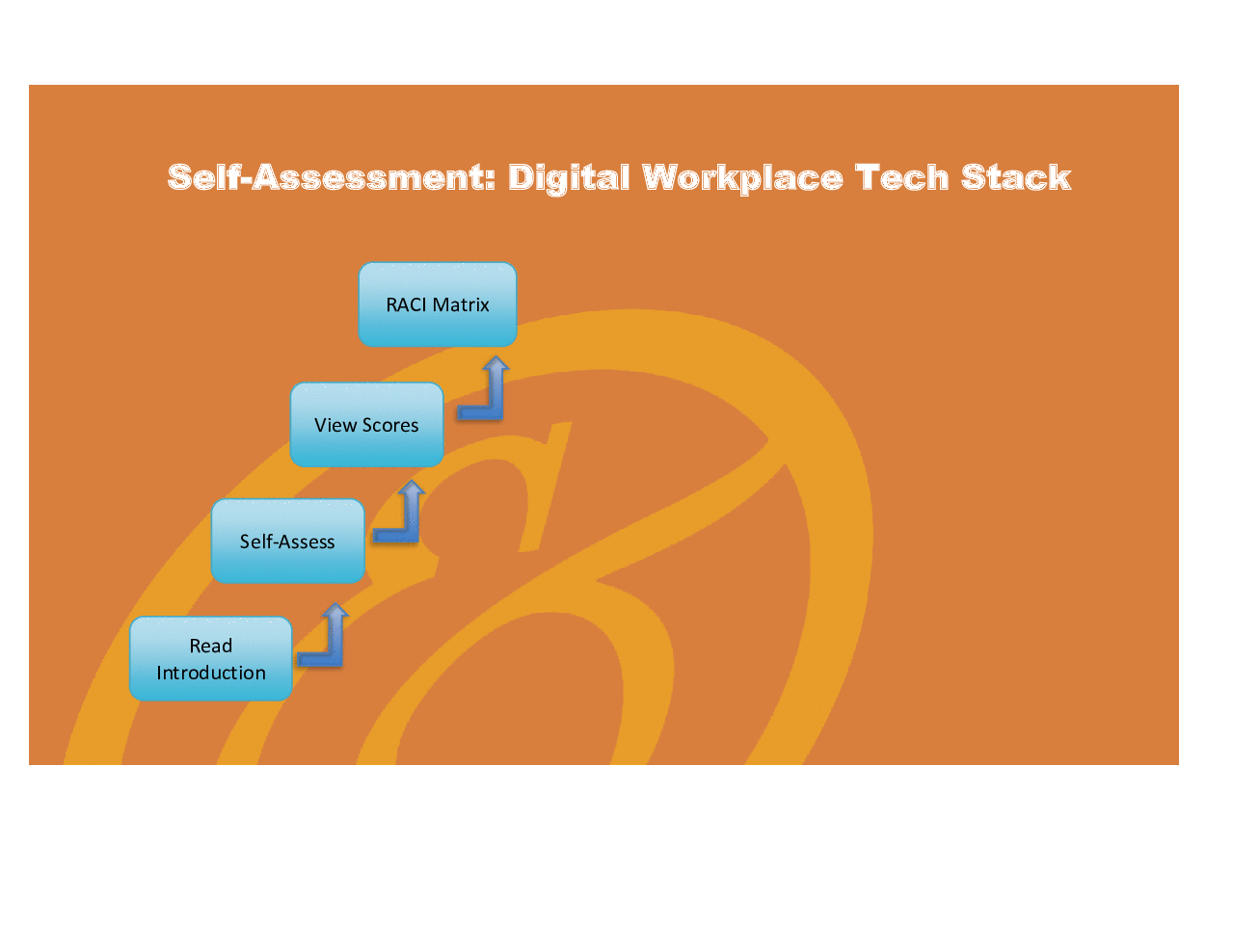 Excel workbook
The Digital Workplace Technology Stack Toolkit includes a set of best-practice templates, step-by-step workplans, and maturity diagnostics for any Digital Workplace Tech Stack related project. Please note the above partial preview is ONLY of the Self Assessment Excel Dashboard, referenced in steps
[read more]
Do You Want to Implement Business Best Practices?
You can download in-depth presentations on Virtual Teams and 100s of management topics from the FlevyPro Library. FlevyPro is trusted and utilized by 1000s of management consultants and corporate executives.
For even more best practices available on Flevy, have a look at our top 100 lists:
These best practices are of the same as those leveraged by top-tier management consulting firms, like McKinsey, BCG, Bain, and Accenture. Improve the growth and efficiency of your organization by utilizing these best practice frameworks, templates, and tools. Most were developed by seasoned executives and consultants with over 20+ years of experience.
Readers of This Article Are Interested in These Resources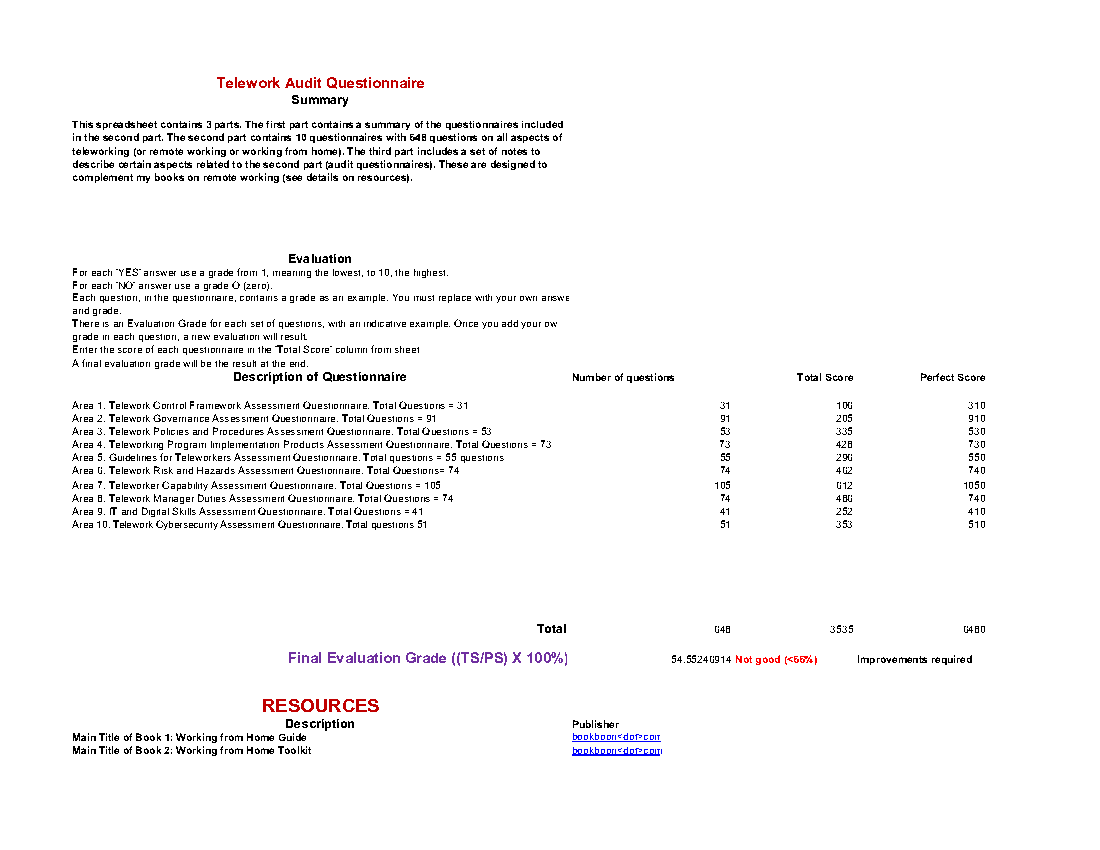 Excel workbook
The purpose of this tool (spreadsheet) is to review, audit, assess and improve all teleworking aspects of companies, organizations and remote workers. This spreadsheet contains 3 parts. The first part contains a summary of the questionnaires included in the second part. The second part
[read more]
26-slide PowerPoint presentation

14-page PDF document
About Shane Avron
Shane Avron is a freelance writer, specializing in business, general management, enterprise software, and digital technologies. In addition to Flevy, Shane's articles have appeared in Huffington Post, Forbes Magazine, among other business journals.