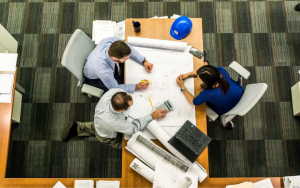 The smaller the team, the more chances there are for teamwork and collaboration. Yet, many small businesses with lean teams are crumbling down due to poor employee productivity.
In a 2016 CareerBuilder survey, 75% of employers said that distracted employees cost them more than 2 hours of productivity each day. Another survey found that over 80% of employees are emotionally disconnected from their workplaces and are less likely to be productive.
With mind-boggling stats like this, it's evident that maintaining productivity at the workplace is one of the key challenges that most businesses face.
But promoting productivity at work isn't rocket science; it's just a matter of how well you manage your team. That said, here are some modern productivity tips that will help your team become more productive and efficient.
1. Protect Your Employees From Burnout
Burnout is a debilitating productivity killer in the workplace.
According to Clockify, 7 out of 10 people have experienced burnout. To prevent burnout among your team members, incorporate measures that will provide room for work-life balance.
For example, relax the vacation policy and be generous with employee leave and sick days. A little time outside the office environment can give your employees time and opportunity to meditate and think beyond the horizon…a key to enhancing productivity.
2. Equip Your Team with the Right Tools
The tools you use can make or break your business.
To boost team productivity, you'll want to invest in tools that will facilitate team management while simplifying workflow. That said, you may need to invest in collaboration tools, project management tools, and lead management tools to manage the team and business processes.
However, a smart business owner will only invest in a robust CRM that's an all-in-one platform. A smart CRM will streamline the workflow and provide a central platform where all the tasks can be done and managed.
For instance, the best real estate CRM will create automated workflows, source leads from multiple sources, promote teamwork via instant messaging and automatically assign tasks all while syncing your team's email, calendar, to-do's, and ensuring they remain on the same page.
3. Manage or Say No to Meetings
There are two ways to increase your productivity and output—either work smarter or put in more work hours. If you opt for the latter, you'll want to squash anything that 'wastes' your precious time. And that includes meetings.
Meetings are one of the greatest time sucks in any organization. According to Atlassian, the average employee spends over 30 hours on unproductive meetings.
The solution to this is to avoid meetings and where necessary, keep them short and simple, and only invite teammates who need to be involved. So before booking your next meeting, ask yourself whether the same goals can be accomplished via phone, email, or Skype.
4. Incorporate Team Building Exercises
Team productivity largely depends upon the camaraderie between the team members.
If your team members are supportive and in good standing with each other, the workplace automatically becomes a happier place.
And when the team members are happy, you can expect productivity and efficiency to shoot up. Team building activities can help your team achieve such levels of success. Such activities not only help the team members to know each other on a personal level but also helps to reveal their strengths and weaknesses.
Got more productivity tips for working with small teams? Share with us in the comments section below.