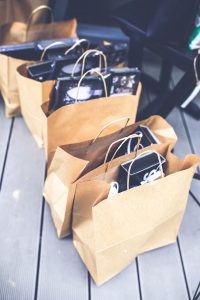 Large accounts make up a significant portion of business for most B2B companies.  Therefore, losing an important customer can have detrimental effects on the organization.  The significance of key accounts is urging top B2B companies to revisit their key account management approaches.  Additionally, the increasing level of sophistication of the purchase process being adopted—such as, centralized procurement, competitive bidding and auctions, and laborious negotiations—by large buyers is a crucial element for B2B companies to consider to win large accounts.
Studies have shown that large buyers suggest price, product features, and reliability as the most important factors in their purchasing decisions, even more so than sales and service experience.  However, detailed analysis of data into the actual purchasing decisions by buyers reveal that suppliers' service and support capabilities mean a lot to large purchasers–in fact, almost as equal in importance as price.  Large buyers often involve senior team members in procurement, which necessitates the need for inclusion of people possessing high-quality management and sales skills while serving key accounts.
With more intensifying sophistication of the procurement process at large businesses in future, the buyers will keep trying to cut costs and gain significant advantage while negotiating with procurement.  The suppliers, in turn, can create a win-win situation by providing first-rate key account support and service.
Leading suppliers utilize the 4 drivers of growth to develop best-in-class key account management practices and increase their large contract win ratios.  These drivers are actually the 4 imperatives that forerunners undertake to fuel their growth:
Quantified Value Proposition (QVP)
Value-based Selling
Coordinated Account Management
Negotiation Preparation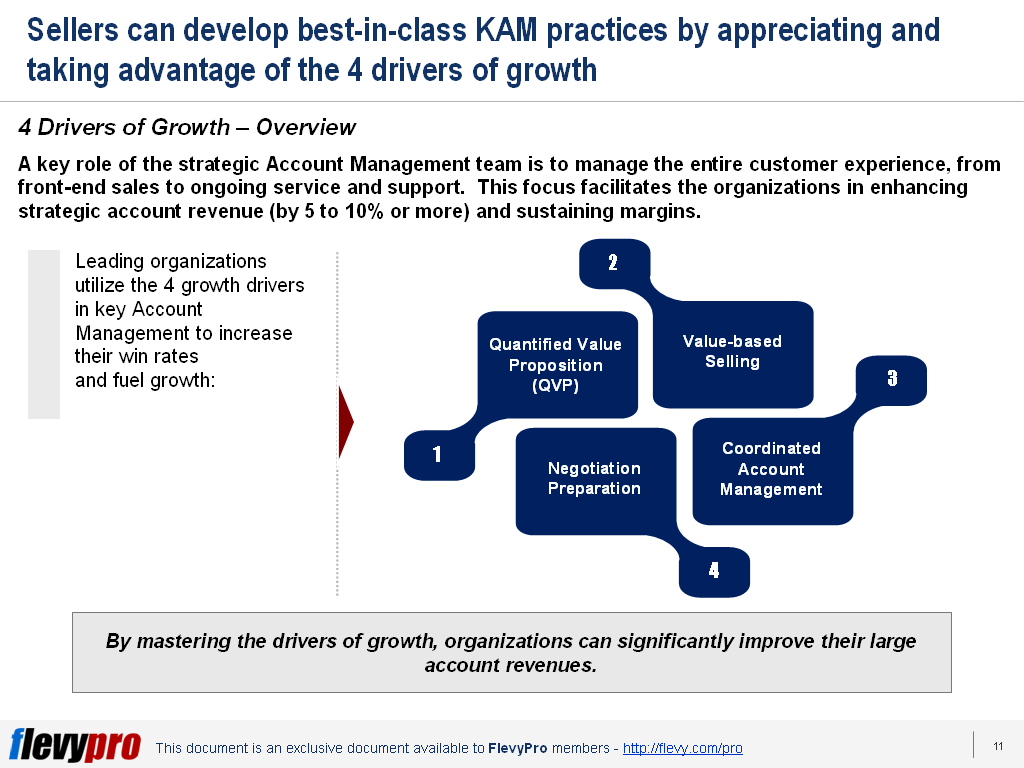 Let's, now, talk about the first 2 drivers of growth in detail.
Quantified Value Proposition (QVP)
Although, a clearly outlined, quantified value proposition (QVP) for the products and services offered is a definite metrics of success, most sellers don't quantify the value of their service.  This helps the sales teams to focus on engaging business leaders concerned with the overall profit and loss rather than price, and positively impacts winning and sustaining customers.  QVP aids in enhancing strategic account margins and creating advantage even in low-margin industries.  A few sellers have taken the QVP to the next level where they link a portion or all of their fees to value delivery.
Value-based Selling
Value-based sales are focused on a shared understanding of the value of the product or service offering.  Most organizations desire to be the primary suppliers of large accounts provided they can sell on value; but, not many sales people are proficient in value selling.  To train the existing sales people to become value sellers, leaders need to equip their sales teams with ready-to-use quantified value propositions, updating those, and investing in frequent trainings and in-field coaching of their cross-functional sales teams—comprising of people from R&D, sales, marketing, and senior executives—to recognize the full value potential of a strategic account.  Assigning the best reps to the biggest opportunities is another important factor that yields substantial dividends.
Interested in learning more about the other 2 drivers of growth and managing strategic accounts efficiently?  You can download an editable PowerPoint on Account Management: Large Global Accounts here on the Flevy documents marketplace.
Do You Find Value in This Framework?
You can download in-depth presentations on this and hundreds of similar business frameworks from the FlevyPro Library. FlevyPro is trusted and utilized by 1000s of management consultants and corporate executives. Here's what some have to say:
"My FlevyPro subscription provides me with the most popular frameworks and decks in demand in today's market. They not only augment my existing consulting and coaching offerings and delivery, but also keep me abreast of the latest trends, inspire new products and service offerings for my practice, and educate me in a fraction of the time and money of other solutions. I strongly recommend FlevyPro to any consultant serious about success."

– Bill Branson, Founder at Strategic Business Architects
"As a niche strategic consulting firm, Flevy and FlevyPro frameworks and documents are an on-going reference to help us structure our findings and recommendations to our clients as well as improve their clarity, strength, and visual power. For us, it is an invaluable resource to increase our impact and value."

– David Coloma, Consulting Area Manager at Cynertia Consulting
"As a small business owner, the resource material available from FlevyPro has proven to be invaluable. The ability to search for material on demand based our project events and client requirements was great for me and proved very beneficial to my clients. Importantly, being able to easily edit and tailor the material for specific purposes helped us to make presentations, knowledge sharing, and toolkit development, which formed part of the overall program collateral. While FlevyPro contains resource material that any consultancy, project or delivery firm must have, it is an essential part of a small firm or independent consultant's toolbox."

– Michael Duff, Managing Director at Change Strategy (UK)
"FlevyPro has been a brilliant resource for me, as an independent growth consultant, to access a vast knowledge bank of presentations to support my work with clients. In terms of RoI, the value I received from the very first presentation I downloaded paid for my subscription many times over! The quality of the decks available allows me to punch way above my weight – it's like having the resources of a Big 4 consultancy at your fingertips at a microscopic fraction of the overhead."

– Roderick Cameron, Founding Partner at SGFE Ltd
"Several times a month, I browse FlevyPro for presentations relevant to the job challenge I have (I am a consultant). When the subject requires it, I explore further and buy from the Flevy Marketplace. On all occasions, I read them, analyze them. I take the most relevant and applicable ideas for my work; and, of course, all this translates to my and my clients' benefits."

– Omar Hernán Montes Parra, CEO at Quantum SFE