Improving Office Productivity with 5S Principles
Featured Best Practice on Visual Workplace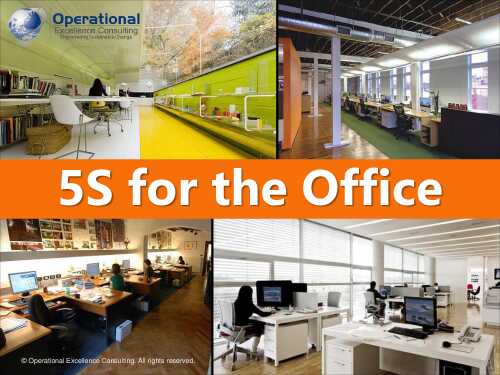 190-slide PowerPoint presentation
The office, by any name, is a paperwork factory. To become a Lean enterprise, office activities must fully support shop-floor manufacturing operations to eliminate waste. The adoption of 5S throughout all office functions is the first step to increase efficiency. 5S principles are dedicated to
[read more]
A journey of a thousand miles must begin with the first step. – Lao Tzu, a famous Chinese philosopher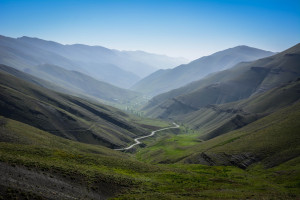 Around the world, more and more organizations have started to adopt Lean principles and practices to improve competitiveness.  As a holistic approach, office activities must fully support shop-floor manufacturing operations to eliminate waste as a means to improve productivity.
The office, by any name, is a paperwork factory.  The adoption of 5S principles throughout all office and administrative functions is the first step to increase efficiency.
In developing a culture of continuous improvement, the 5S is like a mirror reflecting our attitudes and behavioral patterns during the transformation process.
5S is a basic management philosophy for eliminating waste and improving workplace organization and standardization. 5S serves as the foundation for continuous improvement activities and on which other Lean methodologies can be applied.  It is also one of the cornerstones of employee engagement.
Although 5S concepts are simple and easy to understand, many organizations have failed in the implementation process. This is because 5S is often misunderstood as a thorough spring cleaning program. 5S, however, is more than just a housekeeping program – it is a method for workplace organization and productivity improvement.
The benefits of 5S implementation are reduced mistakes or errors from employees, reduced search time in locating files, information and supplies, improved employee safety and morale, and improved customer service.
5S comes from the first letters of five Japanese words, namely, Seiri, Seiton, Seiso, Seiketsu and Shitsuke.  Translated to its English equivalent, 5S means: Sort, Set In Order, Shine, Standardize and Sustain.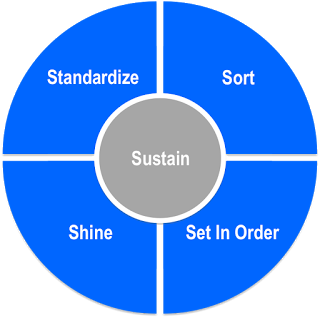 The first three S's: Sort, Set In Order and Shine are the basic pillars of 5S.  They form the core of the 5S program and have to become a part of every employee's day-to-day activities. The fourth and fifth S's are to support the implementation of the first three S's.
Let us take a closer look at each of the 5S principles:
Sort
Sort means to distinguish between the necessary and unnecessary, and get rid of what you do not need.
Go through all the desks, shelves, cabinets, files, equipment, storage areas, etc. in the office and discard unnecessary items.
Keep only the essential items. Things that are frequently used should be stored near the workstation, and things that are seldom used should be stored further away.
Set In Order
Set In Order means to arrange essential items in order for easy access.  The focus is on functional storage and eliminating the need to look for things.
All items should be arranged for easy access.  A good system is one which an item can be found in less than 30 seconds. There must be a place for everything, and everything should be in its place after use.
The following are some practice tips for Set In Order:
Remove old and obsolete information on notice boards, intranet and the shared drive.
Archive electronic files.
Install cabinets for storing cleaning supplies and materials used occasionally.
Label or mark off all storage areas.
Align workstations in order that work is done.
Ensure that the latest version of work instructions and job aids are posted.
Remove hazards such as materials blocking corridors, doorways and stairways.
Shine
Shine means to keep things clean and tidy.  It should be understood that cleaning is a form of inspection.
Practice tips for Shine include:
Divide office areas into zones and assign accountabilities.
Obtain appropriate tools and supplies for cleaning.
Inspect equipment and tools while cleaning.
Repair faulty equipment, e.g. creaking office chairs.
Clean your computer keyboard regularly by dusting off crumbs and cleaning with an appropriate disinfectant.
Standardize
Standardize means to establish standards and guidelines to maintain an organized office. The focus is on standardization and application of visual management tools such as colored labels and sign boards.
Practice tips for Standardize include:
Set in place rules and policies that support the first three S's, e.g. designated areas, proper labeling of storage areas, a log of what goes where, etc.
Define a schedule for 5S activities and make it a part of the work routine.
Put in place an emergency plan for fires, medical emergencies and natural disasters.
Install automated external defibrillators (AED).
Train new employees on the 5S system.
Put up a bulletin board to keep employees informed and aware of the 5S system and activities.
Reward and recognize participation and achievement in the 5S program.
Sustain
Sustain means to make 5S a habit and teach others to adhere to established standards.  The focus is on habit formation and developing a disciplined office environment.
Practice tips for Sustain include:
Regular communication of the 5S program, e.g. monthly newsletters.
Regular housekeeping on your computer hard drive.
Hold all-together cleaning sessions.
Conduct monthly 5S inspections and audits.
Gemba walk by the CEO and/or 5S steering committee members.
Conduct monthly review by the 5S steering committee.
Establish 5S standards and continuous improvement of the standards.
Reward and recognize individuals and teams for good 5S practices.
For a 5S initiative to be successful, it has to be an organization-wide effort. It is essential to have the commitment of the senior management and the involvement of all staff. Not only must sufficient resources, manpower, training and publicity be provided, the 5S program must be aligned to the company's goals and objectives. Finally, there must be regular 5S audit and management review, as well as recognition and reward for good 5S practices.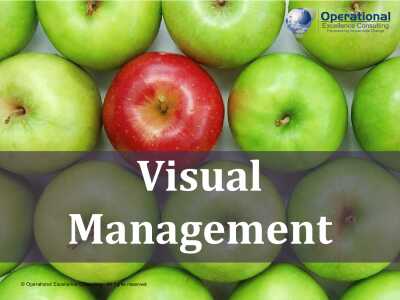 153-slide PowerPoint presentation
Visual management is an integral part of a Lean management system. Visual management uses displays, metrics and controls to help establish and maintain continuous flow, and giving everyone a view of the work along the value stream. It includes a set of techniques that make operation standards
[read more]
Do You Want to Implement Business Best Practices?
You can download in-depth presentations on Visual Workplace and 100s of management topics from the FlevyPro Library. FlevyPro is trusted and utilized by 1000s of management consultants and corporate executives.
For even more best practices available on Flevy, have a look at our top 100 lists:
These best practices are of the same as those leveraged by top-tier management consulting firms, like McKinsey, BCG, Bain, and Accenture. Improve the growth and efficiency of your organization by utilizing these best practice frameworks, templates, and tools. Most were developed by seasoned executives and consultants with over 20+ years of experience.
Readers of This Article Are Interested in These Resources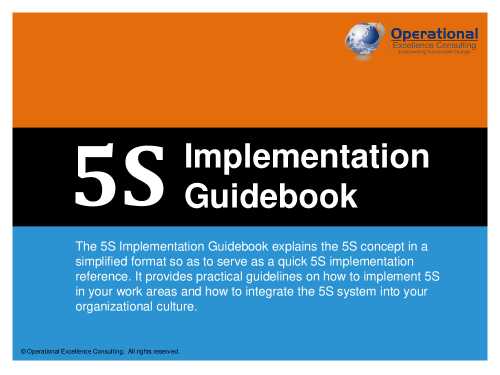 162-slide PowerPoint presentation
​5S good housekeeping and workplace organization is a set of basic management principles that are widely adopted in industries today. The cornerstone of 5S is that untidy, cluttered work areas are unproductive. 5S is a powerful improvement process that gets impressive results. In a nutshell, the
[read more]
189-slide PowerPoint presentation

28-slide PowerPoint presentation
About Allan Ung
Allan Ung is a management consultant at
Operational Excellence Consulting
, a consultancy that focuses on maximizing customer value and minimizing wastes through Lean Management. He is also a seller at Flevy. View his documents here:
OEConsulting
.
Top 10 Recommended Documents on Visual Workplace
190-slide PowerPoint presentation
153-slide PowerPoint presentation
162-slide PowerPoint presentation
189-slide PowerPoint presentation
28-slide PowerPoint presentation
123-slide PowerPoint presentation
3-page PDF document
20-slide PowerPoint presentation
107-slide PowerPoint presentation
71-slide PowerPoint presentation

» View more resources Visual Workplace here.
» View the Top 100 Best Practices on Flevy.