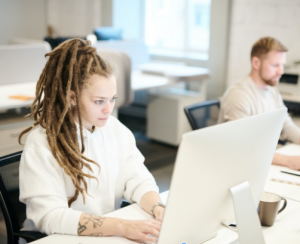 You know you want to start a business, but what's holding you back is finding the perfect market niche that will lead to your success. Finding the right niche can be tricky: you could list every passion and interest you have and still come short on what topic you should focus on. If you're struggling to decide, use these steps to find the best niche for your business.
What Are Your Passions and Interests?
Create a list of niches that interest you, whether it's visual art, music, or knitting, and try to break it down to something more exclusive. Although you may think that being broad will attract more customers, it actually gives you more competition. Using knitting as an example, think of things you like to knit – like scarves, dolls, or table cloths.
If you choose dolls, maybe you will only knit pop culture icons like superheroes from Marvel comics. Finding the right business niche can be as easy as determining how you like to spend your free time while also thinking about how you can maintain the drive to preserve. A great way is by pursuing a niche that is small while also capitalizing on your interests.
Can This Niche Turn a Profit?
After choosing a couple of niches you want to explore, you need to determine if that business idea will turn a profit. Establishing a business with a growth mindset is more likely to succeed because you'll have the profit available to keep making your products. Start by browsing top products in your category – if you can't find any, that's a negative sign.
Although having a niche so obscure can be positive, it could also indicate that someone has tried and failed. You need to find a product that has a decent number of products without there being an overabundance. Make a note of price points so you can price your own products competitively while also ensuring the cost of materials and labor is compensated.
What Problems Do You Want to Solve?
People who solve problems turn a profit, even if you solve a problem that people never knew they had. Tupperware innovated the industry by creating a product to store food, but plenty of people would lose the lids that weren't sold separately. Multiple companies created a niche business by selling off-brand lids or creating Tupperware that used universal lid designs.
What Is Your Competition Doing?
Always research your competition to see why they're successful while also noting their pitfalls. If you notice that a product you want to make will be of a higher quality than your biggest competition, that can put you in a money-making position. Online entrepreneurs who have a more aggressive marketing strategy or online presence will always beat faceless corporate.
Even if your competition offers a similar product, it doesn't mean you can compete in that industry and succeed. Sometimes an industry that offers hand-made products will be too busy to deliver to their clients so they'll buy from you instead. Putting yourself out there is more important than not starting at all due to the fear of competition.
Test Your Idea
Now that you've done the necessary research, you can test your idea. A straightforward way to do this is by setting up a landing page for the pre-sale of the product you're developing. Using paid advertising, you can bring traffic to your page before committing to the idea.
If you don't get enough money through pre-sales, it doesn't necessarily mean no one wants your product; it could just mean you're not in a visible niche. Try to optimize conversion by researching the market further. Plenty of business owners will create content with a blog to drive more clicks to their landing pages.