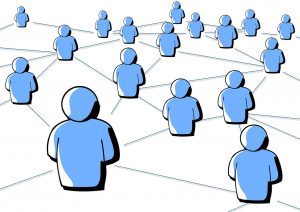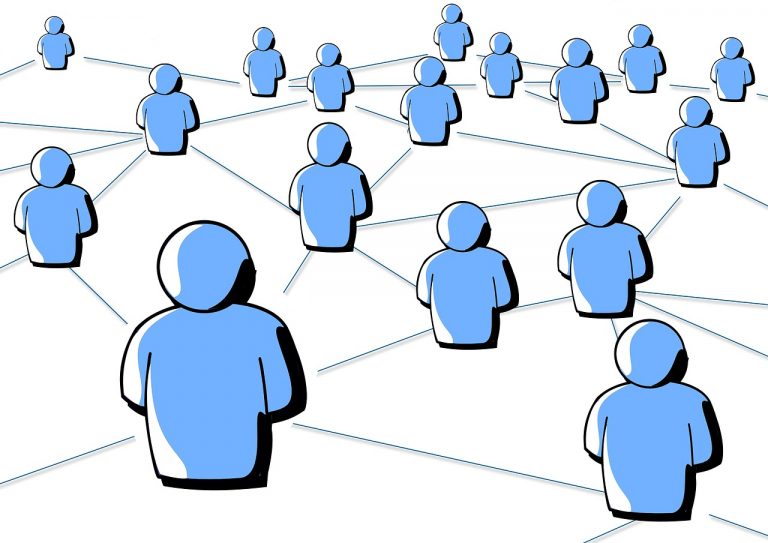 Functional areas in an organization are often marred with ambiguities–some process related and other role related.  The Responsibility Assignment Matrix or RACI Charting is a simple technique to resolve these ambiguities.  It works collaboratively to clearly identify functional areas and roles and responsibilities in order to complete a desired activity.
The RACI Acronym stands for:
Responsible – The individual responsible to complete an activity.
Accountable – The person who is ultimately answerable for the activity, and has the final authority.
Consulted – The person (often subject matter expert) who needs to be consulted before any action, and has to provide input to the activity.
Informed – The individual(s) who needs to be informed after a decision has been made, for them to take action as a result of the outcome.
The RACI matrix ensures that accountability lies with the person who can be really held accountable for a specific task and resolves the doubts and differences in cross-functional environments.  The matrix enables managers from different organizational levels to hold systematic discussions about critical activities and actions.
Applications of RACI Charting
RACI charting and analysis is useful in numerous ways and has many applications.  These include:
Assesses workload, quickly identify overburdened versus underutilized departments or individuals.
Ensures that all the key functions and processes are accounted for.  RACI charting helps track fault(s) in a substandard process.
Assists in orientation of new employees to let them understand their roles and responsibilities easily.
Allows redistribution of work between groups and individuals.
Aids in project management, provides flexibility in matrix structures, appropriately balancing between line and project accountabilities.
Affords a medium for debate and interdepartmental conflict resolution.
Documents the current roles and responsibilities (the status quo).
Prevents confusion among the team members regarding their responsibilities.
Curbs negativity from creeping in teams owing to issues like blaming others for not accomplishing a task.
RACI Matrix Development
RACI matrix or chart development involves the following steps:
First off, identify all project tasks, starting with the description of high impact activities, and documenting them horizontally over the RACI matrix clearly.
List down all the stakeholders or roles on the top of the chart, on the right side.
Assign responsibilities against each task, in appropriate RACI codes.
Gather input and modify the chart based on feedback from all stakeholders.
While developing the RACI matrix, the project teams should make sure to avoid generic activities and use action verbs for all activities, and make only one individual accountable and responsible for an activity.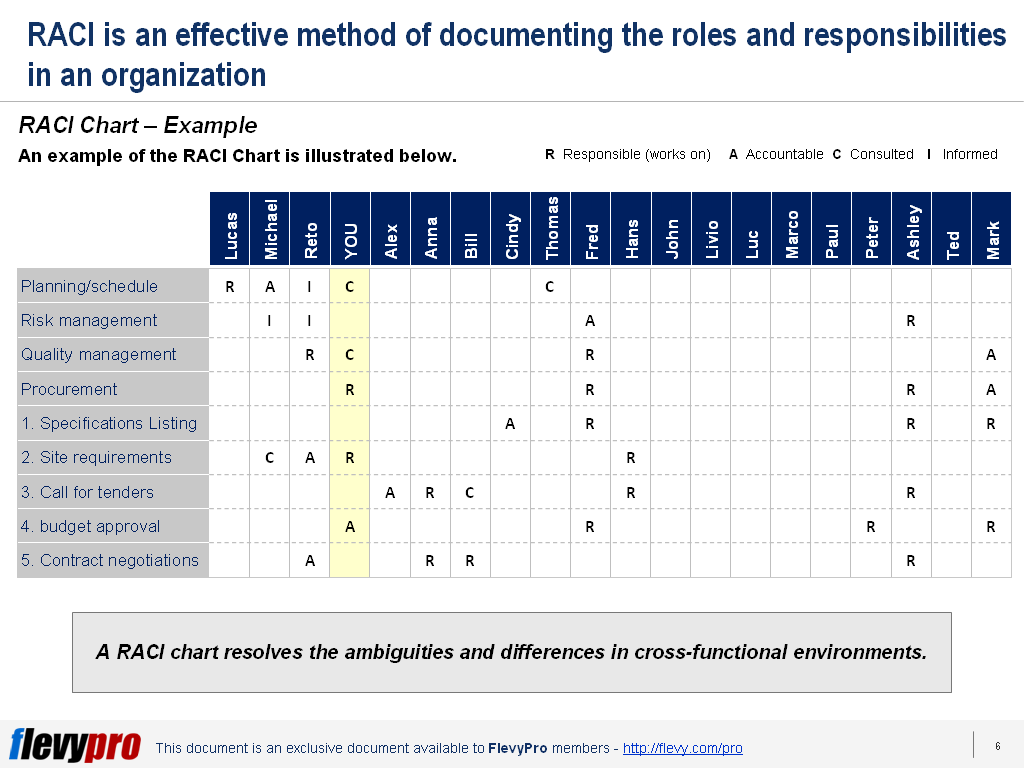 RACI Matrix – Horizontal & Vertical Analyses
After the development of a chart, the project team needs to conduct horizontal and vertical analysis.  The horizontal analysis entails careful scrutiny of each row of the RACI matrix to check the viability of the activity/ task.  This analysis reveals signs of confusion, gaps, outdated processes, duplication, need for reorganization, and overloaded and underutilized resources.  The horizontal analysis brings to light any of these scenarios:
The chart shows No R's in rows: The team needs to see who is responsible for the task, or are there too many roles waiting to be approved, consulted or informed.
Too many R's: There is a need to examine whether the activity is dependent on too many individuals for completion.
Shows no A's: There is a problem here.  Necessitates reviewing the distribution of responsibilities for the particular activity.  Someone should be accountable for this.
Reveals too many A's: This can cause misunderstandings, as every individual with accountability feels they have the final word on how to go about the task.
Too few A's and R's in the chart: This represents an outdated process, which needs to be streamlined.
Every box of the chart filled in: The team should analyze whether all the activities need to be consulted.  Is this just to complete the chart, or are there any reasonable benefits in consulting all the roles?
A lot of C's and I's in the matrix: The stakeholders should question whether all these tasks need to be routinely consulted, involve these many people, or to do that only under certain conditions.  Too many people in the loop causes unnecessary delays.
Likewise, the vertical analysis requires careful inspection of each column to validate the role of each stakeholder, and to assess overburdened versus underutilized team members.
Interested in learning more about how to develop a RACI Matrix and carry out Vertical and Horizontal Analysis?  You can learn more and download an editable PowerPoint about the RACI Charting & Analysis here on the Flevy documents marketplace.
Do You Find Value in This Framework?
You can download in-depth presentations on this and hundreds of similar business frameworks from the FlevyPro Library. FlevyPro is trusted and utilized by 1000s of management consultants and corporate executives. Here's what some have to say:
"My FlevyPro subscription provides me with the most popular frameworks and decks in demand in today's market. They not only augment my existing consulting and coaching offerings and delivery, but also keep me abreast of the latest trends, inspire new products and service offerings for my practice, and educate me in a fraction of the time and money of other solutions. I strongly recommend FlevyPro to any consultant serious about success."

– Bill Branson, Founder at Strategic Business Architects
"As a niche strategic consulting firm, Flevy and FlevyPro frameworks and documents are an on-going reference to help us structure our findings and recommendations to our clients as well as improve their clarity, strength, and visual power. For us, it is an invaluable resource to increase our impact and value."

– David Coloma, Consulting Area Manager at Cynertia Consulting
"As a small business owner, the resource material available from FlevyPro has proven to be invaluable. The ability to search for material on demand based our project events and client requirements was great for me and proved very beneficial to my clients. Importantly, being able to easily edit and tailor the material for specific purposes helped us to make presentations, knowledge sharing, and toolkit development, which formed part of the overall program collateral. While FlevyPro contains resource material that any consultancy, project or delivery firm must have, it is an essential part of a small firm or independent consultant's toolbox."

– Michael Duff, Managing Director at Change Strategy (UK)
"FlevyPro has been a brilliant resource for me, as an independent growth consultant, to access a vast knowledge bank of presentations to support my work with clients. In terms of RoI, the value I received from the very first presentation I downloaded paid for my subscription many times over! The quality of the decks available allows me to punch way above my weight – it's like having the resources of a Big 4 consultancy at your fingertips at a microscopic fraction of the overhead."

– Roderick Cameron, Founding Partner at SGFE Ltd
"Several times a month, I browse FlevyPro for presentations relevant to the job challenge I have (I am a consultant). When the subject requires it, I explore further and buy from the Flevy Marketplace. On all occasions, I read them, analyze them. I take the most relevant and applicable ideas for my work; and, of course, all this translates to my and my clients' benefits."

– Omar Hernán Montes Parra, CEO at Quantum SFE