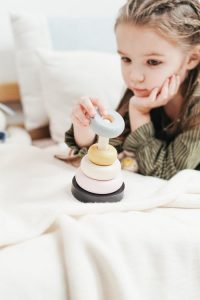 At its essence, management just seeks to answer 2 fundamental questions:
Are we doing things right?
Are we doing the right things?
The first question is addressed through Operational Management. Operational Management frameworks include Total Quality Management (TQM), Six Sigma, Business Process Re-engineering (BPR), among numerous other Lean Six Sigma tools.
The second is addressed through Strategic Management. One powerful framework for assessing Strategic Management is the Strategic Management Maturity Model (SMMM), developed by the Balanced Scorecard Institute.
SMMM provides a holistic view into an organization's Strategic Management system, processes, and capabilities. It can be leveraged to achieve 3 primary objectives:
Assessing where our organization stands in terms of Strategic Management.
Monitoring progress in improving maturity of Strategic Management.
Benchmarking across organizations (or departments within our organization) to identify best practices in Strategic Management.
More specifically, SMMM allows us to assess the maturity of our approach to Strategic Management on a 5-stage scale across 8 dimensions of Strategic Management: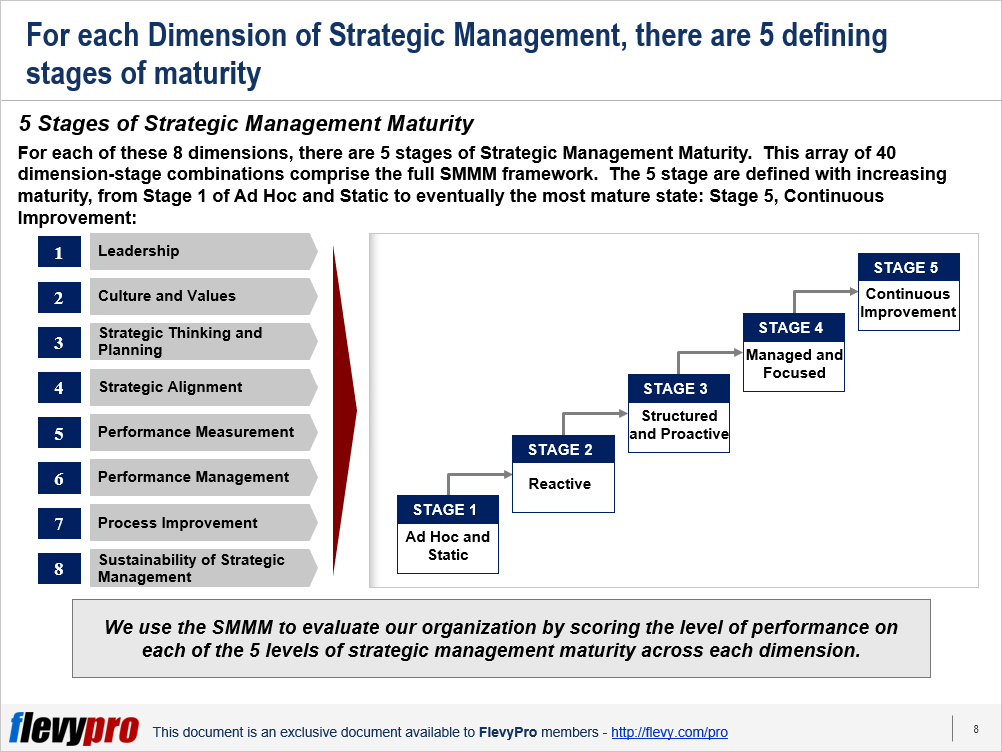 Now, let's quickly define these 5 stages of Strategic Management maturity.
Stage 1 – Ad Hoc and Static
At this nascent stage, the organization does not do any formal Strategic Planning or Management. The company tends to plan only on the tactical or operational level in an ad hoc and uncontrolled manner. Management spends most of their energies addressing operating issues and "putting out fires." They don't address long-term strategy.
Stage 2 – Reactive
At the second stage, some elements of effective Strategic Planning and Performance Management are beginning to be applied. Application is inconsistent and typically with poor results. Planning activities are not rigorous and typically done in a reactionary fashion.
Stage 3 – Structured and Proactive
By stage 3, the organization adopts formal structures and processes in place, so it is comprehensively and proactively engaging in Strategic Planning and Management. These activities occur on a regular basis and there is some tangible improvement over time. Measurements are aligned with the Corporate Strategy.
Stage 4 – Managed and Focused
Now, strategy drives focus and the decision making process for the organization. Standards and methods implemented for Strategy Management are used across the full organization. Management formally engage employees in this process. This helps foster a culture where employees are measured and held accountable to these performance metrics.
Stage 5 – Continuous Improvement
At this most mature stage, Strategic Planning and Management Excellence are embedded within our Corporate Culture. Strategic Planning and Management processes are also continuously improved in a formal sense. Excellence in Strategic Management becomes a foundational driver to the organization's Competitive Advantage and Performance Management success.
Interesting in better understanding how an organization across these 5 stages across each of the 8 dimensions of Strategic Management? Take a look at our framework on the Strategic Management Maturity Model.