Five Ways You Can Support Employees Outside of Work
Featured Best Practice on Virtual Teams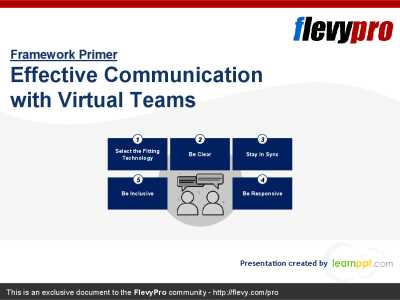 23-slide PowerPoint presentation
The number of people working remotely has been increasing progressively across the globe. An employee benefits report narrates that around 60% companies in the US offer telecommuting opportunities. According to Upwork, freelancers and contractors have increased by 81% from 2014 to 2017.
[read more]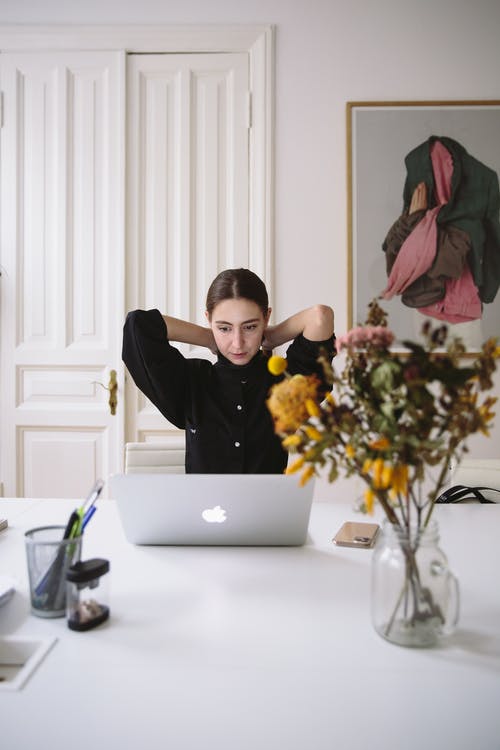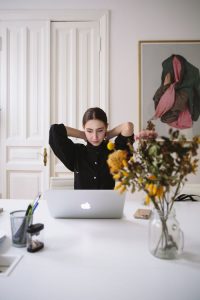 It's your job to make sure your employees feel supported and encouraged at work so they can help your business grow and succeed. It's easy to assume that once the workday is over and you lock the doors, your responsibilities end.
The truth is, your employees' lives outside of work can have a huge impact on their job. If you really want them to give you their all, and you want them to be proud to work for your company, you should support them when they aren't on the clock too.
Access to an Attorney
Providing your employees with benefits is expected, up to a certain point. Most workers look for employees who offer health, dental, and vision insurance, as well as retirement plans, but you can support your employees even more by providing them with access to an attorney.
With access to an attorney, your employees can learn whether a personal injury lawyer is likely to take their case if they are injured in an accident, they can get advice on how to proceed with a divorce, and they can get help creating an estate plan.
Working with an attorney can be expensive. If this is an expense you are willing to help cover, you can put your employees' minds at ease, which means they'll be more present when they get to work in the morning.
Access to Mental Health Services
Mental health can definitely affect your employees' performance. It can make it difficult for them to focus while they're at work and it can cause problems with sleep, which will make it even more difficult for them to focus. You can help by providing them with access to mental health services.
That means providing them with resources and keeping the lines of communication open, but it also means actually providing them with a list of psychiatrists, therapists, and counselors who partner with your business to provide their services to your employees. Make this information easily accessible without having to speak to anyone so your employees can get the help they need without having to talk to you or HR first.
Encourage Them to Take Time Off
You probably provide your employees with time off that includes sick time and vacation time. You may also provide them with parental leave, as well as emergency leave, for things like funerals. However, just because your employees technically have this time doesn't mean they will use it.
Workplace burnout is very real, and many employees end up burnt out because they don't feel like they can take time off. It's your job to encourage them to take the time they have.
Set an example by taking time off yourself and be open and positive whenever anyone approaches you about taking time off. Your employees will be much more dedicated when they get to work if they are able to take time off to relax, to recuperate after an illness, or schedule important appointments during the workweek.
Allow Them to Work From Home
If you have employees who are struggling to figure out a work-life balance that works for them, a more flexible schedule that enables them stay at home might be a good solution.
Working from home can help employees with work-life balance because it enables them to:
Spend more time with their children
Care for sick or elderly family members
Make daytime appointments without taking time off of work
Avoid lengthy commutes, leaving more time for other activities
Limit Work Loads
It's easy for employees to get stressed about work. They take that stress home, which means they don't get a chance to relax, which in turn means they come back to work stressed before the day even begins.
Give your employees the headspace to relax after work by limiting their workload. That means not asking employees to take on another project when their schedule is already full, but it also means sticking to reasonable work hours.
Don't expect employees to stay late on a regular basis. You may also want to consider going to a six hour workday to help your employees maintain a better work-life balance.
It's your job to support your employees while they're on the clock, but don't think your job is done just because everyone has gone home! By supporting your employees outside of work too, you can help them maintain a better work-life balance so they can give their all every day they come into the office.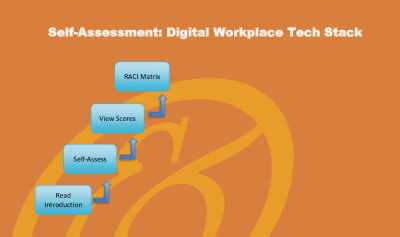 Excel workbook
The Digital Workplace Technology Stack Toolkit includes a set of best-practice templates, step-by-step workplans, and maturity diagnostics for any Digital Workplace Tech Stack related project. Please note the above partial preview is ONLY of the Self Assessment Excel Dashboard, referenced in steps
[read more]
Do You Want to Implement Business Best Practices?
You can download in-depth presentations on Virtual Teams and 100s of management topics from the FlevyPro Library. FlevyPro is trusted and utilized by 1000s of management consultants and corporate executives.
For even more best practices available on Flevy, have a look at our top 100 lists:
These best practices are of the same as those leveraged by top-tier management consulting firms, like McKinsey, BCG, Bain, and Accenture. Improve the growth and efficiency of your organization by utilizing these best practice frameworks, templates, and tools. Most were developed by seasoned executives and consultants with over 20+ years of experience.
Readers of This Article Are Interested in These Resources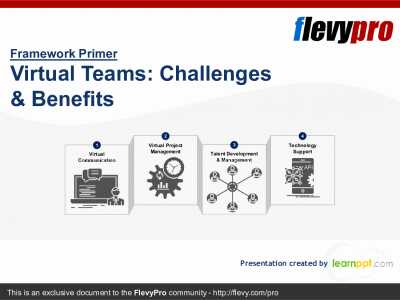 26-slide PowerPoint presentation
To quote, Richard Branson, a British business and philanthropist, "One day, offices will be a thing of the past." While organizations still need to travel to reach their physical offices, the rapid changes in the world is requiring businesses to form Virtual Teams. A Virtual Team refers to a
[read more]
Excel workbook

78-slide PowerPoint presentation
About Shane Avron
Shane Avron is a freelance writer, specializing in business, general management, enterprise software, and digital technologies. In addition to Flevy, Shane's articles have appeared in Huffington Post, Forbes Magazine, among other business journals.
Top 10 Recommended Documents on Virtual Teams
23-slide PowerPoint presentation
Excel workbook
26-slide PowerPoint presentation
Excel workbook
78-slide PowerPoint presentation
14-page PDF document
23-slide PowerPoint presentation
26-slide PowerPoint presentation
20-slide PowerPoint presentation
23-slide PowerPoint presentation

» View more resources Virtual Teams here.
» View the Top 100 Best Practices on Flevy.