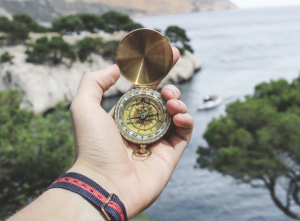 In this article, we will go on a journey… a journey for your Business Model.
As we all know, innovative Business Models can reshape industries and drive tremendous growth.   In fact, if executed successfully, Business Model Transformation can make organizations resilient in the face of Disruption and create Growth unbounded by the limitations of its businesses.
However, Corporate Renewal and Business Model Innovation (BMI) are difficult to achieve, as many executives do not understand what truly drives BMI.
To begin, let's first breakdown–what is a Business Model?  As defined by Clayton Christensen, author of the Innovator's Dilemma, a Business Model consists of 4 elements:
Customer Value Proposition – The Customer Value Proposition is the "job to be done." In other words, it is our offering that helps customers to more effectively, conveniently, and/or affordably do a job they've been trying to do.  The most important attribute of a Customer Value Proposition is precision—how perfectly it addresses the customer to be done and nothing else.
Profit Formula – For a business model to be viable, it must be able to make the company money.  The profit formula dictates the margins, asset velocity, and scale requires to achieve an attractive return for the company.
Key Resources –  Key Resources captures the people, technology, products, facilities, equipment, brands, and cash necessary to deliver on our Customer Value Proposition.  The focus is on the key elements that create value for the customer and the company.
Key Processes –  The Key Business Processes are ways of working together to address recurring tasks in a consistent way.  These processes include training, development, manufacturing, budgeting, planning, sourcing, service delivery, etc. Key processes also include the organization's rules, metrics, and norms.
Many high-tech startups have figured out the Customer Value Proposition, but not the Profit Formula and thus do not have a viable Business Model.
As an organization matures, its Business Model evolves naturally through a predictable 3-phase journey, what we call the Business Model Journey.  It begins with the creation of the Business Unit and its Business Model, followed by sustaining and growing the business, and ultimately later to driving efficiencies from it.  This is depicted on the slide below.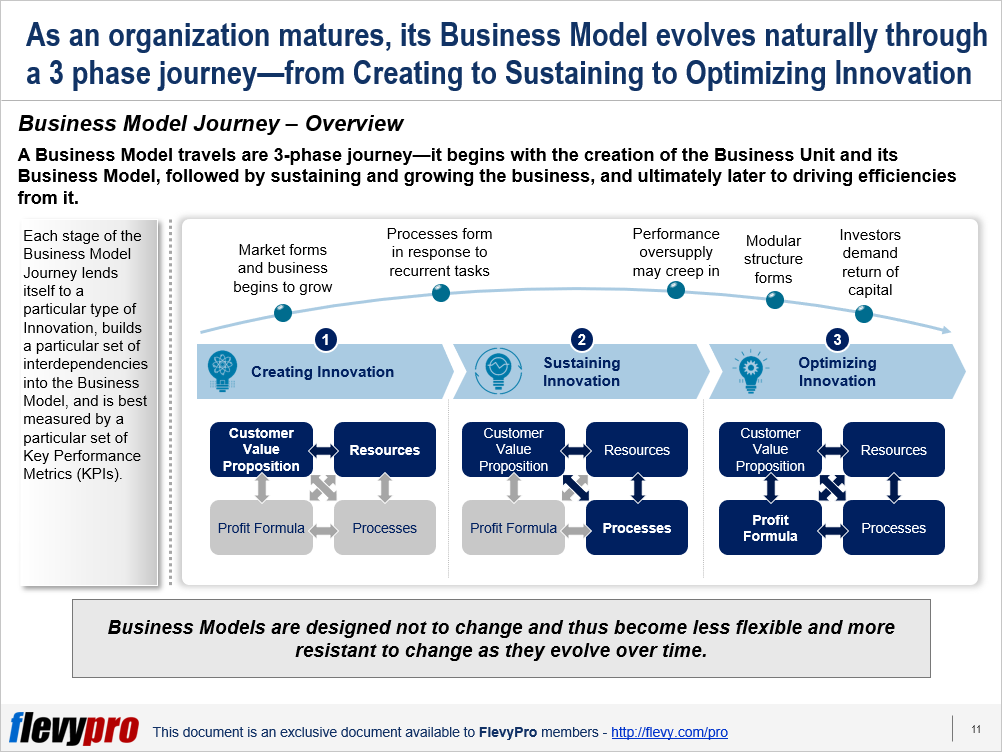 Each stage of the Business Model Journey lends itself to a particular type of Innovation, builds a particular set of interdependencies into the Business Model, and is best measured by a particular set of Key Performance Metrics (KPIs).
Let's take a closer look at each of these 3 phases.
Phase 1. Creating Innovation
The focus of this inception phase is for the business to find a product-market fit.  In doing so, it is searching for a meaningful Customer Value Proposition, which it can design initial offerings to fulfill.  There is limited data, as the market is typically still very new and unproven.
At this point, resources are very limited, typically comprised of a founding team, some funding and ambition, and sometimes also a technology or intellectual property.
The link between the Value Proposition and Key Resources is forming, but the rest of the Business Model is unformed. The Profit Formula is nascent and exploratory. This allows the organization to operate with great flexibility.
Phase 2. Sustaining Innovation
The second phase, Sustaining Innovation, the business has already successfully achieved product-market fit.  The next challenge is to scale operations to meet growing customer demand.
We also focus on improving and innovating on our offerings to make them better, which can be sold at higher prices to the current target market.  The organization is also building out structured, repeatable business processes.
Phase 3. Optimizing Innovation
At a certain point of business maturity, investments in product performance will no longer yield incremental profitability.  At that point, we enter the final, most mature phase of the Business Model Journey, Optimizing Innovation, which focuses on driving process efficiencies and cost savings.
Examples can include process changes to eliminate labor costs, reduce components in product design, replace of components with lower-cost alternatives, outsource of certain activities, restructure, add financial leverage, consolidate operations to leverage economics of scale, etc.
Are you interested in digging deeper into the Business Model Journey, as well as better understanding the interrelationships and dynamics of the 4 elements of the Business Model?  We have developed a framework presentation on the Business Model Journey, which elaborates on all these concepts highlighted in this article.