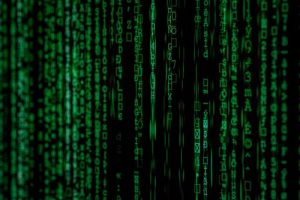 The Digital Age is also the Age of Data. During Davos 2020, renown historian and futurist Yuval Harari once again emphasized us of the importance and potential power of data.
In fact, he envisioned a future where there where 2 classes of people–the wealthy elites who controlled data and the exploited "data colonies." Data, he felt, would become so important, it will become the source of power. With enough data, he warned, countries no longer need to send soldiers to conquer others.
But, we may be getting ahead of ourselves! The point is–data is important. The fundamental way organizations can leverage data now is through the enablement of  Big Data technologies.
Today, the leadership of every organization recognizes the benefits of Big Data. What they do not realize are the measures they need to take to harness its full potential. Big Data has transformed the way data is obtained, examined, saved, and utilized.
Now instead of having discrete systems for individual departments, organizations can create one system performing diverse functions. To employ Big Data, firms will have to rethink:
The way information is retrieved and stored.
Adoption of new capabilities, tools, collaborations, organizational changes, and outlook.
Organizations that are able to rethink and pursue innovative new approaches to utilize Big Data will leapfrog ahead of competition. In order to achieve this, we must first understand the 3 core components of Big Data (depicted below).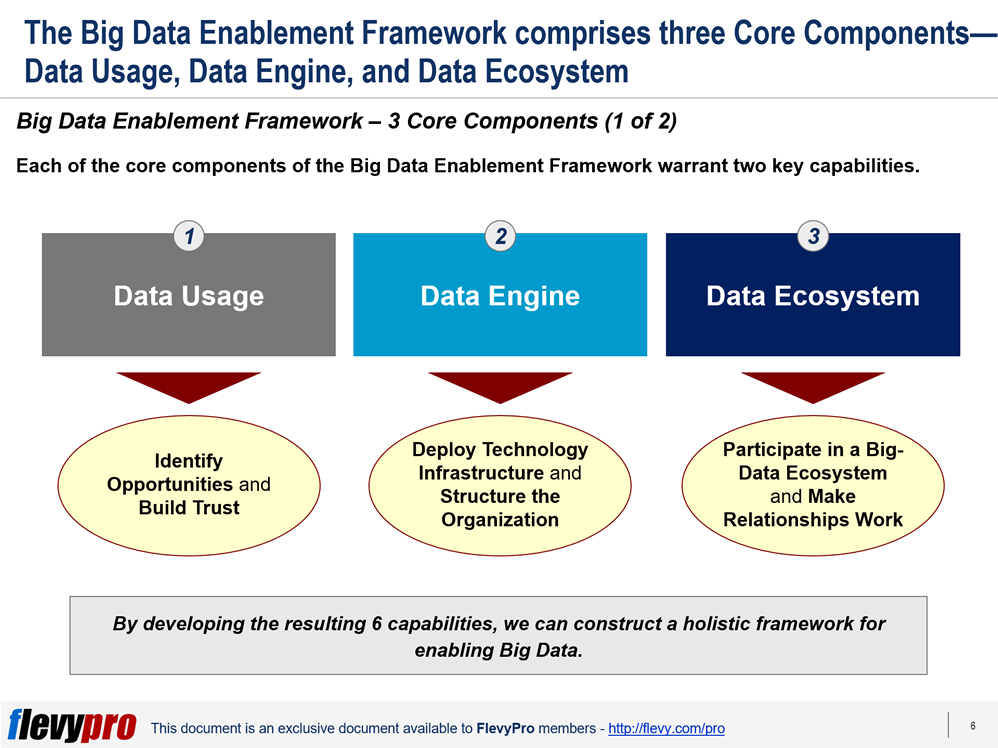 Each of these 3 core components lends itself to 2 foundational capabilities. Let's look at each component.
1. Data Usage
Through data usage, we identify new opportunities and build trust with customers (by utilizing data transparently and responsibly).
Opportunities – Build a culture of innovation and experimentation.
Trust – Establish trust among consumers to enable broad use of their data.
2. Data Engine
The Data Engine refers to how we deploy technology infrastructure and structure our organization. As with any technology deployment, the technology and our business processes must be seamlessly integrated to maximize its productive usage.
Platform – Leverage flexible, scalable, and efficient data systems.
Organization – Develop capabilities to implement and leverage relevant data applications.
3. Data Ecosystem
The Data Ecosystem captures how we participate in a Big Data ecosystem and make relationships/partnerships work.
Participation – Identify strategic partners that can help unlock new economic opportunities.
Relationships – Create an open culture to support partnering and the sharing of data.
By fully examining and leveraging these 6 capabilities, we can develop a Data Strategy that propels us ahead of the competition. Our data infrastructure and usage can become a source of Competitive Advantage. It can also provide a foundation to an overarching Digital Transformation Strategy that allows us to pursue new business models, product offerings, and markets (potential Blue Oceans).
Interested in diving much deeper into each of these 6 capabilities? Take a look at our framework on the Big Data Enablement Framework.
Do You Find Value in This Framework?
You can download in-depth presentations on this and hundreds of similar business frameworks from the FlevyPro Library. FlevyPro is trusted and utilized by 1000s of management consultants and corporate executives. Here's what some have to say:
"My FlevyPro subscription provides me with the most popular frameworks and decks in demand in today's market. They not only augment my existing consulting and coaching offerings and delivery, but also keep me abreast of the latest trends, inspire new products and service offerings for my practice, and educate me in a fraction of the time and money of other solutions. I strongly recommend FlevyPro to any consultant serious about success."

– Bill Branson, Founder at Strategic Business Architects
"As a niche strategic consulting firm, Flevy and FlevyPro frameworks and documents are an on-going reference to help us structure our findings and recommendations to our clients as well as improve their clarity, strength, and visual power. For us, it is an invaluable resource to increase our impact and value."

– David Coloma, Consulting Area Manager at Cynertia Consulting
"As a small business owner, the resource material available from FlevyPro has proven to be invaluable. The ability to search for material on demand based our project events and client requirements was great for me and proved very beneficial to my clients. Importantly, being able to easily edit and tailor the material for specific purposes helped us to make presentations, knowledge sharing, and toolkit development, which formed part of the overall program collateral. While FlevyPro contains resource material that any consultancy, project or delivery firm must have, it is an essential part of a small firm or independent consultant's toolbox."

– Michael Duff, Managing Director at Change Strategy (UK)
"FlevyPro has been a brilliant resource for me, as an independent growth consultant, to access a vast knowledge bank of presentations to support my work with clients. In terms of RoI, the value I received from the very first presentation I downloaded paid for my subscription many times over! The quality of the decks available allows me to punch way above my weight – it's like having the resources of a Big 4 consultancy at your fingertips at a microscopic fraction of the overhead."

– Roderick Cameron, Founding Partner at SGFE Ltd
"Several times a month, I browse FlevyPro for presentations relevant to the job challenge I have (I am a consultant). When the subject requires it, I explore further and buy from the Flevy Marketplace. On all occasions, I read them, analyze them. I take the most relevant and applicable ideas for my work; and, of course, all this translates to my and my clients' benefits."

– Omar Hernán Montes Parra, CEO at Quantum SFE