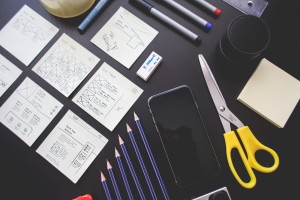 I saw a lot of innovative people present business ideas in a very original way: playing a movie, doing a dance, making a painting, writing one huge post-it, making a newspaper, and even by doing a flash mob.
Of course it's a great idea to be original, but when you present your innovative business idea to others is wise to keep in mind that your executives or bankers are still as conservative as ever. They might praise you for your creativity. But, will they buy the idea and give you the resources to develop it after seeing a flash mob?
Most people like to be innovative but don't want to run a lots risks. As innovator you can fight this risk adverse culture, as a kind of modern Don Quixote fighting windmills. Or you can accept it. Only when you accepted it, you can deal with it. Managing innovation has everything to do with managing expectations and reducing risks. Although they might have asked you to bring them innovative ideas. Present them something better: tangible potential for growth!
In the boardroom your idea will be evaluated from at least four perspectives:
The Customer: will they like it?

The Business model: will it be profitable?

The Technology: can it be produced?

The Risk: what if it's a failure? What if it's huge success?
A common way, in management practice to present business initiatives is drafting a business case. And for innovative concepts I made a special variant. One which complies with all uncertainties in the earliest phase of the innovation pipeline: a mini new business case. This is a clear, strategic, commercial, professional and financial plan for innovative initiatives. At this early stage of the innovation process it is more of a "preview" of the full business case.
A good mini new business case for an innovative idea consists of seven slides:
1. The customer friction (1 slide).
The customer situation
The customer need
The customer friction (problem/challenge)
2. Our new product concept (1 slide).
The customer target group (qualitative and quantitative)
The marketing mix of the new product, service or business model
New for… (the world, the market, our company)
3. This makes the concept unique (1 slide).
Buying arguments for the customer
Current solutions and competitors
Our positioning
4. It will be feasible (1 slide).
We are able to develop it
We are able to produce it
The development process
5. What's in it for us (1 slide).
The number of customers (in year three)
The estimated turnover (in year three)
The estimated profits (in year three)
6. Why now? (1 slide).
Why develop it now
If we don't do it, then…
7. Decision (1 slide).
Why further
Uncertainties
The follow-up team, process and planning.
Free download: the format of the mini new business case.
An original way of presenting your idea gets you attention. By making a mini new business case though you strengthen the persuasiveness of your proposal, which will increase the chance you will get a "Yes". And that's what it's all about: getting your bright ideas to the market as fast as possible.
Effective innovators are innovative and act conservative.