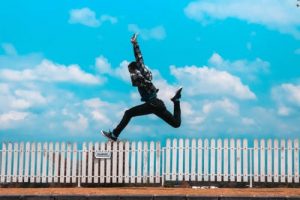 In a previous article I wrote (How Do We Understand the Growth Maturity of Our Organization?), we discussed the 5 dimensions of organizational maturity:
1. Age of the Organization
2. Size of the Organization
3. Stages of "Evolution"
4. Stages of "Revolution"
5. Growth Rate of the Industry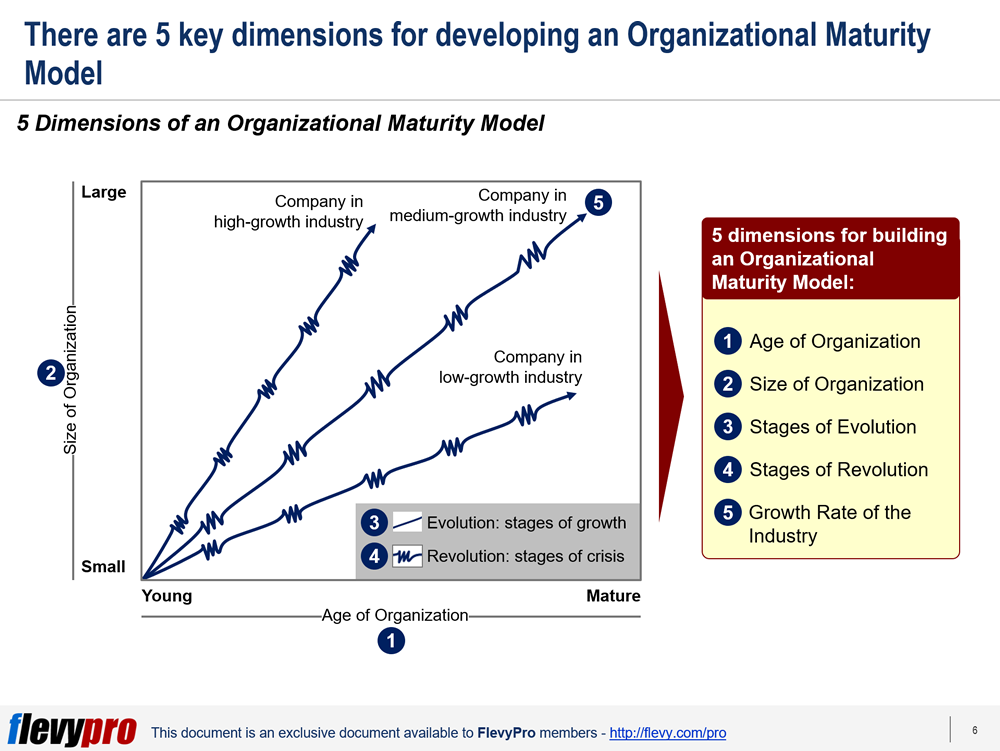 Let's take this concept further and see how these dimensions translate to an actual Growth Maturity Model (AKA, the Greiner Growth Model). In the Greiner Growth Model, we define 5 stages of growth. From youngest to most mature, the organization achieves growth through…
1. Creativity
2. Direction
3. Delegation
4. Coordination
5. Collaboration
As we will soon discuss, at the end of each stage, there is a crisis, which provides the impetus for the following stage (if the organization successfully survives the crisis). As such, each stage is at once a result of the previous stage and a cause for the next stage.
The table below provides a great snapshot of how each stage of growth maturity differs, based on various organizational practices (e.g. strategic focus, management style, organizational structure, etc.). From this, we can see clearly how the same strategies and management approaches cannot be easily applied from one stage to the next. Having a clear understanding of these nuances at each stage is critical to Strategy Development and for anticipating growing pains.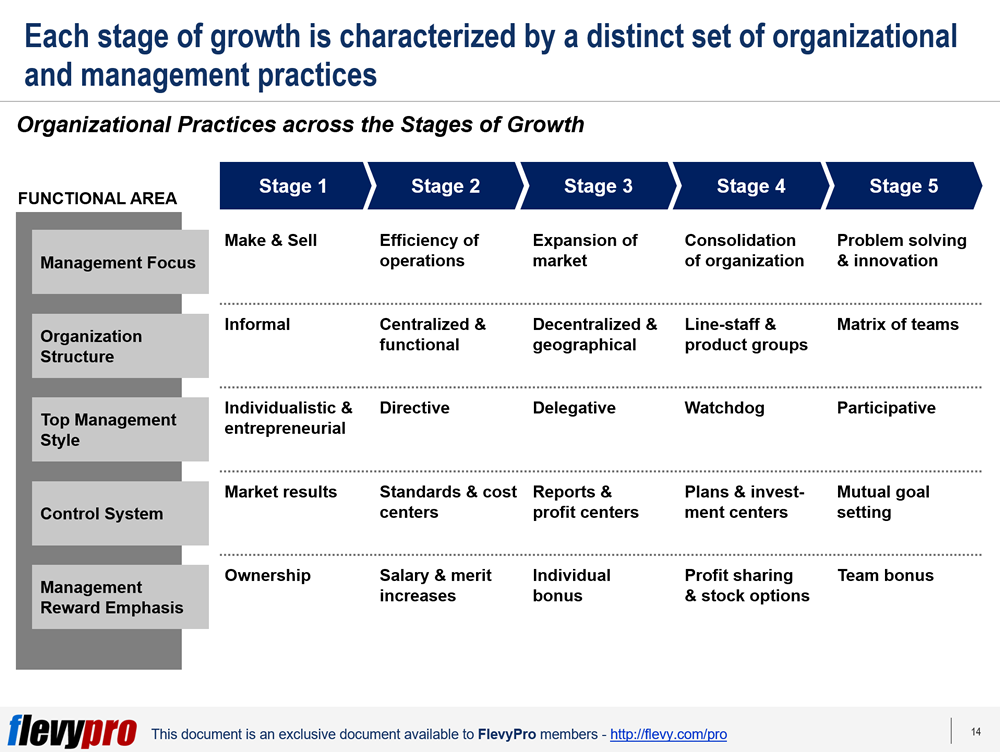 Let's delve a bit deeper into each stage now, shall we.
1. Growth through Creativity
In the organization's inception, growth is driven by the creativity of the founders and early employees. When an organization is formed in its startup, the emphasis is on creating both a product and a market. All the individualistic and creative activities are essential for a company to get off the ground.
However, as the organization grows, those very creative activities become the source of problems. The company's founders find themselves burdened with unwanted management responsibilities. They long for the "good ol' days" and try to act as they did in the past, when the organization was in much less mature state.
As conflicts among leaders emerge and grow more intense, a crisis of Leadership emerges. This crisis represents the first critical choice in an organization's development: Can we locate and install a strong business manager who is acceptable to the founders? One who can pull the organization together?
2. Growth through Direction
In this next stage, growth is driven by direction set by a more capable, directive leader. Those organizations that survive the first phase by installing a capable business manager usually continue forth on a period of sustained growth under this new Leadership. It is very possible that the startup founder can also remain the leader, but we must recognize the situation when this is not the case and the organization has outgrown its founder's managerial capabilities and style.
The new directive techniques channel employees' energy more efficiently into growth. However, eventually, again, this method of management becomes inappropriate for controlling a more diverse and complex organization. This results in the crisis of autonomy.
3. Growth through Delegation
At this stage, we move from a centralized to decentralized organization. Now, growth is through delegation. This stage allows companies to expand by means of the heightened motivation of managers at lower levels. Managers in decentralized organizations, who have greater authority and incentives, are able to penetrate larger markets, respond faster to customers, and develop new products.
Eventually, top-level management realize they are losing control over such a highly diversified field operational structure. Autonomous field managers prefer to run their own shows without coordinating plans, money, technology, and personnel with the rest of the organization. The organization thus falls into a crisis of control.
4. Growth through Coordination
In this stage, formalized systems, procedures, and programs are implemented. Unfortunately, eventually, the many systems and programs introduced begin to exceed their usefulness. This leads to the crisis of "red tape."
5. Growth through Collaboration
Whereas the last stage was managed through formal systems and procedures, the fifth and most mature stage emphasizes spontaneity in management action through teams and the skillful confrontation of interpersonal differences. This stage sees collaboration across the organization. Now, we have a more flexible and behavioral approach to management.
The crisis of internal growth emerges from the psychological saturation of employees who grow emotionally and physically exhausted from the intensity of teamwork and the heavy pressure for innovative solutions.
Want to learn about stages of growth in much greater depth? Take a look at our strategy and management framework, Greiner Growth Model: Stages of Evolution and Revolution.
Do You Find Value in This Framework?
You can download in-depth presentations on this and hundreds of similar business frameworks from the FlevyPro Library. FlevyPro is trusted and utilized by 1000s of management consultants and corporate executives. Here's what some have to say:
"My FlevyPro subscription provides me with the most popular frameworks and decks in demand in today's market. They not only augment my existing consulting and coaching offerings and delivery, but also keep me abreast of the latest trends, inspire new products and service offerings for my practice, and educate me in a fraction of the time and money of other solutions. I strongly recommend FlevyPro to any consultant serious about success."

– Bill Branson, Founder at Strategic Business Architects
"As a niche strategic consulting firm, Flevy and FlevyPro frameworks and documents are an on-going reference to help us structure our findings and recommendations to our clients as well as improve their clarity, strength, and visual power. For us, it is an invaluable resource to increase our impact and value."

– David Coloma, Consulting Area Manager at Cynertia Consulting
"As a small business owner, the resource material available from FlevyPro has proven to be invaluable. The ability to search for material on demand based our project events and client requirements was great for me and proved very beneficial to my clients. Importantly, being able to easily edit and tailor the material for specific purposes helped us to make presentations, knowledge sharing, and toolkit development, which formed part of the overall program collateral. While FlevyPro contains resource material that any consultancy, project or delivery firm must have, it is an essential part of a small firm or independent consultant's toolbox."

– Michael Duff, Managing Director at Change Strategy (UK)
"FlevyPro has been a brilliant resource for me, as an independent growth consultant, to access a vast knowledge bank of presentations to support my work with clients. In terms of RoI, the value I received from the very first presentation I downloaded paid for my subscription many times over! The quality of the decks available allows me to punch way above my weight – it's like having the resources of a Big 4 consultancy at your fingertips at a microscopic fraction of the overhead."

– Roderick Cameron, Founding Partner at SGFE Ltd
"Several times a month, I browse FlevyPro for presentations relevant to the job challenge I have (I am a consultant). When the subject requires it, I explore further and buy from the Flevy Marketplace. On all occasions, I read them, analyze them. I take the most relevant and applicable ideas for my work; and, of course, all this translates to my and my clients' benefits."

– Omar Hernán Montes Parra, CEO at Quantum SFE