An Agile Manager provides the basic framework for organizations to cope with today's volatile customer driver marketplace. Being agile is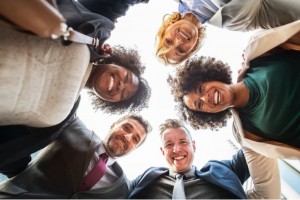 being able to master continuous change. An organization can be agile. But it needs to have a dynamic Agile Manager.
Today's critical times call for traditional managers to take on an agile mindset. Traditional manager must learn to redefine their roles. Only then will transformation be successful in ensuring a sustainable systemic change towards having an Agile organization.
What is an Agile Organization?
An Agile organization is 28% more successful than traditional organizations. Being agile means being able to master continuous change. It is driven by a multidisciplinary team that can respond swiftly and promptly to rapidly changing opportunities and customer demands.
To be an Agile organization, companies need to be empowered with Agile mindset. A shift in mindset is the fundamental element of success.
Understanding the Agile Mindset
Having an Agile mindset is having the ability to adapt swiftly to unpredictable trends. These unpredictable trends are those that can disrupt or reshape the industry. An Agile mindset is dynamic and far different from traditional mindsets when approaching the changing business horizon.
An Agile mindset can be a strategic North Star that is embodied across the organization. In an environment of scarcity, traditional leaders succeed by capturing value from competitors, customers, and suppliers for company's shareholders. Leaders with Agile mindsets recognize the abundance of opportunities and resources available. Success is achieved by co-creating value with and for all the company's stakeholders.
An Agile mindset is a game changer. In the world where competition has become stiff, a game changer has become a giant force to beckon with.
Recreating Agile Leaders with Agile Mindsets
In the past 5 years, the need for Agile management has become more intense. People do not need managing. Processes and overarching systems do. Hence, Agile Managers are considered caretakers of the human system and the organization. They play a critical role in achieving a successful agile transformation and business agility.
There are3 Critical Roles of a dynamic Agile Manager.
 
The Chapter Leader
Chapter Leaders focus on jobs that call for leadership and creative talents. They are Capability Builders and Coaches.  As Capability Builders, they build up the right capabilities and people. Chapter Leaders equip people with the skills, tools, and standard approaches to deliver functional excellence.
As Coaches, they evaluate, promote, coach, and develop people but without the traditional direct oversight. As Chapter Leaders, they must not be involved in the day to day work of squads. Micromanaging is a faux pas.
The Tribe Leader
The Tribe Leader acts as true General Managers or mini CEOs. Tribe Leaders are Value Creators and Strategists.  As Value Creators, Tribe Leaders focus on value creation, growth, and serving customers. They need to determine what work needs to get done, how much to invest in which efforts, and how to prioritize opportunities.
As Strategists, Tribe Leaders must be strategic in perspective as they have profit and loss accountability. Strategic Tribe Leaders have a cross functional view of the core capabilities of the broader organization and an integrated perspective of the company as a whole and how their part of the business fits in with the larger enterprise.
The Squad Leader
Squad Leaders serve a crucial purpose in the Agile matrix. They are both Orchestrators and Team Builders.  As Orchestrators, Squad Leaders help plan and orchestrate execution of the work.
As Team Builders, they strive to build a cohesive team
Conquering the Bumpy Road Ahead: The Challenges
An Agile Manager will face several challenges as he takes on the 3 critical roles. Needless to say, however, being able to overcome these challenges will lead the Agile Leader towards achieving greater leadership potential.
The challenge of letting go of the day to day focus. This is the most difficult challenge for new Chapter Leaders.
 The challenge of shifting attention from micromanaging to developing the right business strategies, setting the right objectives and priorities, and making the right business decisions.
 The challenge of resisting the need to build your own set of resources and creating shadow functions. Continuing this will scuttle the Agile matrix.
 The challenge of leading without exerting onerous control. This is the greatest challenge of a new Squad Leader.
Squad Leaders can grow into Tribe Leaders. It is one decision that Squad Leaders can take. On the other hand, Squad Leader can continue as individual contributors that have developed leadership skills. Either way, it is a challenge worth conquering with rewards so great.
Agile Managers can design breakthrough Agile environments. Companies just need to empower the Agile Manager as they play an integral role in organizational change and growth.
Interested in gaining more understanding on Agile Management? You can learn more and download an editable PowerPoint about The Agile Manager here on the Flevy documents marketplace.
Are you a management consultant?
You can download this and hundreds of other consulting frameworks and consulting training guides from the FlevyPro library.