4 Ways to Make Any Office Space More Impressive
Featured Best Practice on Visual Workplace
190-slide PowerPoint presentation
The office, by any name, is a paperwork factory. To become a Lean enterprise, office activities must fully support shop-floor manufacturing operations to eliminate waste. The adoption of 5S throughout all office functions is the first step to increase efficiency. 5S principles are dedicated to
[read more]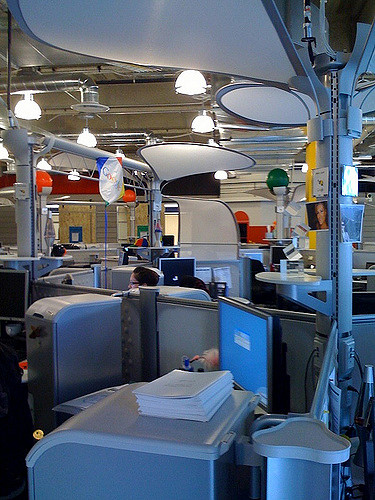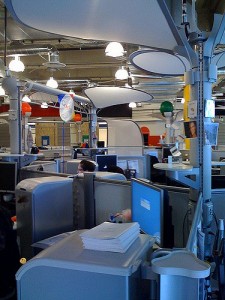 Common sense and numerous marketing studies confirm that clients are typically more receptive with a professional environment. Of course, in business it's normal to judge a book by its cover, and if a company is operating out of a shabby cubicle centre in a building that looks abandoned it's not going to be nearly as successful as an identical competitor operating in one of the city's premier office spaces. Aside from choosing the right location, there are a number of things you can do to make your office more impressive, including but not limited to the following:
1. Consider a Serviced Office Space
The first thing a client will notice before even entering your office space will be the building its located in. For example, London's serviced offices are some of the finest spaces anywhere in the world, so it's no wonder that so many successful businesses have established their headquarters there. A serviced office typically includes 24-hour security, professional receptionists, maintained meeting rooms and training facilities, and high-speed internet connectivity.
2. Incorporate HD Imagery
Adding HDTVs, paintings, pictures, infographics, and posters are great ways to spice up an otherwise bland office. Larger screens and art pieces are typically more impressive, so don't hesitate to invest in a massive flat screen for the lobby – it can really do a lot to keep guests comfortable and entertained while they wait. Multiple TVs may even be necessary if you have a large lobby or office space. However, it's important to find a balance so that you're not overwhelming the visitor's eye as soon as they enter the room.
3. Focus on Furniture and Interior Design
Once you have a location, building, and in-office imagery covered, it's time to focus on furniture arrangement and interior design. Fortunately, most serviced office spaces will take care of this aspect for you, but if you're filling an empty space it can be challenging to come up with something from scratch. You can either enlist the assistance of an office design specialist or figure it out yourself after researching and watching videos about office décor and corporate feng shui. Indoor lighting is also an important factor to consider, as it can change the look of the entire room and has been shown to have an effect on mood.
4. Create More Open Space and Install New Flooring
Sometimes overcrowding a space with furniture and accessories can make it seem a lot smaller than it actually is. A great way to make an office look more professional is to declutter a large chunk of floor space and then install new flooring to create a more lobby-esque feel to the entrance. Walking straight into a carpeted room crammed with cubicles gives off a poor impression in comparison to entering an open and airy space with fancy tile, ceramic, laminate, or hardwood flooring.
Put Yourself in the Shoes of a First-Time Visitor
Finally, it can be difficult to look at a place objectively when you're seeing it every day. Try resetting your opinion of your office and coming back with a fresh outlook as if you've never been there before. This will put you in a better position to make out-of-the-box design decisions.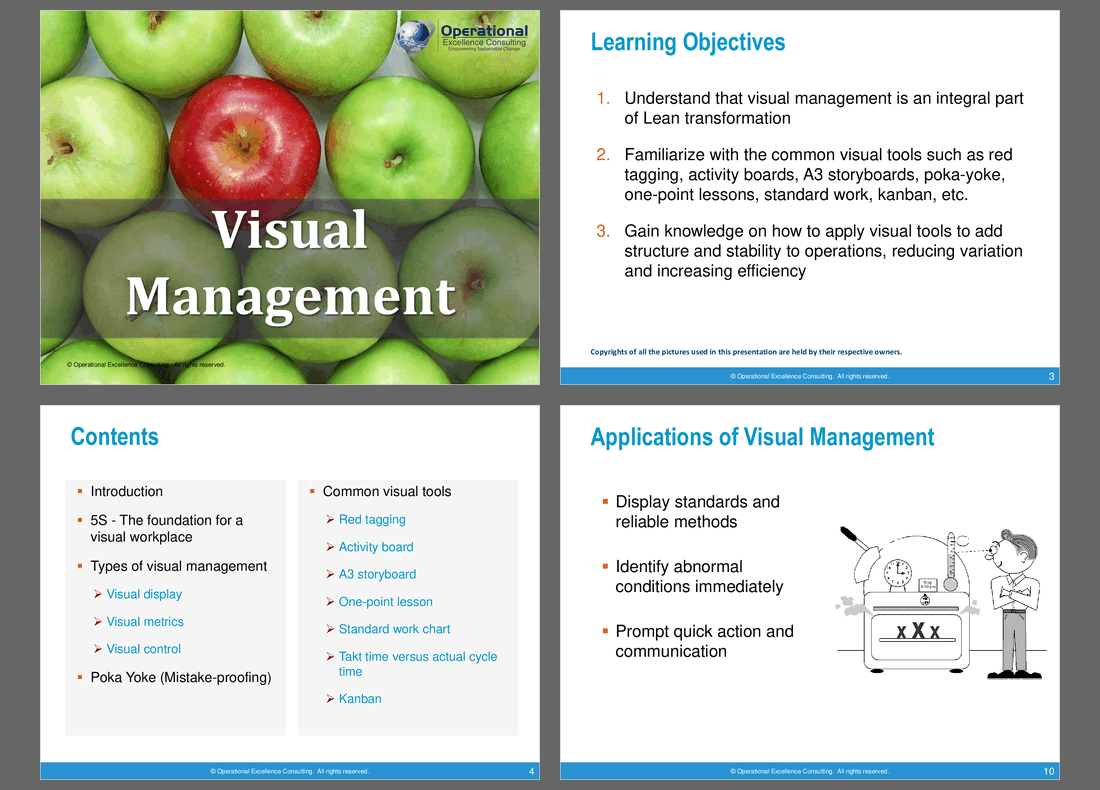 153-slide PowerPoint presentation
Visual management is an integral part of a Lean management system. Visual management uses displays, metrics and controls to help establish and maintain continuous flow, and giving everyone a view of the work along the value stream. It includes a set of techniques that make operation standards
[read more]
Do You Want to Implement Business Best Practices?
You can download in-depth presentations on Visual Workplace and 100s of management topics from the FlevyPro Library. FlevyPro is trusted and utilized by 1000s of management consultants and corporate executives.
For even more best practices available on Flevy, have a look at our top 100 lists:
These best practices are of the same as those leveraged by top-tier management consulting firms, like McKinsey, BCG, Bain, and Accenture. Improve the growth and efficiency of your organization by utilizing these best practice frameworks, templates, and tools. Most were developed by seasoned executives and consultants with over 20+ years of experience.
Readers of This Article Are Interested in These Resources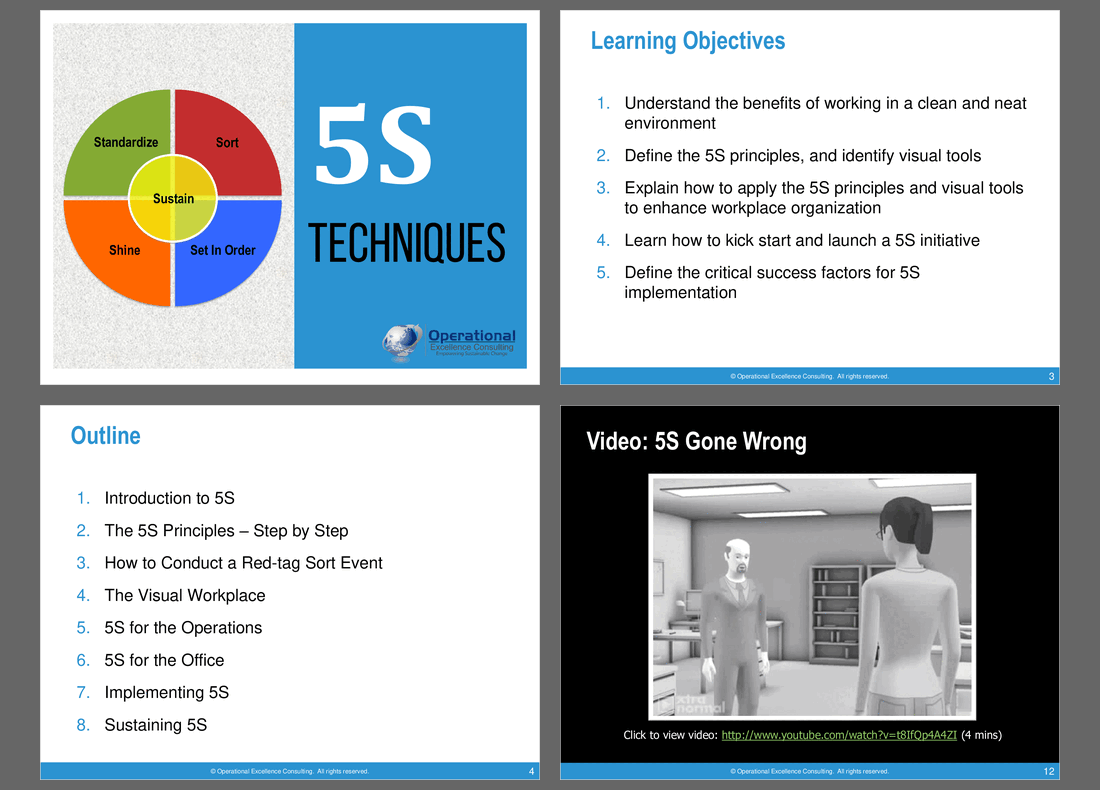 189-slide PowerPoint presentation
5S good housekeeping and workplace organization is a set of basic management principles that are widely adopted in industries today. Also commonly known as "5S System," "5S Method" and "5S Pillars," the cornerstone of 5S is that untidy, cluttered work areas are
[read more]
162-slide PowerPoint presentation

123-slide PowerPoint presentation
About Shane Avron
Shane Avron is a freelance writer, specializing in business, general management, enterprise software, and digital technologies. In addition to Flevy, Shane's articles have appeared in Huffington Post, Forbes Magazine, among other business journals.
Top 10 Recommended Documents on Visual Workplace
190-slide PowerPoint presentation
153-slide PowerPoint presentation
189-slide PowerPoint presentation
162-slide PowerPoint presentation
123-slide PowerPoint presentation
28-slide PowerPoint presentation
3-page PDF document
20-slide PowerPoint presentation
71-slide PowerPoint presentation
107-slide PowerPoint presentation

» View more resources Visual Workplace here.
» View the Top 100 Best Practices on Flevy.