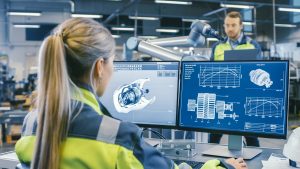 When it comes to precision and productivity, it's hard not to envision technology. While the human mind can dream of the future of any industry, it's their machines that can make them a reality. And no technology embodies this better than the one used in computer numerical control (CNC) machining. CNC machining enables computer software to control how machinery, no matter simple or complex, operates.
The implementation of CNC machining has increased productivity and output across multiple industries. Freeing people from important yet repetitive work has allowed them to focus their efforts on thinking of new ways to advance progress. Consequently, it may be these factors that usher in an era of unprecedented technological advancement.
Whether engineering at aerospace machine shop services or caring for patients at medical facilities, their increased presence is a testament to their invaluable contributions. To get a better view of the benefits this technology offers, here are a few industries that have seen incredible progress thanks to CNC machining.
1. Aerospace Industry
With the aerospace industry providing USD$3.5 trillion of the world's total gross domestic product (GDP), the possibilities of advancement are near limitless. Both government and private organizations are racing to find the next great discovery in this field.
CNC machining is crucial to this industry as it excels in the process of rapid prototyping. The creation of new, more intricate models can now be done more quickly and cost far less. Additionally, the 3D printing process which goes hand in hand with CNC machining allows engineers to spot errors and make changes on the fly.
When it comes to transporting cargo and human lives, even the tiniest details must come under scrutiny. That is why engineers strive to reach even higher levels of precision. The use of this technology sees to it that human error is reduced and progress remains unhindered. The components that are aided with the use of these machines can be:
Valves
Couplers
Fuel Nozzles
Landing Gears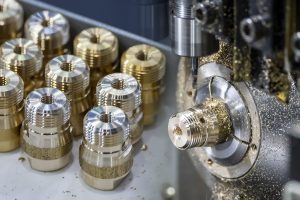 After taking this into account, compatibility with different metals and materials is another feature that is rapidly becoming the cornerstone of the technology. Materials such as aluminum and titanium are seeing more use due to their extreme durability all while remaining relatively lightweight. The introduction of CNC machining has made processing these materials easier than ever before.
Although still a ways off, these updates are enough to get society excited for the future. With safer and lighter planes, commercial flights could one day be the norm as humanity continues its journey to reach for the stars.
2. Medical Industry 
Whether used for diagnosis or monitoring, medical components must put out high-quality performance consistently. Since these devices are crucial in saving lives, medical professionals have a greater need for access to technology that can further the level of precision that they provide for their patients.
Resistance to everyday wear and tear is also a constant struggle. These devices may at times be brought home with patients and having them break after a fall is unthinkable. A few examples of medical equipment that are improved through CNC machining include:
Research tools
Electrical components
Orthotic devices
Various Implants
Diagnostic machines
It is important to take into account that different components are needed for different people, so these parts may be designed to suit a specific person. Furthermore, this presents the challenge of acquiring a constant supply of these parts. Since most components may need to be discarded for sanitary purposes, new parts must be accessible immediately.
CNC machining makes the mass production of custom parts possible. Therefore, they are indispensable for providing high-quality parts to doctors and patients while reducing business costs incurred from replacing different pieces.
3. Marine Industry
A recurring theme with CNC machining is that it is great at addressing transportation needs. This statement rings true with the marine industry. Withstanding the forces of nature is a colossal task and attention to detail can mean the difference between life and death.
The first concern will be water which can affect ships in various manners. Salt and other minerals found in the water can corrode protective layers and wear out parts. Additionally, the formation of moisture anywhere can damage your boat from the inside.
Electronics and other devices on a boat need to be factored in as well. While most are built to be water-resistant, they will still need additional protection to keep them safe. Damaged communication and navigation devices can be disastrous while on a boat.
While all this can be distressing, CNC machining addresses these concerns due to its finesse in processing materials that are sturdy yet lightweight. While steel remains the usual choice in material, the introduction of marine-grade foams is making waves in the industry.
Use of the foam will mean increased buoyancy while decreasing the need for volatile materials like wood. Soon, lightweight and speedier ships may dominate the nautical world.
From the electronics that help navigate the ship to the propeller that drives it along, the use of CNC technology is peppered throughout the creation of a ship. As such, the marine industry could experience a revitalization.
Conclusion
As the old saying goes, the devil is in the details, but CNC machining is beginning to look like the answer to that conundrum. Where human lives are concerned, every effort must be expended to ensure their safety. Should this become impossible for humans to do, then perhaps machines may be the ones to help extend their reach.