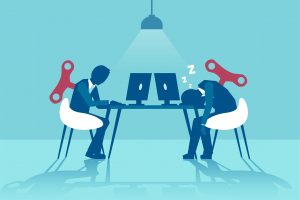 Productivity plays a crucial role in the success of your business. Being productive means the company utilizes the available resources more efficiently while also improving overall output. As such, every business owner aims to constantly boost productivity among their employees and company operations.
If you're not seeing the level of productivity you want for your business, it would be a good idea to examine what could be causing it. The more you know about the reasons behind it, the better you can develop ways to resolve productivity issues in the organization.
To give you an idea of what to look out for, this article discusses three factors that hinder business productivity.
1. Faulty or Outdated Technology
In today's digital world, businesses require the use of technology to streamline processes and make the workflow smoother. Your company needs a stable Internet connection, a solid IT infrastructure, and effective tools to maximize your workers' productivity.
For example, if you rely on your IT networks and systems for secure communication and storage, as well as transmission of confidential data, these need to be functioning optimally and continuously for your operations to continue as normal. However, if they're faulty or outdated, your business's productivity level may suffer. It could result in your employees working at a slower pace, which would then lead to lower output. Not only that, but if it's in need of repairs or replacing, it could cause downtime for your business operations.
Hence, it's best to maintain a functional IT infrastructure and other technologies to maximize productivity. You could have your in-house IT team do regular assessments and maintenance on it, or you could outsource your IT needs to IT services in Boston from CloudSecureTech or to other IT service providers in your area.
2. Inefficient Management of Employees
The way you manage your employees can also influence your business's overall productivity. Typically, your management should be competent, efficient, and professional to ensure that your team members produce the expected output. Failure to keep up with these standards may reduce the productivity level of your company.
For example, let's say that your workers feel they're not being managed well. Or let's say there are factors that are contributing to an unpleasant work environment for them, such as having an uncomfortable work space, feeling like their work performance isn't appreciated, and having personality clashes with other members. Any one of these factors could slow down their work and decrease their overall productivity.
If you'd like to ensure that you're providing the best management you can to your employees, you may want to check if you're doing the following:
Providing a conducive and safe working environment to all members, as well as investing in things that could contribute to their comfort, such as an air-conditioning unit and comfortable office furniture
Implementing an incentive or reward system to motivate employees
Encouraging your team to have an active role in the management by allowing them to give suggestions
Showing exceptional leadership by making informed strategic decisions, uniting people in working toward the business's common goals, and developing teamwork
As you can see, there are many aspects of employee management that you should be giving considerable attention to. If you're not already doing the tasks listed above, you may want to consider giving them a go, as it could help motivate your employees and thus boost their productivity.
3. Stress and Health Issues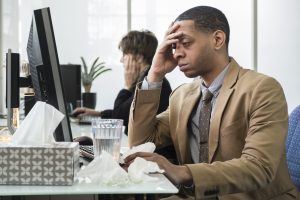 Another major factor that could influence your business's productivity is stress and illness. Even your most productive employees will slow down if they're feeling too stressed or suffering from health issues.
This is unavoidable. It's normal for people to go through tough situations in their personal lives, and it's normal to get sick or to encounter health issues. If you have an employee going through any one of these situations, you can expect their productivity to drop, though how much would depend on the severity of their situation.
Though you can't avoid this, you can take certain measures to minimize the chances of it happening. Make sure to check on your employees from time to time. Provide services that could help them handle or prepare for these situations better. For example, you could have your team undergo stress management training so they can learn how to manage stressors. You could also provide regular medical checkups to address any health issues they may have. In addition, encourage your employees to prioritize their rest and to take time off when they feel they're getting burnt out.
Bottom Line
Productivity is essential to the growth and success of your business. When everyone in your organization is productive, your business can function optimally and produce the desired results. But you may hit snags in productivity once in a while, and this could affect your business's output. With the above factors in mind, you can keep an eye out for whatever could be causing the dip in productivity, and you could then take the necessary actions to resolve it as soon as possible.