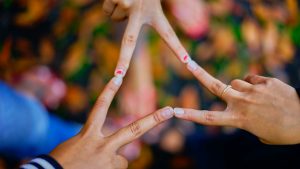 The current ever-changing and increasingly connected world demands taking an amplified approach to Innovation and Innovation Management.
The conventional method of innovating locally and distributing the product or service globally is now being questioned more and more.  Effortless availability of unparalleled knowledge, essential for Innovation, is one key factor in bringing the traditional approach into question.
New approaches are now necessitated in order to take full advantage of the vast array of knowledge easily available across the globe.  There are 3 approaches that are preferred more than others:
Staying Approach
Visiting Approach
Inviting Approach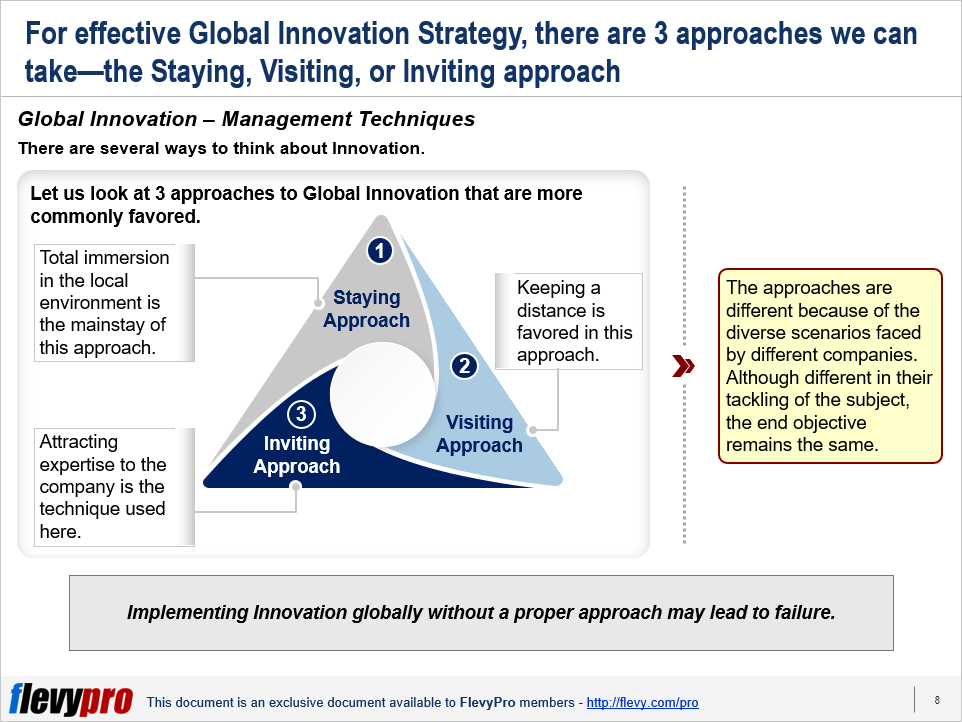 The approaches are different because of the diverse scenarios faced by different companies.  Even though these approaches attempt to address the subject in non-identical ways, the final purpose continues to be no different—i.e., infusing a Global Innovation Culture.
Let us examine the approaches in a little more detail.  
Staying Approach
This approach finds it crucial to immerse the operation in the local area while attempting to innovate.
Aspiration behind Innovation development, in quite a few instances, is to gain knowledge, information, knowhow, and technology that is, typically, deficient in the organization.  Aim behind immersing in the local environment is to cultivate high quality networks, internal and external relationships, thus promoting Innovation.
In reality however, some companies even after spending a long time in a location do not get noticed and engaged.  A major cause for such failures is dearth of partnerships.
Visiting Approach
Also dubbed the Travel approach, this method advocates keeping a distance as opposed to the Staying approach because complete immersion in a location has an adverse influence on Innovation.
Understanding the Visiting approach from a business management or sociological viewpoint is easier through the Network theory.  Theories underlying this approach contend that full immersion in a location deteriorates thinking and Innovation.
The theories further assert that a certain amount of distance allows combining their own outlook with that of the local area thus permitting knowledge, information, and knowhow from several regions.
The role of the knowledge-information broker becomes a key in such scenarios.
Inviting Approach
In place of visiting the Local area, this approach promotes Inviting Innovators from other organizations to foster a culture of Open Innovation.  This approach requires that visits should be terminated when attempts are made to take Innovation to the Global level.  The basis of this approach is efficiency and the fact that any company going Global will have sufficient wherewithal to invite others to come to it.
This approach is not restricted to big corporations of the developed world only; rather it accommodates businesses of developing countries too.
This approach is often used by Second Mover companies who want to draw alongside the leaders.
Drawback in this approach is that it brings into the open the Innovative needs of the company and thus its vulnerabilities.
Global Innovation has both Local and Global Innovation aspects that pertain to Autonomy and Control.
Characteristic of Local Innovation is increased autonomy and scarce information-sharing with headquarters.  Global Innovation proposes an amplified degree of information-sharing with HQ but it comes with the cost of losing autonomy as HQ starts to control more and more.
In the debate of Autonomy vs. Control, a mechanism to preserve information-sharing without reduced autonomy is essential for organizations aspiring to take their innovation to the global level.
There are 2 common methods used to strike a fine balance between Control and Autonomy:
In the 1st method, local operation takes the decision but headquarters maintains the classified information.
In the 2nd method, information moves to the local operations but headquarters makes the decision.
Interested in learning more about these approaches to Global Innovation?  You can download an editable PowerPoint on 3 Approaches to Global Innovation here on the Flevy documents marketplace.
Do You Find Value in This Framework?
You can download in-depth presentations on this and hundreds of similar business frameworks from the FlevyPro Library.  FlevyPro is trusted and utilized by 1000s of management consultants and corporate executives. Here's what some have to say:
"My FlevyPro subscription provides me with the most popular frameworks and decks in demand in today's market.  They not only augment my existing consulting and coaching offerings and delivery, but also keep me abreast of the latest trends, inspire new products and service offerings for my practice, and educate me in a fraction of the time and money of other solutions.  I strongly recommend FlevyPro to any consultant serious about success."

– Bill Branson, Founder at Strategic Business Architects
"As a niche strategic consulting firm, Flevy and FlevyPro frameworks and documents are an on-going reference to help us structure our findings and recommendations to our clients as well as improve their clarity, strength, and visual power.  For us, it is an invaluable resource to increase our impact and value."

– David Coloma, Consulting Area Manager at Cynertia Consulting
"FlevyPro has been a brilliant resource for me, as an independent growth consultant, to access a vast knowledge bank of presentations to support my work with clients.  In terms of RoI, the value I received from the very first presentation I downloaded paid for my subscription many times over!  The quality of the decks available allows me to punch way above my weight – it's like having the resources of a Big 4 consultancy at your fingertips at a microscopic fraction of the overhead."

– Roderick Cameron, Founding Partner at SGFE Ltd