The advent of social media has contributed significantly to the changing brand and company marketing paradigm.  Marketing speak is quickly being replaced by thought leadership.  A company or brands target audience is not interested in features and benefits of your products as much as they are interested in feeling that you are the expert in your field.  Once you achieve this status, your customer or client is more inclined to seek you out (inbound marketing) and want to do business with you.
BUT, how does a brand or company create such an environment?  If one accepts the premise that content marketing will grow your business, then there is little choice other than to shake up and reorganize how you market your product or service.
A traditional publishing organizational structure falls short, whereas a traditional marketing organizational structure doesn't work either. There simply are too many moving pieces to use a current structure. Below is a sample of a streamlined structure in the brave new world of content marketing. This by no means is a perfect model. Your structure needs to be customized for your organization, but it will show the areas that need to be considered. Take note of functions and not job titles.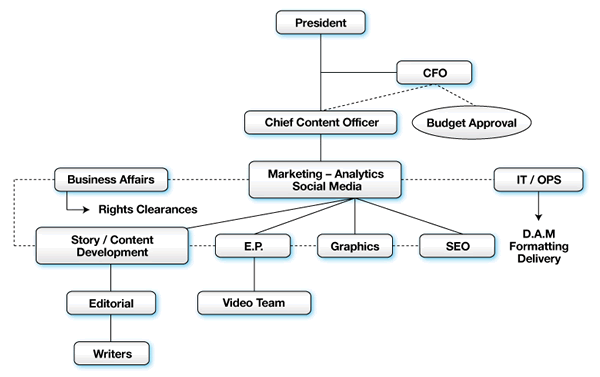 The point is that someone within the organization needs to be accountable for content. What type of content will engage, entertain and educate your target audience and where should it be "published?" So whomever your choose, or hire, needs to work with Finance to agree upon a budget for a period of time. It's senseless to market content as a one off and if you head down this road, be prepared to begin with a strategy that will include frequency by platform.
Once the budget is approved, and you have created your editorial calendar (what goes where and how often), you will need a writing resource for copy and an executive producer for video.
This however should not be done in a silo. Content needs to work with SEO to make sure you'll take advantage of search engines and improve your discoverability. Operations also need to be involved, possibly to take responsibility for formatting the content for a particular platform, but certainly for Digital Asset Management and storage related workflows. Marketing of course needs to drive the look and feel of your content. Again, this cannot be accomplished if you've organized your company into silos. Marketing, Editorial, Finance and IT/Ops need to all speak and coordinate your content marketing initiative.
There simply are too many moving pieces in today's world to use a traditional organizational structure. The structure needs to be flat, with someone (Chief Content Officer, Content Strategist, CMO) who sits atop to make sure your machine is running smoothly and positions you to attain your goals – and the goal of content marketing is to move your target audience to a profitable action.
Whether you build a team in-house, outsource or use a combination of the two, the point is to recognize all the functions involved and make sure they are properly addressed for a successful program.