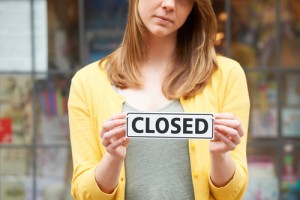 Want to start a new business? Good luck.
Half of all new businesses fail within five years and more than 66 percent fail within 10 years, according to the U.S. Small Business Administration. The University of Tennessee analyzed thousands of small-business failures in an effort to identify their underlying causes. Here are some of the top causes of small-business failure, along with some strategies on how to avoid them.
Lack of Managerial Competence
An estimated 46 percent of small-business failures stem from incompetence in key business areas, while another 30 percent derive from a lack of managerial experience. Together, these two leading contributors can be summed up as managerial incompetence, U.S. News & World Report states.
One of the best ways to avoid this problem is to gain managerial training and experience by earning an MBA. An MBA program provides training in areas like business strategy, accounting, financing and marketing, and courses also offer opportunities to gain practical managerial experience through internships.
Ineffective Pricing Strategy
When business failures caused by incompetence are broken down into more specific categories, one of the leading areas where businesses fail is often pricing strategy. Setting prices based on emotions rather than logic is the most common problem, while lack of knowledge of industry pricing conventions ranks as the third biggest problem.
Pricing is probably the toughest part of business to get right. To develop an effective pricing strategy, you must first determine the minimum price you can sell a product while still turning a profit. Next, to identify the highest price you can charge without driving customers away, study your niche market, including what your competition is charging, as well as your prospective customers' buying patterns.
After determining these figures, you can choose from a range of pricing strategies. For example, premium pricing can be used to position your product as superior to your competition and attract luxury buyers, while low pricing can be used to penetrate a cost-conscious market and attract cost-conscious buyers.
Continually test your prices to ensure your strategy remains profitable, while making sure you're not undercutting potential profits.
Failing to Pay Taxes
Non-payment of taxes also ranks high among causes of small-business failure. Inaccurate reporting, civil fraud, failing to pay on time, filing late and underpaying estimated taxes are some of the most common small-business owner mistakes.
To avoid these mistakes, make tax planning part of your business plan. Research and understand your tax obligations and budget them into your financial planning. Schedule your tax payments ahead of time, and use good accounting and tax preparation software to automate your tax estimation. You can also look to outsource your tax preparation to a trained specialist for optimum results.
Poor Financial Literacy
Lack of financial knowledge is another leading cause of small-business failure. Not knowing how to obtain and manage your financing can cause you to run short of the funds you need to run your business. The best way to avoid financing problems is to prepare a business plan that includes a financial strategy.
If you plan to borrow money, you will need to prepare your key financial statements, which include your income statement, balance sheet and cash flow statement. The SBA provides an online guide to business financing basics.
Poor Recordkeeping
Another major cause of small-business failure is poor recordkeeping. According to Wasp Barcode Technologies, some of the top challenges that result from mismanagement of the books include:
Accounts receivable and collections problems
Cash flow issues
Paperwork management problems
Trouble closing the books each month
Payroll management headaches
An underlying reason for these problems is the lack of a bookkeeping specialist. Nearly half of small businesses with fewer than 100 employees don't have a full-time accountant. Hiring a bookkeeper or outsourcing your bookkeeping to a trained expert will alleviate your record-keeping problems.
You should also back up your records with a cloud backup service to ensure you don't lose any important files for accounting and tax preparation purposes.