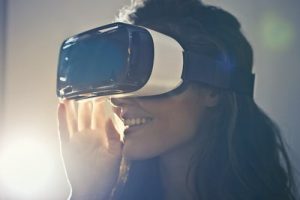 Organizations, small and large, are undergoing Digital Transformation to evolve to "Digital Organizations." Beyond just adopting emerging technologies into their front-end business models and back-end infrastructure, to become a true "Digital Organization," they must also adopt "digital" Operating Models.
While leadership may be eager to adopt these Digital Operating Models, it would be a mistake to be too hasty, as such novel structures could result in an immense cultural shock for many in the organization. Instead, we should only adopt the model the best fits with the Digital Maturity of our organization.
There are 4 primary Operating Models for Digital Organizations.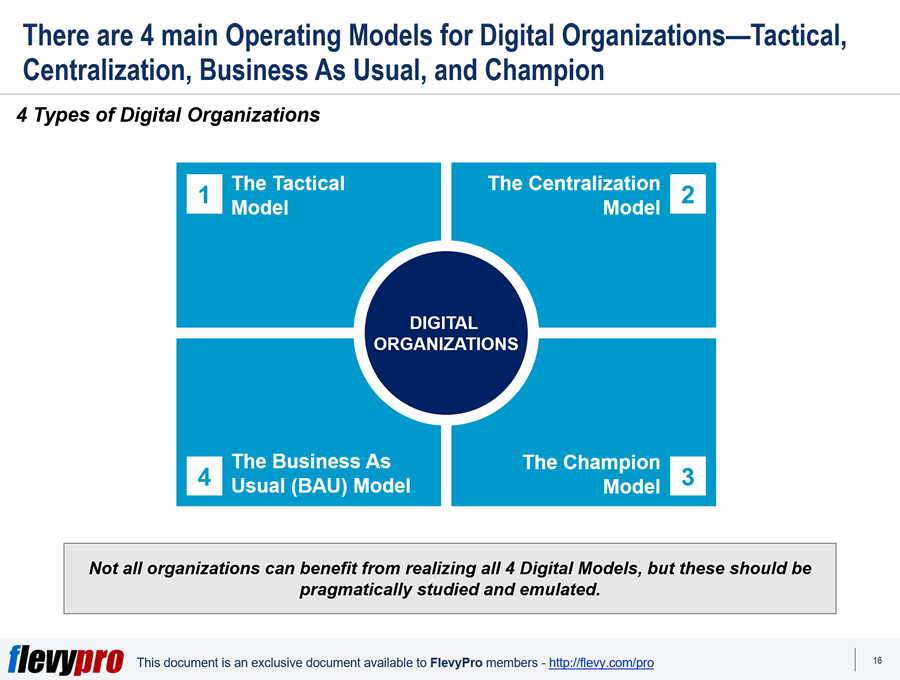 Not all organizations can benefit from realizing all 4 Digital Operating Models. Each should be pragmatically studied and emulated, bearing our organization's unique situation in mind.
Now, let's take a deeper look at each Digital Model.
1. The Tactical Model
The Tactical Model encompasses digital technology and innovative ways of working within various business units of the organization to achieve existing targets. However, these outlays are often in silos.
Digital marketing, online sales channels, and other technologies that enhance field force mobility are invested in and utilized to create value for the business. These investments are usually sizable, but not strategic. Digital is not considered the core of the business, with only a few people fully aware of the challenges and opportunities it presents
The Tactical Model is common in organizations aspiring to create a digital market presence, but do not invest in devising a comprehensive Digital Transformation Strategy. However, changing times will necessitate these organizations to embrace a more strategic use of digital.
2. The Centralization Model
Organizations employing a Centralization Model consolidate digital initiatives and capabilities into a central unit that leverages proper governance over digital expenditure. It helps in directing Corporate Strategy into prioritized digital initiatives, which are implemented by a central unit in collaboration with business units.
The centralization benefits organizations that are doing far too much in digital. Well-intentioned projects meant to establish innovative technologies and products are executed, but they achieve little at a strategic level.
3. The Champion Model
The Champion Model is characterized by a Digital Transformation Strategy that is well communicated across the business. A central Digital Team is not solely responsible for digital, and focus remains on sharing knowledge, educating and enabling others in the business.
Companies that adopt this structure have a culture of openness and trust to the level that they can focus on doing things rather than having meetings to plan execution. Leadership supports the employees at all levels and everybody is clear of the strategic direction and objectives.
4. The Business as Usual (BAU) Model
In the BAU Model, digital culture, processes, business models and technology are fully embedded in daily working life. The organization is adaptable and responsive to change at all levels. There is no longer a need for a centralized function and those working on initiatives and with specific digital skills re-join business units.
So, how ready is our organization? We can leverage another framework, a simple diagnostic tool, to assess our "Digital Readiness" and determine which Digital Operating Model is best for us at this stage of our Digital Transformation.
This diagnostic framework evaluates 5 key areas:
 Strategy and Leadership
Customer Engagement
Products and Services
Organization and Talent
Digital Operations
Interested in learning more about Digital Readiness, Digital Operating Models, and overall Digital Organizations? Our framework called Digital Organization Design discusses these areas in further depth.
Do You Find Value in This Framework?
You can download in-depth presentations on this and hundreds of similar business frameworks from the FlevyPro Library. FlevyPro is trusted and utilized by 1000s of management consultants and corporate executives. Here's what some have to say:
"My FlevyPro subscription provides me with the most popular frameworks and decks in demand in today's market. They not only augment my existing consulting and coaching offerings and delivery, but also keep me abreast of the latest trends, inspire new products and service offerings for my practice, and educate me in a fraction of the time and money of other solutions. I strongly recommend FlevyPro to any consultant serious about success."

– Bill Branson, Founder at Strategic Business Architects
"As a niche strategic consulting firm, Flevy and FlevyPro frameworks and documents are an on-going reference to help us structure our findings and recommendations to our clients as well as improve their clarity, strength, and visual power. For us, it is an invaluable resource to increase our impact and value."

– David Coloma, Consulting Area Manager at Cynertia Consulting
"As a small business owner, the resource material available from FlevyPro has proven to be invaluable. The ability to search for material on demand based our project events and client requirements was great for me and proved very beneficial to my clients. Importantly, being able to easily edit and tailor the material for specific purposes helped us to make presentations, knowledge sharing, and toolkit development, which formed part of the overall program collateral. While FlevyPro contains resource material that any consultancy, project or delivery firm must have, it is an essential part of a small firm or independent consultant's toolbox."

– Michael Duff, Managing Director at Change Strategy (UK)
"FlevyPro has been a brilliant resource for me, as an independent growth consultant, to access a vast knowledge bank of presentations to support my work with clients. In terms of RoI, the value I received from the very first presentation I downloaded paid for my subscription many times over! The quality of the decks available allows me to punch way above my weight – it's like having the resources of a Big 4 consultancy at your fingertips at a microscopic fraction of the overhead."

– Roderick Cameron, Founding Partner at SGFE Ltd
"Several times a month, I browse FlevyPro for presentations relevant to the job challenge I have (I am a consultant). When the subject requires it, I explore further and buy from the Flevy Marketplace. On all occasions, I read them, analyze them. I take the most relevant and applicable ideas for my work; and, of course, all this translates to my and my clients' benefits."

– Omar Hernán Montes Parra, CEO at Quantum SFE