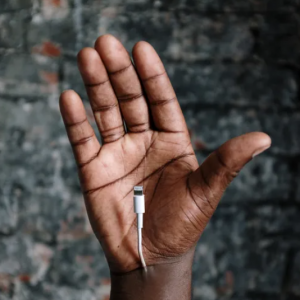 We can call it the Digital Age, the Age of Automation, or the Post-COVID World, it doesn't matter. All trends point to the same outcome — Workforce Digitization. Workforce Digitization and the powerful economics of automation require us to critically rethink of organizational structures, influence, and control.
The benefits of automation are clear, but what is the impact to the workforce and workplace environment? The reality is Workforce Digitization threatens to destabilize crucial aspects of how employees work. Therefore, it is important that the process and conceptualization of Workforce Digitization (as well as any other Digital Transformation initiatives) be handled with thoughtful consideration.
If done correctly, our organization will end up more agile, healthy, and higher performing. If done rashly, our organization may collapse into internal dysfunction, as people figure what their jobs are, who is doing what, where, and why.
To do this correctly, we should leverage Digital Workforce Platforms. A Digital Workforce Platform is software technology that helps management allocate collections of employees' skills against a broad scope of available projects and processes.
The use of Workforce Platforms can provide companies greater chance to succeed in making markets for talented workers inside their organizations. Workforce Platforms can also help CEOs transcend their own functional business unit backgrounds and prepare their organizations from the destabilization impact of automation.
There are 4 key benefits to Workforce Platforms (depicted in the slide below):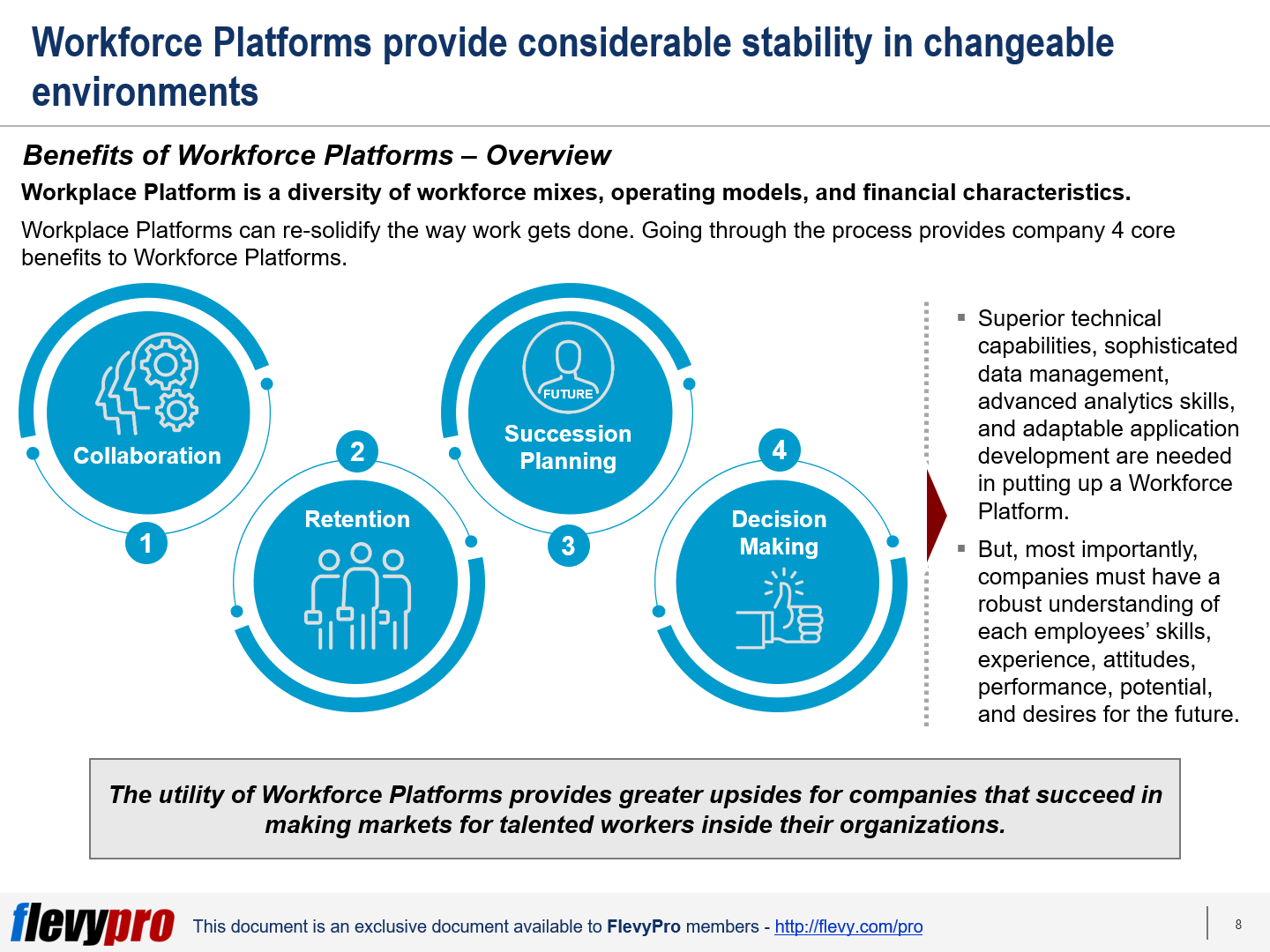 1. Collaboration
The foremost benefit of Digital Workforce Platforms is in collaboration. Workforce Platforms match individuals, teams, and projects with the most application and benefits.
They maximize the visibility and mobility of the best people within the organization. Valuable matchmakers that can sort information on employees' skills, performance in previous assignments, working styles, personality traits, availability, and locations. The digital solution in effect streamlines the way employees find colleagues with specific expertise.
2. Retention
Workforce Platforms can bring science to Talent Management through a scientific process of Employee Retention. The system also helps employees grow and develop, as their careers progress.
3. Succession Planning
Workforce Platforms can be effective in increasing Employee Engagement in their work through Succession Planning. This is critical to Business Continuity, as it can ensure strategic capabilities, institutional knowledge, and leadership skills are retained within the organization.
4. Decision Making
Lastly, Digital Workforce Platforms create the conditions where employees feel valued by their organization and happy in their environment. The platform supports the ongoing and self-directed virtual learning crucial to professional development and growth–especially in a virtual work environment, which may become more prevalent in the post-COVID-19 world.
Interested in learning more about Workforce Digitization and Digital Workforce Platforms? Take a look at our framework on Workforce Digitization.
Do You Find Value in This Framework?
You can download in-depth presentations on this and hundreds of similar business frameworks from the FlevyPro Library. FlevyPro is trusted and utilized by 1000s of management consultants and corporate executives. Here's what some have to say:
"My FlevyPro subscription provides me with the most popular frameworks and decks in demand in today's market. They not only augment my existing consulting and coaching offerings and delivery, but also keep me abreast of the latest trends, inspire new products and service offerings for my practice, and educate me in a fraction of the time and money of other solutions. I strongly recommend FlevyPro to any consultant serious about success."

– Bill Branson, Founder at Strategic Business Architects
"As a niche strategic consulting firm, Flevy and FlevyPro frameworks and documents are an on-going reference to help us structure our findings and recommendations to our clients as well as improve their clarity, strength, and visual power. For us, it is an invaluable resource to increase our impact and value."

– David Coloma, Consulting Area Manager at Cynertia Consulting
"As a small business owner, the resource material available from FlevyPro has proven to be invaluable. The ability to search for material on demand based our project events and client requirements was great for me and proved very beneficial to my clients. Importantly, being able to easily edit and tailor the material for specific purposes helped us to make presentations, knowledge sharing, and toolkit development, which formed part of the overall program collateral. While FlevyPro contains resource material that any consultancy, project or delivery firm must have, it is an essential part of a small firm or independent consultant's toolbox."

– Michael Duff, Managing Director at Change Strategy (UK)
"FlevyPro has been a brilliant resource for me, as an independent growth consultant, to access a vast knowledge bank of presentations to support my work with clients. In terms of RoI, the value I received from the very first presentation I downloaded paid for my subscription many times over! The quality of the decks available allows me to punch way above my weight – it's like having the resources of a Big 4 consultancy at your fingertips at a microscopic fraction of the overhead."

– Roderick Cameron, Founding Partner at SGFE Ltd
"Several times a month, I browse FlevyPro for presentations relevant to the job challenge I have (I am a consultant). When the subject requires it, I explore further and buy from the Flevy Marketplace. On all occasions, I read them, analyze them. I take the most relevant and applicable ideas for my work; and, of course, all this translates to my and my clients' benefits."

– Omar Hernán Montes Parra, CEO at Quantum SFE