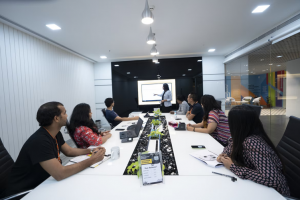 B2B business success is somewhat challenging – the pressure to appeal to an entire organization leads many brands to fail within the first few years. There's also the additional financial pressure that becomes the B2B burden. Brands need to spend more on procurement, supply chain management, and outreach. One of the most alarming figures is that 42% of B2B brands fail because they couldn't find a solid market for their products – thus, outreach is a huge challenge for B2B brands.
Still, there is a success formula that should help B2B startups flourish within the first few years. Let's explore below.
Research What the Typical Buyer Wants
The typical B2B buyer is far different from your average consumer. They have the weight of the responsibility of a buying decision on their shoulders, and thus, they come with a particular set of demands. One of those demands is a B2C experience. 77% of buyers reported their last purchase was too complex – and B2C sales prove to the B2B world that purchases can be streamlined. Offer multiple channels of shopping and interaction and focus on what Gartner calls 'buyer enablement.' That's finding a solution to a buyer's problem before they know they have it.
Gartner revealed that providing buyers with the correct information makes them 2.3 times more likely to shop again and spend more.
Manage Expenses to Maximize Profits
Managing expenses to maximize profits is essential – it's common for brands to tip the scales in favor of overspending in the hope it'll maximize profits. For example, tracking markers like the return of investment with marketing and customer lifetime value can minimize the chances of overspending without seeing a return.
Expense management software can also come in handy. What is expense management software for businesses? It's a way of automating expense management tasks that were once arduous paper trails. The result is a reduction in processing expenses by up to 50%. Expense management software provides a clear picture of what money is going where and what employees need reimbursing.
Many startups now opt to offer employees company perks such as company credit cards as incentives to join the company and work productively – expense management software is an excellent way of tracking who is spending what.
Focus on The Trending Marketing Strategies
Trending B2B marketing strategies are different from B2C because the target audience requires somewhat different interactions. For example, 86% of B2B marketers still prefer to use email marketing, thanks to the incredible ROI. Current studies show that brands can make $42 for every $1 spent on email marketing.
Still, you have to consider the buyer and whether email marketing is still the most viable option. 85% of buyers state they use social media to conduct their research before deciding to contact a seller and complete, on average, 12 online searches before the initial contact. Thus, you can assume that email marketing is the most viable option for some buyers. Research the current B2B marketing trends and decipher which is relevant to the buyers within your industry.
Statistics show that more B2C brands fail within the first few years than B2B. That proves that although it's tricky to start a B2B brand, it can be more fruitful. Factor in that the B2B market is five times bigger than the B2C market, and it becomes a viable idea to start a B2B brand.