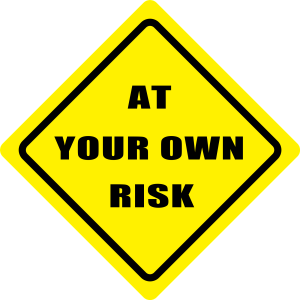 One problem we find in so many family businesses is their "risk management awareness," notes Don Schwerzler, a family business master strategist. The owners are either unaware of potential problems or they understate the potential threat to their business.
So many family business entrepreneurs are already working in a stressed environment, caused by the scarcity of time and money.  "Potential" problems can easily become a backburner issue–out of sight and out of mind!
When we start working with a family business client, one of the first things we do is a "risk assessment" to see what threats might be a "mission stopper" for that business. Potential litigation is a paramount concern.  The family business owner is exposed from all quarters, 24-7! One lawsuit can destroy a family business that has taken years, even generations, to grow into a successful business–and the family's wealth is at risk as well.
Technology changes in the market place can also be a hidden threat–a ticking time bomb for the family business owner.
For instance, Oct 1st 2015 is the deadline for the conversion to the new chip-enabled payment card and the new card readers. According to an article by Amrita Jayakumar published in the Washington Post (July 24th):
American consumers are beginning to receive in the mail new credit cards that add a security chip to the traditional magnetic strip that processes their payments. The hope is the new cards cut down on credit card fraud but many small businesses do not appear ready for the change.
A deadline for phasing in secure, chip-enabled payment cards across the country kicks in on Oct. 1. That's when banks are supposed to finish distributing the new plastic to customers. Businesses will need to install new card readers to process the information on the chips. Those that do not have the new technology in place by then will be on the hook for any security lapses or fraudulent transactions, instead of payment-processing firms.
But four months before the deadline, more than 28 percent of small business owners who process payment cards are not even aware of the new technology or how it affects their business, according to a new survey by Manta, an online small business community site.
The survey polled 1,609 business owners and asked them whether or not they planned to adopt the new payment card technology by Oct. 1, with a margin of error of 2.44 percentage points.
Of those who did accept cards, the majority did not even know about the new payment technology, or why they needed to install it, the survey found. More than 16 percent of owners also said they had not seen customers using the new chip cards.
 Savvy family business entrepreneurs include routine risk assessments as part of their operational protocols.
Risk management poses a lot of questions… so let's get right to answering them!
True, risk assessment management is for businesses that have risks.  So, maybe you're thinking yours is not a risky business and that there will be nothing here for you.
Some risks are random and unpredictable, like weather and terrorism.  Others seem quite random and unpredictable, but you can sometimes "see them coming" if you are regularly doing strategic planning to scan the "distant horizon", such as changing tastes and trends, new products or services introduced by competitors, new government regulations, changes to your local economy like plant closings and the related layoffs.
Still others are more predictable and can be planned for in your annual and budget planning cycles, like sales volumes and sales prices, costs of direct materials, supplies and overheads, capital costs for equipment replacement or additions.
Then, there are the events that can–and do–happen almost anytime: they can disrupt operations, evaporate cash reserves, kill of cash flows and profits, cripple or bankrupt your business. Fire's loss potential is well known, and you probably have insurance protection against it since it could damage or destroy the building you rent or own and the contents, so you aren't able to continue business. Liability for injury to another person or their property can cost "big time" and is probably also protected against.
Big companies, including some family businesses!, can afford to have risk managers who are trained and specialize in helping their company identify and deal with risks. But many others cannot, so the owner and managers have to fulfill that responsibility.
We think every business has risks. They are there whether or not you go looking for them. So, Yes, we think every business needs to practice risk assessment and management. And that leads us to the question…
What Is Risk Management?
Managing Risk is a discipline that aims to protect assets and profits by reducing the potential for loss before it occurs, and by financing, through insurance and other means, potential risks to catastrophic loss.
The process for managing risk consists of the following elements:
Risk Assessment – identifying and quantifying the exposures that threaten an organization's assets and profitability
Loss Control – reducing the frequency and/or severity of losses through preventive measures, such as sprinkler systems, improved housekeeping practices or preventive maintenance of key equipment
Risk Transfer – shifting the financial burden of loss so that, in the event of a catastrophe such as natural disasters, human error or court judgments, an organization can continue to function without severe hardship to its financial stability
Risk Monitoring – continually assessing existing and potential exposure
Executive Liability Insurance – Directors and Officers Liability; Employment Practices Liability; and Fiduciary Liability