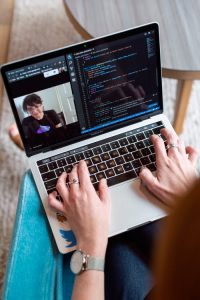 Time is an essential resource for any business; however, there always seems to be a shortage of it.
Utilizing technology to simplify day-to-day processes could be the answer to getting more free hours that can be used on other projects. Using algorithms to quickly and accurately complete tasks can allow managers to direct their time and energy where it's needed without compromising on standards.
The benefits of automating your daily to-do activities include unwavering accuracy (as computers always maintain a high standard), less pressure, and more disposable time. This adds the apparent benefits of lowering stress levels, improving health, bettering sleep habits, and enhancing general happiness.
Transcription
Transcription can be costly to outsource and timely to undertake yourself. Thankfully, it is possible to save your two most significant assets, money and time, while creating transcriptions through the use of an algorithm.
Automated transcription software makes getting reliable transcripts quick and effortless – from video files, live events, and even training workshops. It works by creating a draft with an automated system (which is immediately available). This document is then proofread and corrected for over 99% accuracy and returned within four hours.
Social Media Interaction
Social media management can eat into a large proportion of the working day if followers are regularly engaging with the brand. Often the desire not to discourage a social movement overtakes the need to stay focused.
Automated scheduling and response tools allow managers to release content when and where it's most effective! You can add message responses, check engagement, and schedule posts, so while you're waiting for a following, you can keep working where the team need you most.
Data Collection
Getting to know customers is imperative when building a brand. It allows you to target advertisements towards ideal customer groups at the perfect time.
Instead of spending hours trying to get customers to talk to you, set up an automated form and prompt or incentivize users to give their input. By doing this, you'll also have more time to word questions carefully and adequately analyze the results.
Alternatively, suppose you're interested in collecting data from customers indirectly, for example, in product sales or link clicks. In that case, it may be a long and daunting task for a human to collect this vast amount of data themselves, but for an automated web scraper, it's as easy as a mouse click!
Data Backups
Backing up the system you work from is time-consuming and can considerably interrupt your workflow. However, it is essential to protect work and the overall wellbeing of the company.
With software available for easy download, you can schedule updates and backups to occur while you're out of the office. You can even tell the system how regularly you'd like a backup to be done and it will take care of it for you. This means there will be no need to panic if something unforeseeable does happen to your data.
Time is a precious resource. Automating systems (although initially complicated and potentially costly) will simplify and shorten the day's to-do list, allowing you to focus on what's truly important!