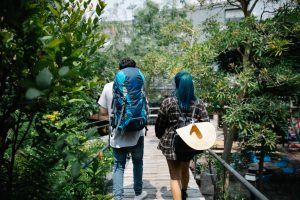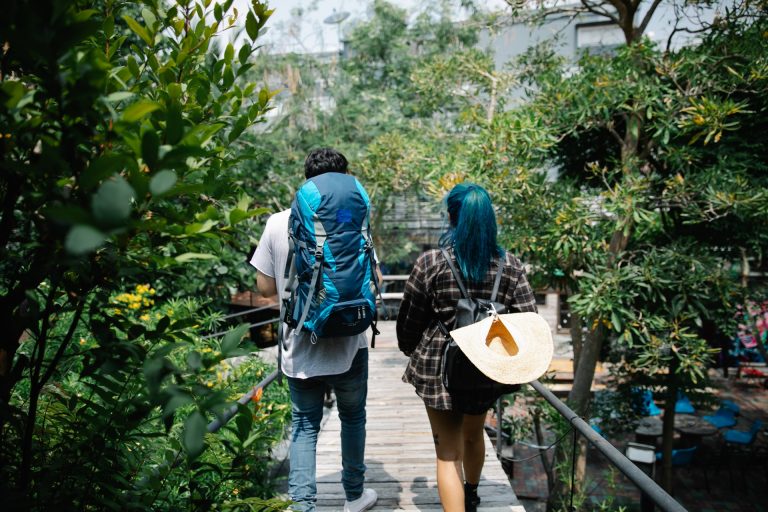 Tourism contributes enormously to economy and financial growth of tourist destinations across the globe.   The sector was providing jobs to around 260 million people and contributing to over 10% in global GDP, based on 2010 numbers.  These numbers are growing and will continue to so in future.
However, these financial benefits do not occur without costs that have the potential to destroy popular destinations and disrupt tourism.  Costs—or adverse effects—of travel include:
Massive carbon footprints produced by air travel
Changes in the clean environments due to human footprint
Degradation—or obliteration—of ecology because of travel
Climate change happening across the world—e.g., unpredictable weather, mounting sea levels, or land turning into deserts.
To curb tourism off these adverse effects, there is a need to sustain nature and our ecosystem.  Environmental-friendly tourist destinations are in huge demand amongst the tourists than other destinations not thoughtful of the local climate.  Educated tourists, today, book tours to green tourist destinations taking into account their efforts toward reducing the carbon footprint, environmental protection, and waste management.  Tourists mindful of environment and climate are willing to pay more for sustainable and green tourist destinations.  Tour operators now regularly rank destinations based on their green services and products, and demand higher green standards from tourist resorts.
However, still a large majority of resorts, hotels, and tourist destinations fall behind in terms of environmental sustainability, green standards, and services.  Some are only hinging on marketing tactics, glossy brochures, and eco-friendly language.  These destinations are only eyeing on near-term gains, and are at a high risk for draining their resources, environmental degradation, and losing a sizable potential customer base.
Sustainable Tourism demands a carefully crafted strategy—with an objective to limit untoward environmental effects and reap economic benefits.  Developing a comprehensive sustainable Tourism Strategy warrants addressing 4 key environmental issues:
Controlling Carbon Emission
Biodiversity Preservation
Appropriate Waste Disposal
Conserving Water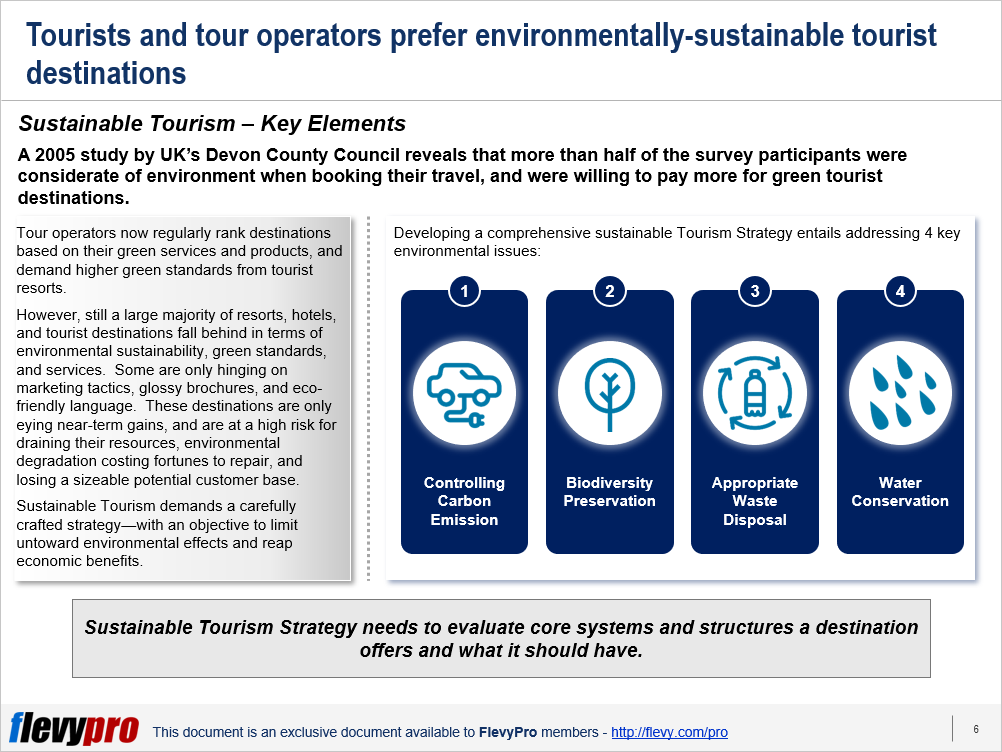 Let's dive deeper into a couple of these environmental issues.
Controlling Carbon Emission
Air travel and boarding of tourists amounts to enormous global carbon emissions—these emissions will keep rising in future.  Travelers visiting tourist destinations need to be aware of the carbon emission their air travel and lodging produces.  These carbon emissions, if go unchecked, have wide-ranging repercussions that can last for years.  Initiatives to prevent emissions help save energy and materials.  These measures not only achieve ecological sustainability but also save costs.  For example:
Utilizing geothermal water and solar energy to curb CO2 emissions and saving energy costs.
Using insulation to protect from heat / cold, positioning the windows appropriately to reduce energy use.
Urging tourists to use bikes, electric vehicles or mass transit.
Biodiversity Preservation
More and more tourists are flocking global travel attractions that offer abundance of biodiversity and natural beauty—e.g. scuba diving in clean green seas, discovering pristine trekking sites, or exploring the Amazon—to get away from their monotonous daily routines and to recharge themselves.  Increase in tourism to such biodiversity hot spots has rendered the locations at risk of damage to the flora and fauna, making the preservation of these destinations all the more important.  This warrants attention from the regulators to designate these biodiversity attractions as national parks, restrict access to at-risk locations, and make efforts to preserve the local potentially endangered species.   For instance:
To avoid pollution and to conserve biodiversity hot spots such as forests in Bhutan, authorities have closed a number of mountains and declared others as wildlife reserves and national parks.
Interested in learning more about the other issues tourist destinations are facing?  You can download an editable PowerPoint on Green Tourism Strategy here on the Flevy documents marketplace.
Do You Find Value in This Framework?
You can download in-depth presentations on this and hundreds of similar business frameworks from the FlevyPro Library.  FlevyPro is trusted and utilized by 1000s of management consultants and corporate executives.  Here's what some have to say:
"My FlevyPro subscription provides me with the most popular frameworks and decks in demand in today's market.  They not only augment my existing consulting and coaching offerings and delivery, but also keep me abreast of the latest trends, inspire new products and service offerings for my practice, and educate me in a fraction of the time and money of other solutions.  I strongly recommend FlevyPro to any consultant serious about success."

– Bill Branson, Founder at Strategic Business Architects
"As a niche strategic consulting firm, Flevy and FlevyPro frameworks and documents are an on-going reference to help us structure our findings and recommendations to our clients as well as improve their clarity, strength, and visual power.  For us, it is an invaluable resource to increase our impact and value."

– David Coloma, Consulting Area Manager at Cynertia Consulting
"FlevyPro has been a brilliant resource for me, as an independent growth consultant, to access a vast knowledge bank of presentations to support my work with clients.  In terms of RoI, the value I received from the very first presentation I downloaded paid for my subscription many times over!  The quality of the decks available allows me to punch way above my weight – it's like having the resources of a Big 4 consultancy at your fingertips at a microscopic fraction of the overhead."

– Roderick Cameron, Founding Partner at SGFE Ltd