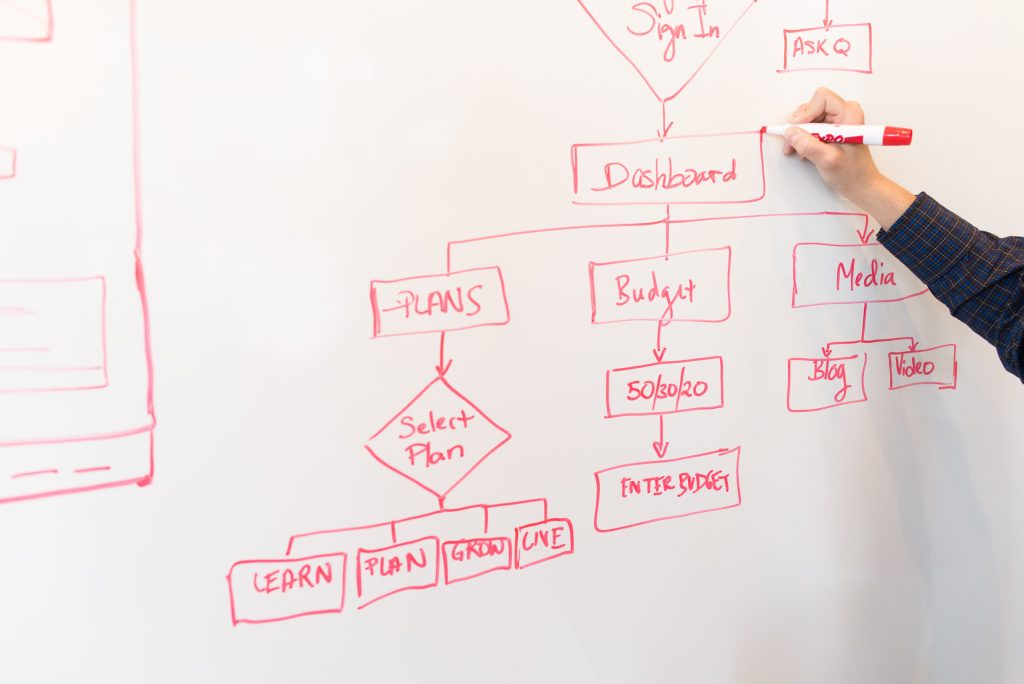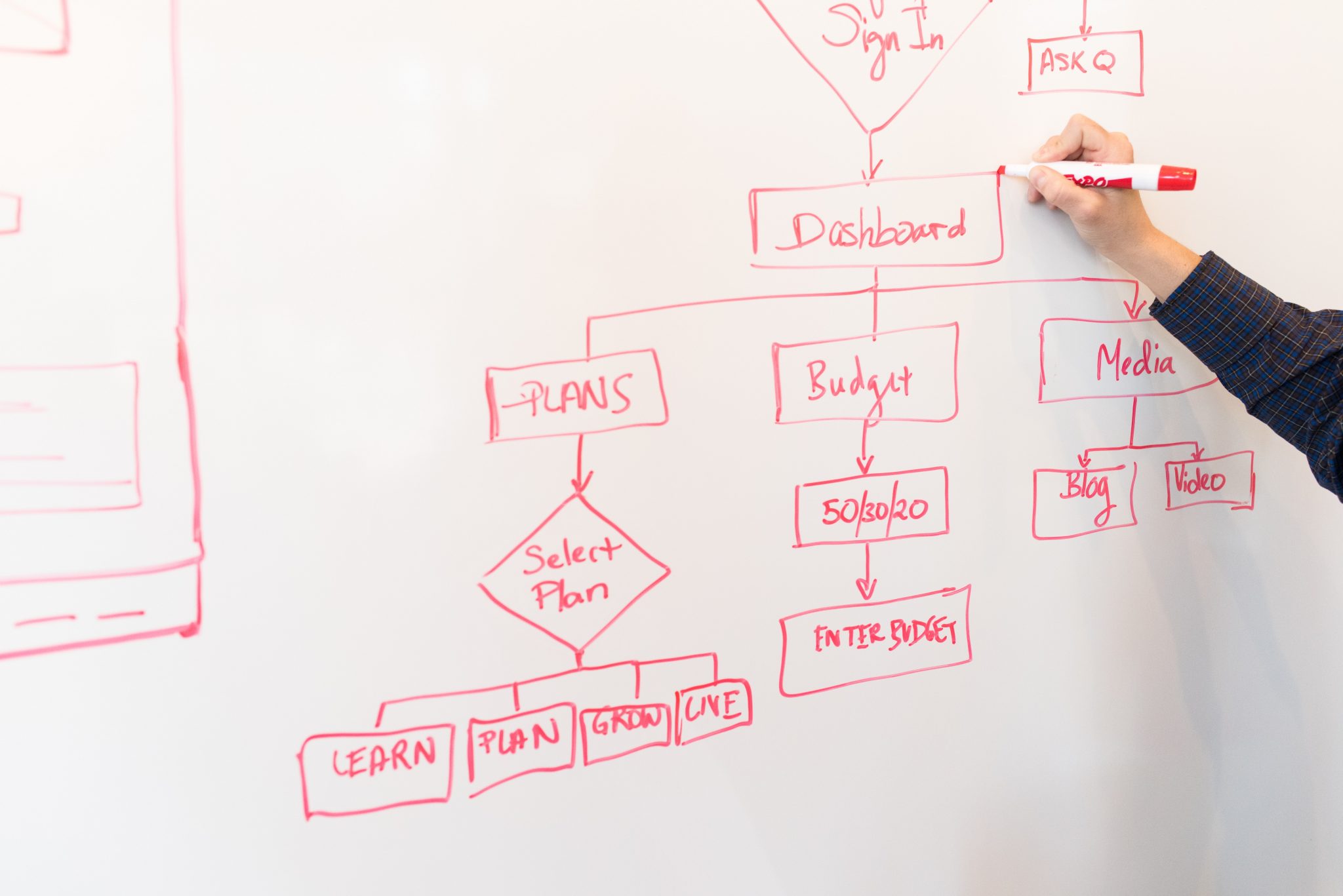 Solving problems, complex problems at that, involves not only good problem formulation but also a structured approach to complement it. 
Structured Problem Solving is simply an iterative sequence of framing hypotheses and testing them via controlled experimentation, revamped for the intricacies of the world beyond the laboratory.
Structured Problem Solving is a formal, logical, and methodical approach to organizing individuals' thinking.
To help us crack a problem in a structured way, our approach—i.e., a logical framework—must disaggregate the problem into smaller and easier-to-solve components.
There are numerous Problem Solving frameworks, such as Root Cause Analysis (RCA), 8 Disciplines (8D), Fishbone (or Ishikawa) Analysis, Plan-Do-Check-Act (PDCA), among others. Ensuring that a Structured Problem Solving method is used for addressing problems is considerably more significant than thinking about which specific method to use.
Of the several Problem Solving approaches, Toyota's A3 Form is quite pervasive across varied industries around the globe. Toyota had created the A3 Form to assist in knowledge-sharing across its factories by consolidating the Structured Problem Solving exercise to a single page.
This form has been modified by a team of consultants, by taking a hybrid approach to Problem Solving, making the method industry-agnostic. Toyota's A3 Form has been adapted by a number of organizations to solve problems in environments beyond manufacturing.
This hybrid approach to confronting problems is straightforward as well as effective. The Modified A3 method takes a 6-step approach to Structured Problem Solving.
Problem Statement
Current Design
Root Causes
Target Design
Goals & Leadership Guidelines
Execution Plan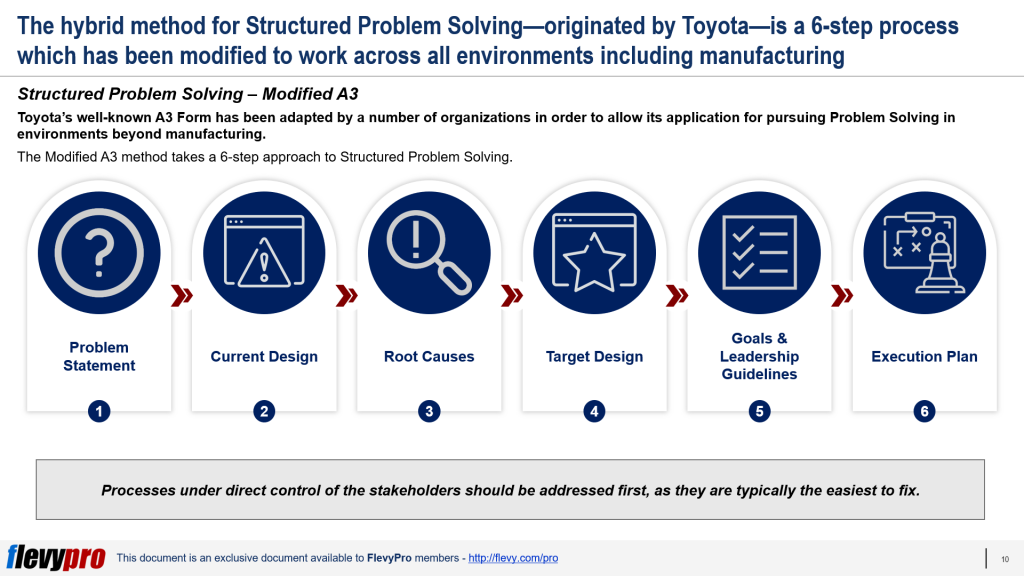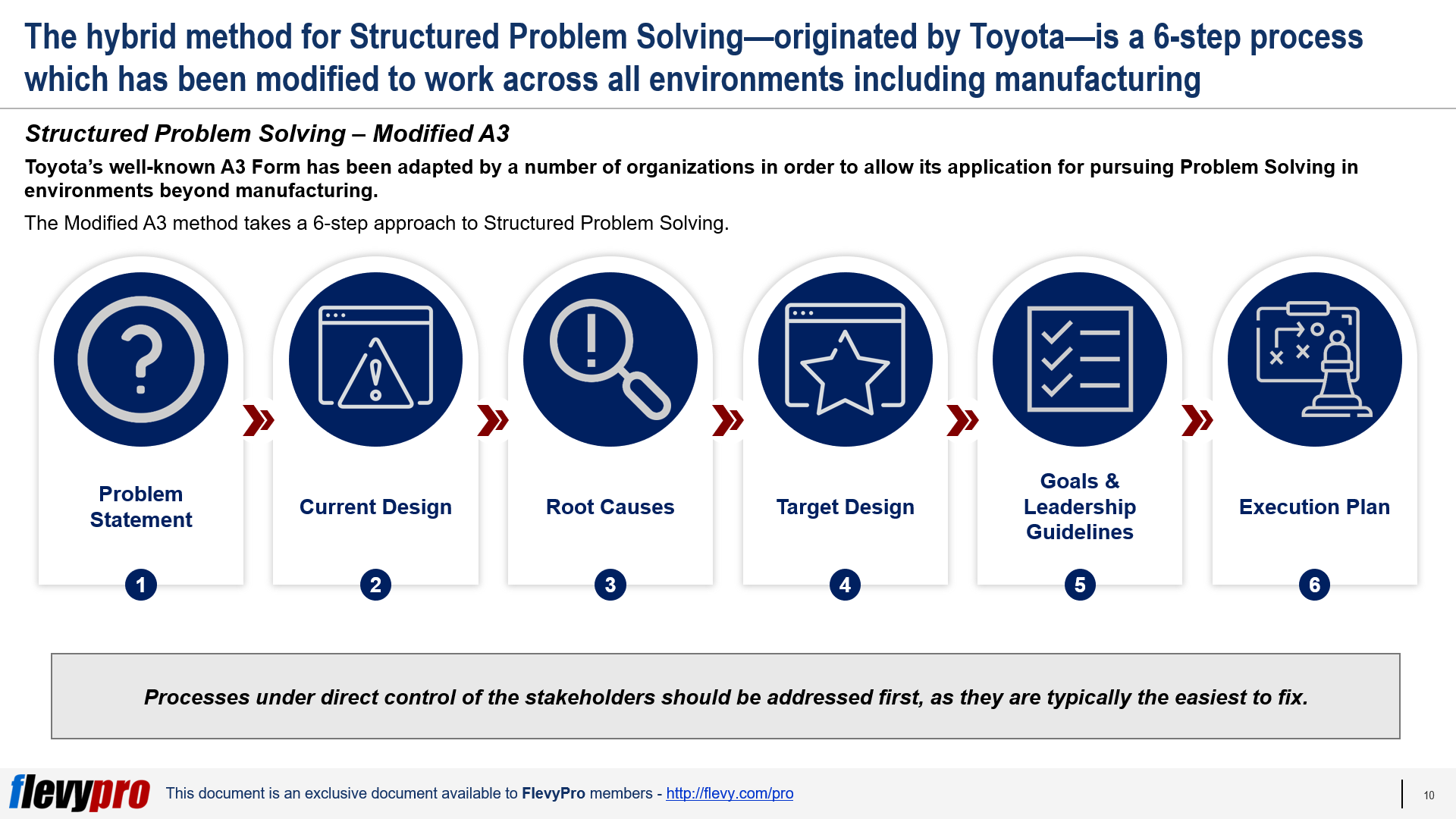 Each main step subsequently involves a sub-phase. Even though there may be supporting documentation, confining the project summary to one page compels users to be incredibly clear in their thought process.
Let us delve a little deeper into some of the phases of this approach to Problem Solving.
Problem Statement
Formulating a precise Problem Statement is the initial step in the Modified A3 Structured Problem Solving process. Provision of background for any problem is extremely important therefore, sufficient information to lucidly connect the Problem Statement to the greater mission and objectives should be provided.
Current Design
The next step in the A3 approach is to record the existing design of the process by seeing in-person, the work being performed. People in general, and particularly those involved in recurring tasks on automated processes, find it difficult to precisely explain how they perform their tasks and what problem is faced. It is incumbent on the manager to closely observe the work of such people and try to get to the bottom of the problem, since people themselves are unable to do so.
Root Causes
The 3rd step is to examine root causes and involve Conscious Processing by distinctly connecting the observations to the Problem Statement. Intention of all Root Cause methodologies is to assist in comprehending how the identified problem is rooted in the Current Design of the work system.
Target Design
The next step is to suggest an updated system to resolve the problem using Target Design section of the A3 Form. The change to the work system may be fairly simple or may involve a complicated set of steps. The required changes will hardly ever be a completely new program or initiative. Changes have to be unambiguous, well-directed alterations emanating from the Root Cause analysis.
Interested in learning more about Structured Problem Solving: Modified A3? You can download an editable PowerPoint on Structured Problem Solving: Modified A3 here on the Flevy documents marketplace.
Do You Find Value in This Framework?
You can download in-depth presentations on this and hundreds of similar business frameworks from the FlevyPro Library. FlevyPro is trusted and utilized by 1000s of management consultants and corporate executives. Here's what some have to say:
"My FlevyPro subscription provides me with the most popular frameworks and decks in demand in today's market. They not only augment my existing consulting and coaching offerings and delivery, but also keep me abreast of the latest trends, inspire new products and service offerings for my practice, and educate me in a fraction of the time and money of other solutions. I strongly recommend FlevyPro to any consultant serious about success."

– Bill Branson, Founder at Strategic Business Architects
"As a niche strategic consulting firm, Flevy and FlevyPro frameworks and documents are an on-going reference to help us structure our findings and recommendations to our clients as well as improve their clarity, strength, and visual power. For us, it is an invaluable resource to increase our impact and value."

– David Coloma, Consulting Area Manager at Cynertia Consulting
"FlevyPro has been a brilliant resource for me, as an independent growth consultant, to access a vast knowledge bank of presentations to support my work with clients. In terms of RoI, the value I received from the very first presentation I downloaded paid for my subscription many times over! The quality of the decks available allows me to punch way above my weight – it's like having the resources of a Big 4 consultancy at your fingertips at a microscopic fraction of the overhead."

– Roderick Cameron, Founding Partner at SGFE Ltd