Global merger and acquisition activity hit record levels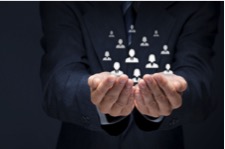 in 2014, a trend that is expected to continue and even accelerate through 2015. Based on historic results, over 70% of merger transactions can be expected to result in failure and negative return for investors.  Completing a post-merger integration is challenging for a variety of reasons, including changing market environments, misaligned business models, unsustainable operational costs, ineffective change management, and misinterpretation of synergies.
Each of the above-mentioned factors is given considerable attention during the diligence and integration process. There is, however, little emphasis on changes to employee compensation, performance management and career progression.
So what's missing? What does it take for a newly formed company to power through the often chaotic integration period?
The answer is simple: People.
A Framework for Post-merger Talent Retention
Consider a merger integration between two companies with similar business models. Changes to job responsibilities, management, career paths and compensation are bound to be top-of-mind concerns for the average employee at the newly formed company (NewCo). These concerns also explain why post-merger environments are traditionally plagued by high employee turnover rates.
While employee uncertainty and turnover during the post-merger period is often considered an unavoidable and unfortunate consequence of integration, it bears what is in fact a very real, measurable cost.  In the US, the direct costs of replacing an employee (recruitment, onboarding, training, etc.) can range from 50% to 400% of the employee's salary. It is, therefore, vital that such concerns are addressed quickly and deliberately, with a focus on strategic business objectives. The following strategies outline a framework for mitigating employee uncertainty, retaining top talent, and incentivizing high performance.
1. Define an organization wide compensation philosophy. 
The need for company leadership to agree on an organizational compensation philosophy is of critical importance for several reasons. First, it is likely that there were disparate philosophies at each of the legacy organizations. This inevitably leads to questions on NewCo's approach to rewarding its employees.  Finalizing a compensation philosophy should involve discussion of the following key topics:
Transparency of compensation, career progression, and performance management processes to employees
Method for integrating employee performance into total compensation
Opportunities for skills and competencies development
2. Establish a career architecture that clearly illustrates career progression. 
The blend of distinct career progression structures from legacy companies causes some predictable challenges. More than likely, employees are exposed to new management, new colleagues, and the natural paths for promotion become less clear. Consequently, it is very important to establish a career architecture that illuminates those paths and demonstrates clear opportunities for progression. The career architecture, once established, can then be used in discovery sessions with department leaders to understand the roles that fall within their respective organizations. Likewise, horizontal progression of development opportunities can be defined with this model.
3. Use external market data to make informed base pay determinations.
One of the major challenges of combining companies with similar business models is the overlap of roles at all levels of the organization, coupled with the slight differences in the scope of responsibilities of those roles. In order to stay externally competitive with the market (i.e., other similar organizations and industries) and to establish internally consistent pay practices, it is advisable that an objective, market data-based approach is used. This approach can also be used to accurately assess the market value of hot jobs that are of key strategic interest to company leadership and investors, or jobs for which retention is a concern.
4. Implement a performance management program that rewards top performers.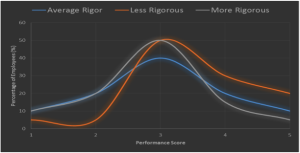 Performance management programs have evolved significantly over the past decade. There are many theories on the optimal way to incentivize high performance in an organization, from the use of forced distributions (a fading practice), to significantly rewarding the very highest performers, to using a manager-dependent approach for performance evaluations. The type, and rigor, of the performance management process can have a profound impact on compensation. For example, let us assume NewCo uses a performance scoring system based on a 1 to 5 scale. The rigor and method of the performance evaluation process will naturally have different effects on the percentage of employees at each performance score, as shown above.

This in turn will affect the performance-based compensation (i.e., incentive and merit increases) paid to employees at each score. The table below depicts an example of how average bonus multipliers for mid- and high-level performers may shift depending on the rigor of the performance management process. It is apparent that more rigorous performance management systems allow an organization to reward top performers substantially more. Several research studies have demonstrated that similar, top performer-geared incentive rewards systems have a positive effect on overall organizational performance.
5. Perform an impact analysis to identify changes to employee compensation.
The twelve month period following a merger closing date is historically used as an early indicator of integration success and future financial performance. The financial health of the new entity has implications not only for investors, but for the compensation of all employees. As an example, the total incentive pool available at fiscal-year end is often defined by certain benchmarks (integration progress, financial targets, etc.). The size and distribution of this incentive pool will inevitably be different at NewCo compared to either legacy company. It is important, therefore, to examine changes to employee compensation at NewCo compared to what individuals may have received at their respective legacy organizations.
By examining the before and after impact of band incentive eligibility in a new career architecture (as outlined in Strategy 2), it is possible to quantify the impact of incentives on employees from each of the legacy organizations. Performing a gap analysis will ensure that management is aware of sensitive changes to employee compensation and can plan accordingly.
6. Communicate all aspects of career progression, performance management and compensation clearly and transparently.
A deliberate approach to change management and employee communications is critical to realizing the benefits of the above talent retention strategies. Rebuilding a compensation, performance management, and career progression framework entails a great deal of careful thought, planning, and resources. While building this framework quickly is desirable, it is equally important that it is not done in a vacuum of leadership. Organization-wide communications to explain details of the compensation philosophy, performance management, and career progression opportunities are essential to mitigating employee uncertainty and instilling confidence during the post-merger integration period and beyond.