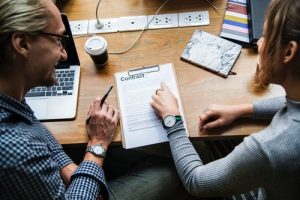 Before you go ahead and scream about your company's latest invention from the rooftops, you have to consider all the ways you're going to protect it. This is because, unfortunately, the world is full of individuals who will happily claim that your idea is theirs so that they can reap the financial rewards of its success.
A guide on the matter of protecting your intellectual property can be found below.
Partner up with an intellectual property lawyer
The best thing you can do to protect your latest invention is to align yourself with a lawyer that deals specifically with intellectual property theft. With a patent attorney by your side, you will be able to ensure that no stone will be left unturned — if there's something more that can be done to strengthen the hold you have on your intellectual property, this professional will soon unearth it. As a result, even before your idea is threatened, you will be able to be sure that it will remain protected no matter what trouble befalls it.
When it comes to finding a patent attorney that will provide your intellectual property with the protection it needs and deserves, look no further than The Patent Professor. As stated at their website, www.thepatentprofessor.com, this law firm has completed 1,200 patent's over 20 years. With this kind of experience by your side, you won't have to worry about your intellectual property being plagiarised or stolen any time soon.
Compile a list of the intellectual property assets that you own
A major part of protecting your intellectual property is proving that you actually own it in the first place. If you don't officially lay claim to your property, anybody could quite easily come along and say it is theirs instead. No matter how unfair or unjust this would be, if it were to happen, there would be little you could do to prove the authenticity of your claim.
To give your claim the authenticity it unfortunately needs, you need to compile a list of the intellectual property assets that you own. This means ensuring that your trademarks, copyrights, patents, and domain names are accounted for in official documentation.
Record evidence of your development process
What better way to prove that you created your intellectual property than to have evidence of its development process? The next time you create something, then, you should:
Keep a log, either written or via video (or both), of everything you do to bring your idea to life.
Keep receipts of the materials or services you use.
Record any meetings you sit in on.
Sign and file copies of drawings and drafts that you create.
To stop somebody from riding the coattails of the product or service that you worked so hard to develop for your business, be sure to heed all of the above advice. By partnering up with a patent attorney, compiling a list of your assets, and recording evidence of any development process you embark on going forward, you will be sure to give your intellectual property the best protection possible.