Editor's Note: Vishnu Rayapeddi is a recognized pioneer of Lean Management and founder of Productivity Solutions.   For a more in-depth discussion on this topic, take a look at this 118-slide training course.  You can view all of his Supply Chain training materials on Flevy here.
* * * *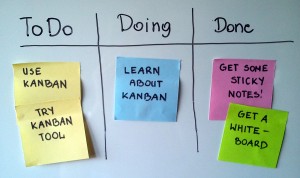 This discussion relates to both Lean and Supply Chain Excellence.   Why Supply Chain Excellence?   Well, many activities, including customer service (for example, quotation processing, order processing etc); all planning, procurement, and purchasing; quality assurance; administrative warehousing and distribution functions; and many other activities take place in offices.
Most businesses regard lean manufacturing almost exclusively as a set of production tools and techniques. Most businesses who implement lean manufacturing fail to achieve the full benefit of this strategy because the office and administration areas are not included in any kaizen / continuous improvement activities.
If you think lean is about the factory floor only, then remember that typically 60% to 80% of all costs associated with a product line are non-production costs.
A couple of examples to highlight the wastes in the office areas…
An industrial air handling units manufacturing company – the quotation process used to take 4 weeks and had 55 steps and what this meant was losing valuable customer orders to competition. After a brief introduction on value & waste and process mapping, I asked them to list all the 55 steps on sticky notes. Upon challenging every step and classifying those steps as 1) value Adding (green), 2) Non-Value adding (red) and 3) Non-Value Adding but required (orange), the team ended up with roughly 50% of the steps which fell in to green and orange categories. What this meant was that, the no of steps reduced to 30 and the time in quotation processing reduced to 2 weeks!
A Printing Company – From the time a customer order was received and until it was converted in to a production order and passed on to manufacturing, they had 32 steps.
A similar process as above, reduced the number of steps to 18 and time halved!
Also, how many times have you searched for a saved file on your computer and how long did it take to find it? Can we manager our e-records better? The answer is "Yes!"
It is all about learning how to stabilize, standardize, and simplify administrative processes using the power of the Toyota Production System (TPS).
So, what is a Lean Office?
Processes are controlled
Processes are standardized
Processes are improved upon
Processes are made as visual as possible
5S is practiced!
Let's understand what the wastes are in an office environment.
Overproduction – producing work prior to it being required is waste and is the greatest of all the wastes
Producing reports no one reads or needs
 Making extra copies
 E-mailing, faxing same document
 Entering repetitive information on multiple documents
 Ineffective meetings
Waiting – for people, signatures, and information is waste.  This is "low hanging fruit" which is easy to reach and ripe for the taking.
Excessive signatures or approvals
 Dependency of others to complete tasks
 Delays in receiving information
 Computer program revision problems
 Cross-departmental resource commitments
 Not a priority for someone to complete
Motion – any movement of people, paper, electronic exchanges that does not add value is waste
Searching for computer files
 Searching for documents in file cabinets
 Repeatedly  reviewing manuals for information
 Hand carrying paper to another process
 Cross-departmental resource commitments
  Not a priority for someone to complete
Transport – affects the time of delivery of any work within an office
Delivering unneeded documents
 Excessive filing of work documents
 Over-addressed email distribution lists
 Hand-carrying paper to another process
 Cross-departmental resource commitments
 Mis-prioritization
Excessive processing – putting more work or effort into the work required by internal or external customers is waste
Duplicative reports or information
 Repetitive data entry
 Incorrect information being shared
 Constantly revising documents
 Ineffective meetings and no agendas
 Duplicative documentation
 Lack of accurate project planning
Inventory (Time) – work piles, excessive supplies, and excessive signature requirements are waste
Files awaiting signatures or approvals
 Work awaiting task completion by others
 Obsolete files
 Obsolete office equipment
 Not sufficient training of back-ups
 Purchasing excessive office supplies.
Defects (or Mistakes) – refers to all processing required creating a defect or mistake and the additional work required to correct it
Data entry errors
 Pricing errors
 Forwarding incomplete documentation
 Incorrect information on document
  Inefficient file system on PC or in cabinet
 Not appropriate staffing to service customer
Underutilization of People – is a result of not placing people where they can (and will) use their knowledge, skills, and abilities to the fullest (8th Waste)
Project deadlines not being met.
 Work loads not evenly balanced due to lack of cross-training
 High absenteeism and turnover
 Inadequate performance management system
 Incomplete job skill assessment prior to hiring
Now that we have understood what may be the wasted efforts in our office environment, let's take steps to minimise or eliminate the same and increase the value to our customers.