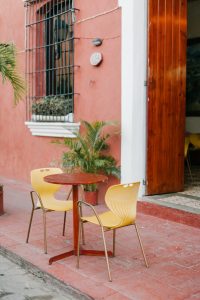 Organizations have reacted to the COVID-19 pandemic in their own ways.  Almost all had to change the way they were operating in order to cope with the challenges thrown up by the crisis.
Companies have discovered novel means to market, service, and function through the pandemic.  Notable Innovation throughout various industries has taken place as a result of the COVID-19 crisis.
Innovation is always a tumultuous process of hazarding into unfamiliar territory.  Apparently, the Innovations that businesses have come up with during COVID-19, may seem to be merely reactive responses to an extraordinary circumstance.  Some Innovations may be a passing fad—specifically for the pandemic—and others may serve the organizations and their customers even after the pandemic is over.
Which Innovations will last and which should be abandoned is a decision not to be taken lightly.
Sustaining the imaginative changes made during unsettled times like COVID-19, in order to generate prospects for organized growth after the crisis, needs careful contemplation.
Fresh research directs businesses to have improved comprehension regarding how Innovations made during COVID-19 can aid them in emerging stronger than before.
Research has enabled development of a matrix for the categorization of companies in the way they react to challenges in the pandemic.  The matrix also identifies the Innovations that will last after COVID-19 and should be invested in.  The categories include:
Adaptors
Trailblazers
Optimizers
Trendsetters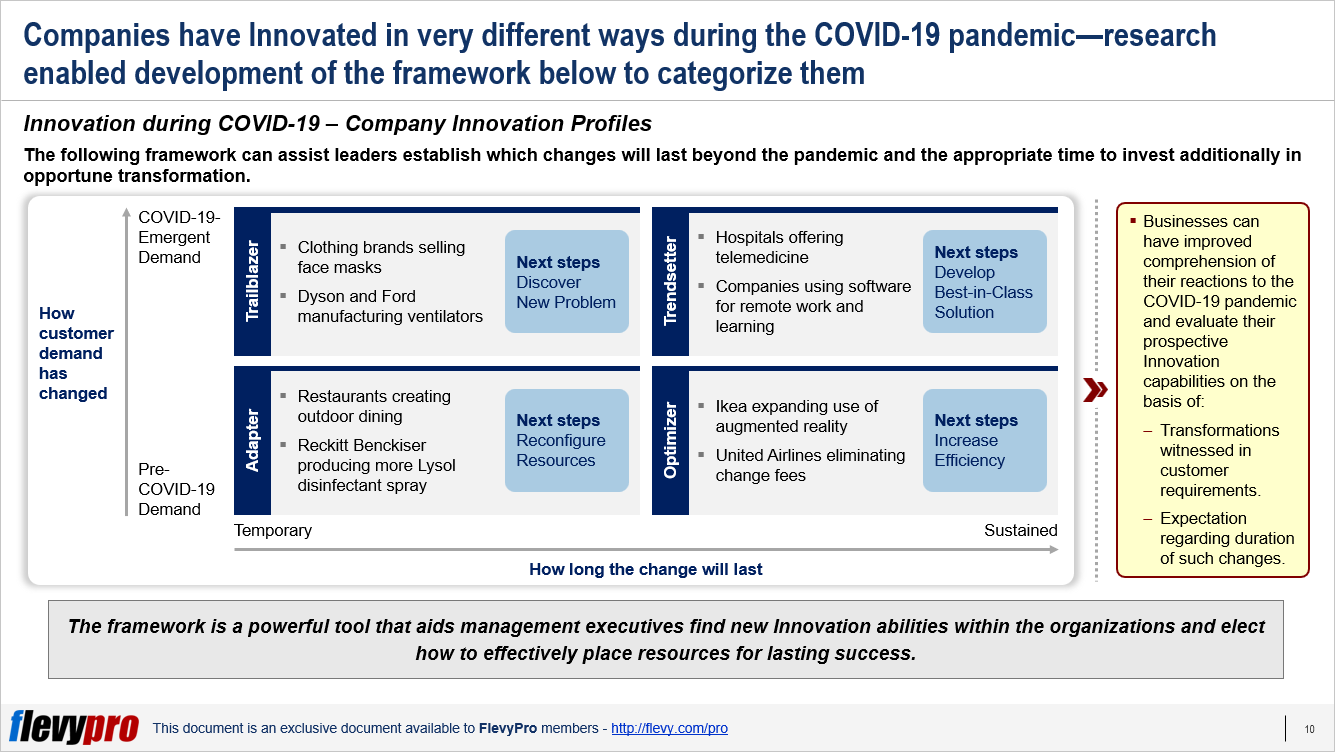 Let us delve a little deeper into the categories. 
Adaptor
Companies that witnessed short-term variations in demand for products and services that were already being provided by them are put in the Adapter quadrant of the matrix.  Thriving businesses placed in this quadrant have acquired the ability to offer the same products or services but probably with fewer resources.  Changes in customer demand for these companies took place before COVID-19 hit.  Expected duration of changes for such companies is temporary.
Examples of this category include restaurants establishing open-air dining or consumer-goods companies increasing production of disinfectant to meet worldwide demand.
Trailblazer
Companies that use current resources to resolve fresh problems that had never been handled previously, are placed in this quadrant.  For such companies changes in customer demand emerged as a result of COVID-19.  The changes are expected to be temporary for companies in this quadrant.
Therefore, the next step for companies in this quadrant of the matrix should be to discover new problems to solve.
Optimizer
Companies placed in this quadrant are the ones which reconfigured their resources to satisfy existing customer demand.  Changes in customer demand took place for such companies before COVID-19.  The difference from the above 2 categories is that changes for this category are going to be sustained.  So such companies should increase efficiency as the next step in their strategy. 
Trendsetter
Companies placed in the Trendsetter quadrant have responded to the COVID-19 emergency by creating completely new products or services that will keep on being in significant demand even after the pandemic.
Interested in learning more about the 2 types of Innovation, the 3-phase approach of choosing which type to use or the 4-category matrix?  You can download an editable PowerPoint on here Innovation During COVID-19 on the Flevy documents marketplace.
Do You Find Value in This Framework?
You can download in-depth presentations on this and hundreds of similar business frameworks from the FlevyPro Library.  FlevyPro is trusted and utilized by 1000s of management consultants and corporate executives.  Here's what some have to say:
"My FlevyPro subscription provides me with the most popular frameworks and decks in demand in today's market.  They not only augment my existing consulting and coaching offerings and delivery, but also keep me abreast of the latest trends, inspire new products and service offerings for my practice, and educate me in a fraction of the time and money of other solutions.  I strongly recommend FlevyPro to any consultant serious about success."

– Bill Branson, Founder at Strategic Business Architects
"As a niche strategic consulting firm, Flevy and FlevyPro frameworks and documents are an on-going reference to help us structure our findings and recommendations to our clients as well as improve their clarity, strength, and visual power.  For us, it is an invaluable resource to increase our impact and value."

– David Coloma, Consulting Area Manager at Cynertia Consulting
"FlevyPro has been a brilliant resource for me, as an independent growth consultant, to access a vast knowledge bank of presentations to support my work with clients.  In terms of RoI, the value I received from the very first presentation I downloaded paid for my subscription many times over!  The quality of the decks available allows me to punch way above my weight – it's like having the resources of a Big 4 consultancy at your fingertips at a microscopic fraction of the overhead."

– Roderick Cameron, Founding Partner at SGFE Ltd