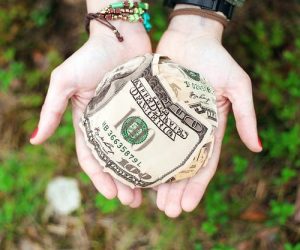 Technological advances have led to an almost cashless society.
However, some cash-only businesses are still thriving amidst the use of credit cards and other digital payment methods.
A cash-only business is one that accepts bills and coins only. This means no debit or credit cards, cash transfers, gift cards, or personal checks.
Cash-only businesses are often small startups that sell affordable items. For instance, you will most probably prefer to pay cash for a street painting or a babysitting service.
Similarly, businesses with low-profit margins prefer cash payments as they want to keep their costs low. Most of these businesses only require a phone, a few cash registers, and maybe one or two Carnation money counting machines to start-up.  Adding a card reader to this equation may mean more startup capital and higher monthly expenses.
If you want to start a cash-only business, here are some ideas you can use.
1. Delivery Services
A delivery business doesn't require a lot of capital. You can also combine it with running errands to get more customers.
Most people are busy and won't mind a person who can deliver their mail, buy them groceries, or make payments at the bank for them at a small fee. Such services are often paid per hour, and most customers won't have a problem paying you cash.
2. Babysitting Services
Babysitting is a small business that can pay off in the long-term. It's inexpensive to start and also flexible, such that you can do it as a side hustle.
In addition to offering babysitting services, you can also offer to pet-sit or walk dogs if you love pets. Since payment for such services is hourly, most customers will prefer to pay you in cash, which is very convenient.
3. Farmer's Market Vendor
You don't need to be a farmer to become a local farmers' market vendor. If you have a reliable supplier of fresh produce or you make delicious homemade products such as bread and brownies, you'll get customers at your local farmers' market.
Most buyers who visit such markets have cash in hand, which makes it easier for you to demand cash payments.
You may not need a cash register for this business, but be sure to get a lockable cash box and a lot of small bills and coins to give out as change.
4. Convenience Store
Convenience stores sell items that customers can buy with little cash such as milk, soft drinks, bread, and gum, among others. Most of these stores are located in gas stations and along busy streets.
These stores have small profit margins, which is why they prefer cash payments. Most of the customers who visit them also like to pay in cash. This is evidenced by the bans against cashless stores in cities and states such as New York, Washington D.C., New Jersey, San Francisco, and Philadelphia.
A convenience store may also have a coffee shop or a small restaurant as part of its business. Convenience store owners often need to have a cash register and Carnation money counting machines to help them detect fake bills.
5. Street Artist
If you're a creative person, you can earn money by being a street artist. Street artists such as painters, magicians, musicians, and caricature artists depend on loose change and cash tips from their audience.
In addition to the above businesses, other examples of cash-only enterprises that can do well include:
Food truck
Lawn mowing
Lunch stand or bakery
Fitness instructor
Handyman services
Music tutor
Laundromat
Although starting a cash-only business may depend on the type of enterprise you want to operate, there are notable benefits that come with accepting cash as the only form of payment. Below are a few of them.
Lower costs – Compared to credit card payments, cash has no transaction costs. For instance, a street food vendor would need to buy or lease a card reader if they want to start accepting credit cards. They would also need to pay card costs and other monthly fees. For a small business, these charges will significantly lower its profitability.
You get your money instantly – When you get a cash payment, you get your money immediately. A credit card payment can take 24-72 hours to reflect in your account. Credit cards also have risks of chargebacks as a customer can reverse a payment even several months after purchase.
Easy accounting – Cash payments make accounting easier as you only need to track one payment method. But with credit cards, you'll need to track each of the individual payments. Charges and disputed payments can also make credit card accounting even harder.
Being a cash-only business has its benefits.  But it's best suited for businesses whose average purchases are small or those who sell inexpensive items. Hopefully, after reading this article, you now know if you're the right candidate for a cash-only business.