How to Achieve Board Excellence? Have A High Impact, Strategic Board
Featured Best Practice on Corporate Board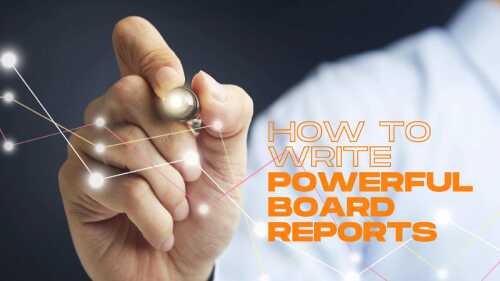 50-slide PowerPoint presentation
Writing board papers is a challenging task usually completed under pressure: pressure to submit a paper on time (any paper!) and pressure to do yourself and your argument justice. The challenge is further complicated when we are too familiar with our content - and potentially too
[read more]
The pressure on Boards and Directors to raise their game has remained acute. A survey of more than 770 directors from public and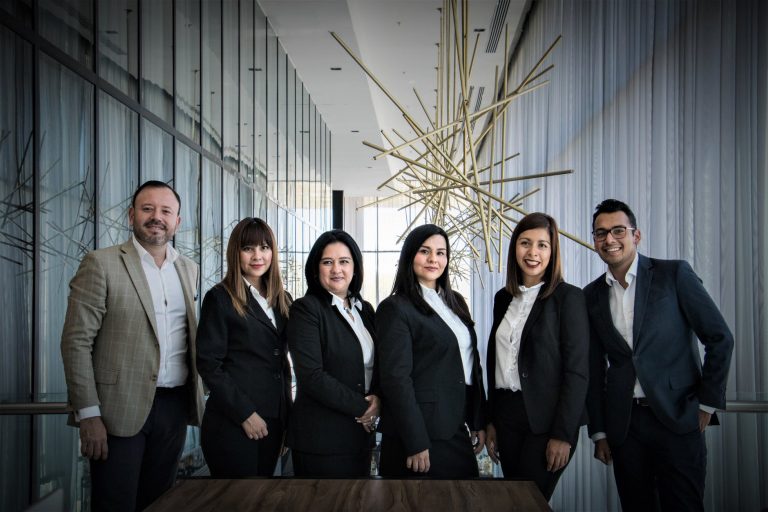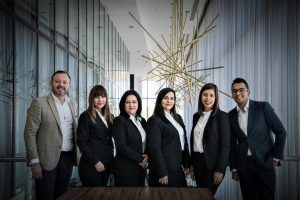 private companies across the industries around the world suggested that some are responding more energetically than others.
There is a dramatic difference between how directors allocate their time among boardroom activities and the effectiveness of the Boards. One in four directors assessed their impact as moderate or lower, while others reported as having a high impact across Board functions.
Today, the call to become more forward-looking and achieving Board Excellence is further highlighted. This is further emphasized when the Board and Management are pressured to find the best answers to global business concerns and issues. In Strategy Development, this becomes invaluable. It does not only lead to clearer strategies but also the creation of alignment essential in making bolder moves.
While these are essential, there is a need to raise the quality of engagement on strategy between the Board and Management for each group to achieve smarter options. This is possible only if organizations have high impact, strategic Boards in place.
High impact, strategic Boards have a greater impact as they move beyond the basics and face increasing challenges.
The Challenges that Today's Board Face
Business is fast-changing and rapidly transforming. The global economy is increasingly pushing businesses, as well as the Board to face a gamut of challenges.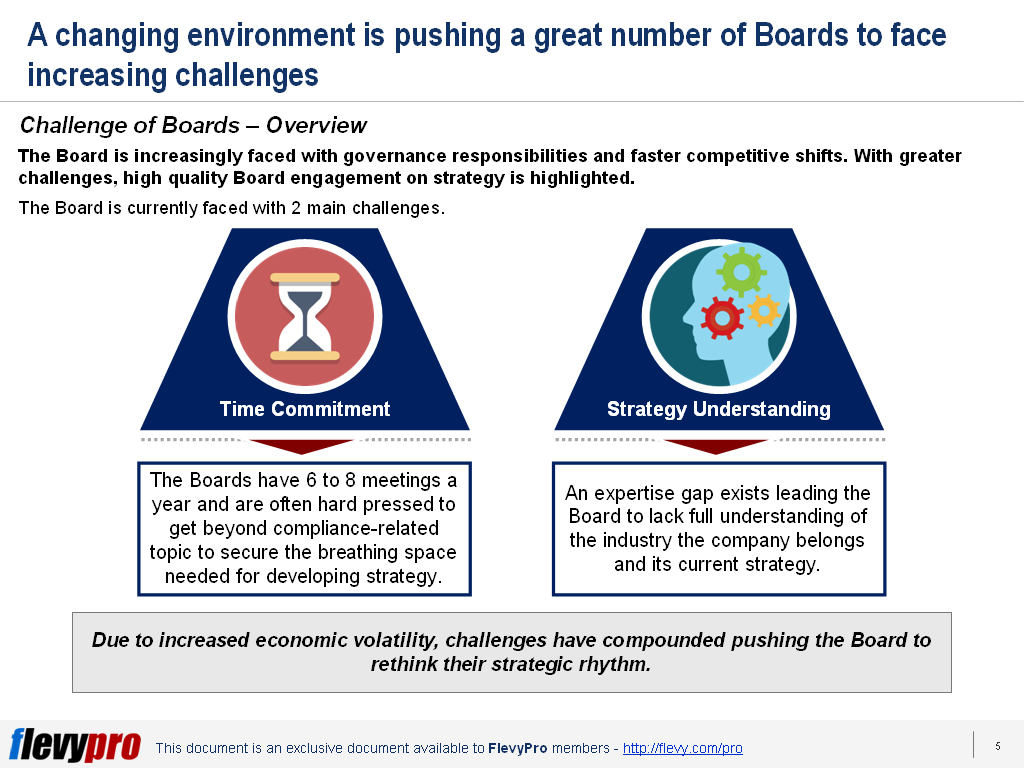 What are the 2 main challenges facing Boards today?
First is Time Commitment. Working at a high level takes discipline – and time. In fact, the greater time commitment is expected on high impact activities. The Board often have 6 to 8 meetings a year. As a result, they are often hard-pressed to get beyond the compliance-related topics to secure the breathing space needed for developing a strategy.
Often, it is the very high impact Directors who invest more time compared to moderate or lower average Directors.
Who are your very high impact Directors? They are those spend a total of 40 days a year working for the Board compared to 19 days of low impact Directors. An extra 8 workdays a year is invested in strategy and an extra 3 workdays a year are spent on Performance Management, M&A, Organizational Health, and Risk Management.
High impact Directors who believe that their activities have greater impact spend significantly more time on these activities compared to low impact Boards.
Second is Strategy Understanding. Why is Strategy Understanding a challenge for the Board? Limited understanding of the organization's strategy can result in the Board's limited engagement with the organization. Based on the survey made, only 21% of the Directors have a complete understanding of the current strategy. Often, Board members have a better understanding of the company's financial position rather than its risks or industry dynamics.
If we look at high impact Directors, they invest more time in dealing with strategic issues. In fact, they invest 8 extra workdays a year on Strategic Planning and discussing strategy compared to low impact Directors. High impact Directors center on Strategy Focus Areas which can, in turn, spur high-quality engagement from the Board on strategy development. The quality of Board engagement on strategy is enhanced, both when the engagement is deep and during the regular course of business.
The Board just needs to focus on 3 areas of discussion for the Board to enhance Strategy Development. One of them is Industry and Competitive Dynamics.
Interested in gaining more understanding of Board Excellence via High Impact, Strategic Boards? You can learn more and download an editable PowerPoint about Board Excellence: High Impact, Strategic Boards here on the Flevy documents marketplace.
Do You Find Value in This Framework?
You can download in-depth presentations on this and hundreds of similar business frameworks from the FlevyPro Library. FlevyPro is trusted and utilized by 1000s of management consultants and corporate executives. Here's what some have to say:
"My FlevyPro subscription provides me with the most popular frameworks and decks in demand in today's market. They not only augment my existing consulting and coaching offerings and delivery, but also keep me abreast of the latest trends, inspire new products and service offerings for my practice, and educate me in a fraction of the time and money of other solutions. I strongly recommend FlevyPro to any consultant serious about success."

– Bill Branson, Founder at Strategic Business Architects
"As a niche strategic consulting firm, Flevy and FlevyPro frameworks and documents are an on-going reference to help us structure our findings and recommendations to our clients as well as improve their clarity, strength, and visual power. For us, it is an invaluable resource to increase our impact and value."

– David Coloma, Consulting Area Manager at Cynertia Consulting
"As a small business owner, the resource material available from FlevyPro has proven to be invaluable. The ability to search for material on demand based our project events and client requirements was great for me and proved very beneficial to my clients. Importantly, being able to easily edit and tailor the material for specific purposes helped us to make presentations, knowledge sharing, and toolkit development, which formed part of the overall program collateral. While FlevyPro contains resource material that any consultancy, project or delivery firm must have, it is an essential part of a small firm or independent consultant's toolbox."

– Michael Duff, Managing Director at Change Strategy (UK)
"FlevyPro has been a brilliant resource for me, as an independent growth consultant, to access a vast knowledge bank of presentations to support my work with clients. In terms of RoI, the value I received from the very first presentation I downloaded paid for my subscription many times over! The quality of the decks available allows me to punch way above my weight – it's like having the resources of a Big 4 consultancy at your fingertips at a microscopic fraction of the overhead."

– Roderick Cameron, Founding Partner at SGFE Ltd
"Several times a month, I browse FlevyPro for presentations relevant to the job challenge I have (I am a consultant). When the subject requires it, I explore further and buy from the Flevy Marketplace. On all occasions, I read them, analyze them. I take the most relevant and applicable ideas for my work; and, of course, all this translates to my and my clients' benefits."

– Omar Hernán Montes Parra, CEO at Quantum SFE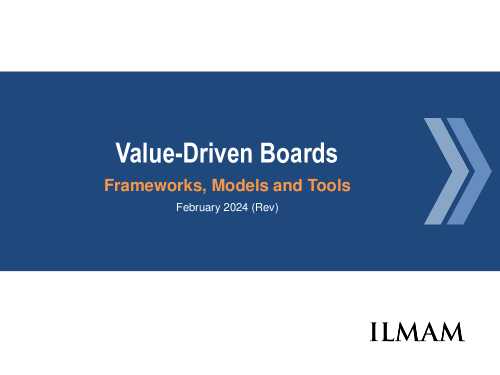 53-slide PowerPoint presentation
Boards often focus their most of their time and efforts on activities related to regulatory compliance and risk oversight, which helps preserve existing shareholder value. Increasingly, however, shareholders expect CEOs and boards to spend more time on long-term value creation activities. This
[read more]
Do You Want to Implement Business Best Practices?
You can download in-depth presentations on Corporate Board and 100s of management topics from the FlevyPro Library. FlevyPro is trusted and utilized by 1000s of management consultants and corporate executives.
For even more best practices available on Flevy, have a look at our top 100 lists:
These best practices are of the same as those leveraged by top-tier management consulting firms, like McKinsey, BCG, Bain, and Accenture. Improve the growth and efficiency of your organization by utilizing these best practice frameworks, templates, and tools. Most were developed by seasoned executives and consultants with over 20+ years of experience.
Readers of This Article Are Interested in These Resources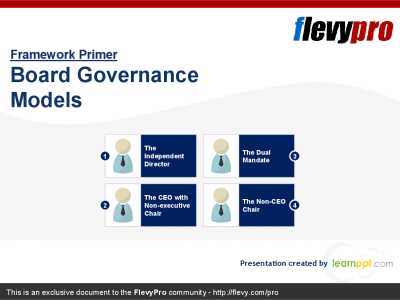 25-slide PowerPoint presentation
Board Governance is frequently discussed and often misunderstood. Yet, having a good grasp of Board Governance can lead to clarity of purpose and objectives. Governance is the combination of policies, systems, structures, and a strategic/operational framework which the governing body puts in
[read more]
24-slide PowerPoint presentation

20-page Word document
About Joseph Robinson
Joseph Robinson is the Vice President of Strategy at Flevy.
Flevy
is the marketplace for best practices in business management. Learn how the Fortune 100 and global consulting firms do it. Improve the growth and efficiency of your organization by leveraging Flevy's library of best practice methodologies and templates. The documents at Flevy (https://flevy.com) are of the same caliber as those produced by top-tier management consulting firms, like McKinsey, BCG, Bain, and Accenture. Most were developed by seasoned executives and consultants with 20+ years of experience. Flevy covers
200+ management topics
, ranging from
Digital Transformation
to
Growth Strategy
to
Lean Management
. You can peruse a full list of
management topics available on Flevy here
. Prior to Flevy, Joseph worked as an Associate at BCG and holds an MBA from the Sloan School of Management at MIT. You can
connect with Joseph on LinkedIn here.
Top 10 Recommended Documents on Corporate Board
50-slide PowerPoint presentation
53-slide PowerPoint presentation
25-slide PowerPoint presentation
24-slide PowerPoint presentation
20-page Word document
23-slide PowerPoint presentation
20-slide PowerPoint presentation
22-slide PowerPoint presentation
26-slide PowerPoint presentation
25-slide PowerPoint presentation

» View more resources Corporate Board here.
» View the Top 100 Best Practices on Flevy.