Editor's Note:  The author Curtis Chocholous, a seasoned executive and Lean Six Sigma Black Belt, has written a whitepaper on The 80/20 Law of Leadership, which is available for free on Flevy here.  This whitepaper is based on Lean Culture thinking.  
* * * *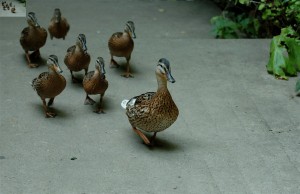 Old habits are often difficult to break and die hard. Starting something new commonly fades and stops within 2-3 weeks, or less. Interestingly, workplace habits can be more difficult to change than personal habits. Organizational work habits, including your own, might be incompatible with a "People-Centric" and "Process-Focused" work environment. As result, only 10% of all business change-initiatives succeed beyond one year.
We are what we repeatedly do. Excellence, then, is not an act, but a habit. – Aristotle
People-Centric
According to Gallup's Clifton StrengthsFinder assessment, I'm a Maximizer. That basically means excellence, not average, is my pleasure. I get a kick out of transforming something good, or strong, into something superb. We're all uniquely wired with intrinsic talent potential… I like to polish the pearl until it shines. Extraordinary leaders are passionate about helping people and organizations capitalize on their inherent gifts and potential — the rewards are endless and deeply meaningful.
Process-Focused
In 2013, I introduced an 80/20 Leadership™ Business Management Process. In short, people are the company, all work is a process and people are the process doers (and owners) thereby connecting internal and external people and process. Everything else is inanimate. I discovered that the interactive Business Management Process – not a hypothetical culture — related to who does the work, the work itself and how work is done is what [maximizes] human potential. In other words, when leaders optimize interaction with their people, superior [amazing] human performance occurs.
Keeping Progress in Motion
Leadership shapes the character and well-being of an organization. Business organizations go from the motion leaders give them…and therefore depend upon leaders to give them the right motion — to keep them in motion — and moving in the right direction.
The solution to many organizational problems requires a Business Management Process adjustment, or in some cases a total overhaul. As organizations go about their daily activities, leaders need to learn and understand the true nature and behavioral origin of their people. To the trained eye, even a short tour through a business site can reveal a great deal about a company's Business Management Process.
Great leaders set clear expectations. They equip people, grant authority and facilitate success in a way that willingly brings out the best in people for the benefit of all associates. Leadership roles and responsibilities can be greatly simplified within the healthy boundaries of an effective Business Management Process that will enrich and sustain a high quality work life.
Leaders Manage Less and Achieve More.