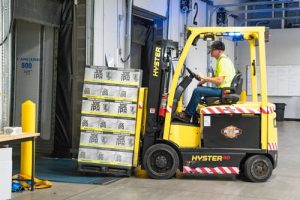 Modern businesses have access to some of the most sophisticated means of getting a package from A to B ever devised. This has led to the creation of incredibly efficient supply chains, where hundreds of items are tracked meticulously, up to the minute, and where storage costs are slashed by 'just-in-time' delivery strategies.
If you're running an online business, even if it's a very small one, then you'll have access to several powerful means of streamlining your logistics and thereby slashing your delivery costs. Let's examine a few of the most worthwhile of them.
Focus on the last leg
Often, the most inefficient part of the supply chain is the final one, where goods actually arrive at a customer's doorstep. It's easy to put thousands of parcels onto a shipping container, and then carry them to a distribution centre. It's more difficult to go from home to home while predicting precisely when a given package will arrive at its location. Consequently, as much as a quarter of the total shipping cost is taken up by this final leg.
Use multiple shipping options
If you're sending out a range of different items, and offering your customers a choice of several different shipping prices, then it makes sense to go through several different couriers and in-store pickups. Modern customers lead busy lifestyles, and they won't want to have to wait by the door for a package that will arrive at any point in an eight-hour window. In many cases, they'll appreciate the option to pick it up from a third-party location.
Minimise Packaging
Oversized packaging, as well as being inefficient, can be enormous irritating to your customers – particularly the environmentally-conscious ones. Slashing the amount of material you use in packaging will also allow you to cut your shipping costs, and it can also make delivery more practical. If you're selling something that could feasible posted through a letterbox, like dried lentils, coffee granules, or trays of electrical components, then consider shipping them in a robust, flat package.
What about bulky items?
If you're shipping especially large parcels, then you'll need a courier that's able to handle them competently. Naturally, such items are more difficult to get from one place to another, and thus the quality of your shipping service becomes paramount.
Tracking
By the same token, now that satellite navigation and tracking is fitted to the overwhelming majority of delivery vehicles, it's possible to provide customers with the precise location of their package, and to inform them exactly how many stops away it is. Often, this can be done automatically, with little effort on the part of the driver. But it will provide significant utility to the end-user, and afford your business a significant edge over the competition.
Have a Complaints Procedure
In an ideal world, all of your packages would arrive in good time, and in good condition. But we don't live in an ideal world, and it follows that some of your customers will be dissatisfied with the service they receive. If you don't know about these failures, then you'll find it impossible to take any corrective action. Devise a procedure for handling complaints before they actually arrive – that way you'll be able to offer your apologies, log the feedback, and make improvements to the way your business does things.