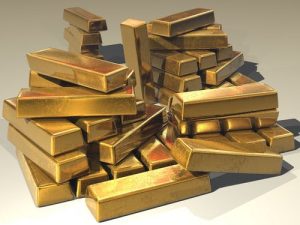 Given the recent events in US politics, you could be forgiven for thinking that the global markets would be in free-fall as 2021 got underway.
However, aside from the second impeachment of the incumbent President Donald Trump, there appears to be a semblance of stability in Washington once again, with Joe Biden having been formally confirmed as the 46th President of the United States and Trump himself commuting to an orderly transition of power.
This may be bad news for gold, however, which has seen its price plunge following the drama at the Capitol. Here's a breakdown of this and a cursory glance at the performance of some affiliated markets.
Why Gold Isn't Shining as Bright in the Eyes of Investors
There's no doubt that the US appears to be heading towards a relative period of stability, which has delivered a boost to various equities and commodities such as oil (we'll have a little more on this later in the piece).
As these assets appreciate in value, however, gold tends to fall, and this was borne out in this instance as ETF investors prepared to abandon the historic safe-haven trade in search of a superior yield.
Other factors are contributing to the new-found stability stateside, of course, including the prospect of a progressive Biden administration and the rapid rollout of a national vaccination program in relation to the coronavirus.
The Democrats have also pledged to invest huge amounts into economic stimulus packages and infrastructure spending throughout 2021, with this likely to boost economic growth markedly and send the price of gold plunging further.
According to Edward Moya, the Senior Market Analyst at Oanda, it's likely that at least one large institutional investor or hedge fund is abandoning their bet on bullion in the current climate, with this further exacerbating the downward trend and causing others to seek solace in alternative asset classes.
What about the Other Asset Classes?
Interestingly, it can be argued that the growing institutional interest for Bitcoin is also hurting the short and medium-term value of gold, as while these assets matched each other's performance for much of 2020, the crypto bubble continued into the beginning of the New Year.
Of course, Bitcoin subsequently crashed at the end of last week, plunging from its record high above $40,000 to just $34,000 in a short period of time. However, the outlook remains more positive for this token than it does for gold, especially with stimulus measures likely to increase demand across the board for this type of asset.
As we've already touched upon, oil is also benefiting from improved economic sentiment and the depreciation of gold, with both crude and WTI prices rallying in the formative weeks of 2021.
The price of oil is also rising as US Covid-19 cases are thought to be approaching their peak, while the decision of Saudi Arabia to cap their production volumes has also helped to restore some semblance of balance between supply and demand internationally.
In this respect, energy traders are looking beyond the risks of virus mutations that may be up to 70% more transmissible, while the same can be said for the outlook of both stock and currency traders.