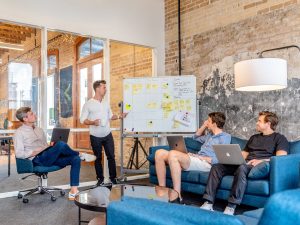 Starting a small business is a different level of gambling. You have to consider many factors, but the most critical is how you'll introduce your brand to your clients.
Startups engage in outsourcing when they contract third parties to do jobs, conduct operations, and provide services for the business. According to the businesses that profited from it, outsourcing can reduce labor costs by 70% for startups.
Pre-outsourcing Evaluation
Outsourcing has several advantages, but the most notable is that it allows you to build your brand before launching your campaign in earnest. This reason alone can convince startups to outsource, but they should also consider the following issues influencing their outsourcing decision.
Cost of Outsourcing
Many startups fail because of the initial overconfidence they have in their finances. Remember that there are many ways to finance a startup, especially if you're creditworthy. There are even loans available over the phone, but repaying them requires a lot of discipline and commitment. So, try to be practical in all of the undertakings as much as possible.
Outsourcing, as previously said, reduces the company's costs, especially in staffing. The outsourced task involves billing, but in many cases, the costs are lower than they would be if your business performed the work internally.
Additionally, in-house development costs cover increased salaries, incentives, and even hardware and software costs. With outsourcing, aside from the compensation of the remote developer or offer, if you hire an outsourcing provider, you have to pay for the software licenses if necessary.
Comparing outsourcing expenses with in-house development costs is the most dependable way to determine how much you're spending and how much you can save from your operations.
Keeping the Business Reputation
Joblessness and reduction of competitive edge are all results of outsourcing, leaving some employees stressed out. So, to start right, communicate to any employee who may be affected by the decision.
Take note that employees who feel that someone from an outsourcing company will replace them may be furious. As a result, these individuals may lose loyalty to the company and become demotivated in their job.
If employees believe they've been unfairly treated, they may resign and establish their own business, thereby competing directly with their previous employer. They can also spread negative sentiments and bring such on social media, the result of which could significantly affect the company's reputation.
Sample Outputs
Through social media,  it's much easier to learn how clients feel about a provider. If this seems impossible, consult past and current clients for feedback on their services and any difficulties they encountered during the collaboration.
The organization's website may also have several case studies that can be used to familiarize yourself with the finer details of the company. In addition, use existing projects or marketing concepts as samples to get an idea of what you'll be enjoying after signing your service agreement. Finally, as a reliable indication of service quality, ask potential partners for their NPS score.
Ease in Communication
Many outsourcing errors are due to communication issues. Assuring seamless communication channels involves certain features. Make sure to test their service to see if it has the current technological innovations in communication. To avoid failure, make sure you've invested in solid collaboration tools.
Assuming you're in a different time zone, check if your working hours are in sync to avoid communication gaps.
Onshore or offshore, communication is the foundation of a successful collaboration. Ideally, your provider will be able to develop communication and plan that minimizes project delays, uncertainty, and stress on the people involved.
Outsourcing Contract
There should be no room for mistakes and misunderstandings on either side of the outsourcing agreement. Aside from IP protection and non-disclosure agreements, the contract also contains other clauses like the pricing, schedule, and timeline.
An expert in contract law should draft the contract for you. Hiring a lawyer is a brilliant idea to seek explanations on the topics that have been included in the contract.
It's essential to pay close attention to the contract and its provisions before signing it. Upon receiving the outsourcing contract, you must carefully read what is written and analyze the matters discussed there.
Hidden Costs
You have to know that offshore outsourcing is not as cost-effective as it is believed to be. Even after writing the predetermined cost through a contract, contractors might still charge for work that is not included in their agreement.
Look into any hidden costs associated with project execution and personnel training that could incur additional charges for your company.
Aside from contracting costs, there are many other hidden expenses associated with outsourcing, such as server costs and knowledge transfer costs, among others. Assess your risks and manage them successfully by choosing the right provider for the needed job.
Takeaway
Apparently, the preparations don't end the moment you render the capital. For this reason, it's essential to work with the best strategies and planning suitable for the business. For example, you should be able to consider external agreements with third parties through outsourcing. But, of course, you can only do this if you consider the things mentioned in this article.