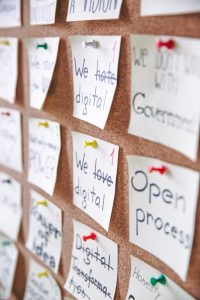 Go digital or go home.  To survive in the Digital Age, organizations must pursue Digital Transformation to not only support strategies and reach customers, but also to modernize and achieve excellence in their internal operations and processes.  The pursuit of Digital Maturity is quickly becoming a necessity.
Yet, most organizations are unable to properly strategize their transition to Digital Maturity.  Nevertheless, there are organizations that are digitally mature or are leaping towards that state with ease.  Research into the Strategy of such organizations reveals that digitally mature organizations apply following 5 practices that make them leaders in this race:
Digital Organization
Digital Strategy
Digital Experimentation
Digital Talent
Digital Leadership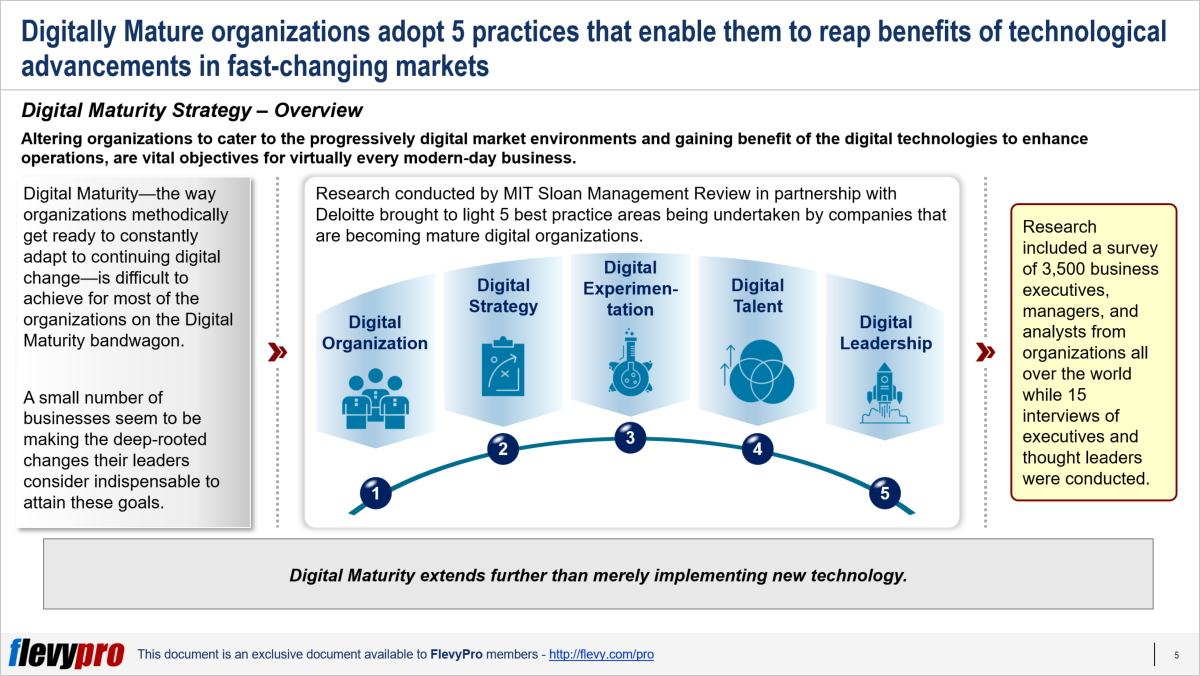 These 5 best practices provide the foundation to Digital Maturity Strategy.  Let us delve into a little more detail of some of these best practices.
Digital Organization
Conventional Organizational Structures arranged in functional silos do not cut it in the dynamic and rapidly changing markets.  Fresh approach to Organizational Structures has brought forward cross-functional team structures.  Customary command and control systems hinging on functional silos are hindering the agility necessary in the current market scenarios.
A research survey categorized Digital Maturity of organizations into early-stage, developing, and maturing organizations.  Nearly 60% of the respondents from the early-stage deemed the management structure and practices in their organizations as an impediment to engaging in Digital business successfully.  Digitally Maturing companies, on the other hand, had 80% of the respondents saying that their leaders had adequate understanding and capability to lead the organization's Digital Strategy. 
Digital Strategy
Effective Digital Strategies are not merely implementation of technologies for the purpose of becoming more Digital, rather they are purposed to identify opportunities for greatest business impact.
Research consistently indicates that Strategy is the most formidable differentiator of Digitally Maturing companies.  Digital Strategies lay out how the organization conducts business distinctively, given the changes brought about in the market by new Digital technologies.
When asked about actions needed by the company to increase Digital Maturity, 40% of respondents in a survey, felt the need for improvement in Digital Strategy and Innovation.  Percentage-wise, research found that 80% of the Digitally Mature companies had, or were likely to have, a well-defined and coherent Strategy as compared to 19% of Early-stage companies.  Research concluded that Digitally Mature organizations are 2 times more likely to Strategize for 5 years or more.
Successfully executing Digital Strategy demands concentrating on Organizational Change and building flexibility so as to attune to swiftly changing Digital environments. 
Digital Experimentation
Almost every organization indulges in experimentation with technology.  But the scope and scale of experiments sometimes do not provide outcomes that may have an enterprise-wide effect.  Digitally Maturing companies have the capability to escalate Digital Experiments.
Key to effective experimentation is to think of experiments for urgent business problems—that will push enterprise-wide Innovation—then conduct smaller experiments that can be ramped up once successful.
Digitally Maturing organizations are 2.5 times more apt at conducting small experiments and scaling enterprise-wide Innovation, compared to Early-stage companies.  Open-mindedness towards failures and the capacity to learn from them strengthens the ability to scale up small experiments.
Interested in learning more about Digital Maturity Strategy?  You can download an editable PowerPoint on Digital Maturity Strategy here on the Flevy documents marketplace.
Do You Find Value in This Framework?
You can download in-depth presentations on this and hundreds of similar business frameworks from the FlevyPro Library.  FlevyPro is trusted and utilized by 1000s of management consultants and corporate executives.  Here's what some have to say:
"My FlevyPro subscription provides me with the most popular frameworks and decks in demand in today's market.  They not only augment my existing consulting and coaching offerings and delivery, but also keep me abreast of the latest trends, inspire new products and service offerings for my practice, and educate me in a fraction of the time and money of other solutions.  I strongly recommend FlevyPro to any consultant serious about success."

– Bill Branson, Founder at Strategic Business Architects
"As a niche strategic consulting firm, Flevy and FlevyPro frameworks and documents are an on-going reference to help us structure our findings and recommendations to our clients as well as improve their clarity, strength, and visual power.  For us, it is an invaluable resource to increase our impact and value."

– David Coloma, Consulting Area Manager at Cynertia Consulting
"FlevyPro has been a brilliant resource for me, as an independent growth consultant, to access a vast knowledge bank of presentations to support my work with clients.  In terms of RoI, the value I received from the very first presentation I downloaded paid for my subscription many times over!  The quality of the decks available allows me to punch way above my weight – it's like having the resources of a Big 4 consultancy at your fingertips at a microscopic fraction of the overhead."

– Roderick Cameron, Founding Partner at SGFE Ltd