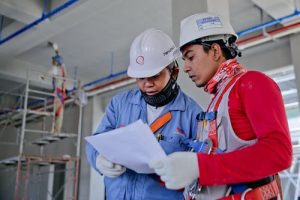 Sadly, accidents at work are an inevitability. As we interact with others, move around, eat, drink and use tools, machinery and equipment, it's only natural to assume that sometimes things will go wrong.
Data from the Health and Safety Executive (HSE) and the Labour Force Survey reveals there were almost 700,000 injuries sustained at work in Great Britain in 2019-20. For the previous year, it's thought that the cost of injuries and instances of ill health amounted to more than £16 billion.
So, what can businesses do about it? Those in the construction sector must be particularly attentive to the health and wellbeing of their employees, who are often required to work at great heights, on uneven surfaces and with heavy materials and machinery. As a result, building sites are often noisy places, which is why the HSE has laid down guidelines on the use of hearing protection, to prevent workers from coming into harm.
There are different types of ear defenders, though, so which is right for your business?
Headband Attachments
These are ideal for when the user does not require a hard hat as part of their personal protective equipment. The ear defenders simply slot into the headband, which can then be adjusted to sit comfortably on the wearer's head. The headband can be made of either a solid, inflexible material such as plastic or elasticated fabric, which can be more easily folded and stored in the pocket.
Ear defenders of this kind should be replaced as soon as they begin to show signs of wear and tear, or if the headband becomes so loose that it will no longer sit comfortably on the head. For normal wear, the recommendation is to replace every six to eight months, or three to four months after heavy use.
Helmet Attachments
Perhaps most suited to construction or mining sites where a hard hat is required, these attachments enable the ear protectors to clip straight onto the side of the helmet. Permanent helmet attachments are available so that the ear protectors do not have to be constantly clipped and unclipped, while there are others that allow for that flexibility on sites where a hard hat is required but the ear defenders are not.
As with headband attachments, these should be replaced every three to four months if used heavily or in extreme environments, or every six to eight months for normal wear. New ones should also be ordered if the cushioning degrades, as they will no longer provide the desired level of protection.
Ear Plugs
These differ from headband or helmet attachments in that they are worn inside the ear rather than over the top. There are disposable ear plugs – typically foam cylinders which should be thrown away after one use to prevent the build-up of ear wax and other bacteria. Reusable ear plugs are also available – these tend to be made of soft plastic or rubber and are specially designed to be washed and worn again.