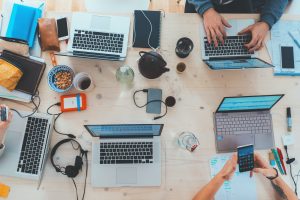 Advancing your career and taking your professional life to the next level isn't the easiest thing in the world, but it's something you just have to do every once in a while. Doing this will take some time, energy, and patience, but it's something that will do your career tons of good. Therefore, finding the right certifications that will mean the most is the first step you need to take. If this is something you'd like to do as well, here are a few suggestions you might want to take into consideration right now.
HR and PMP
Most people believe that only the people in the HR department need to be able to solve conflicts, organize people, make schedules, and hire new employees. On the contrary, everyone needs to be able to do that, but these are just a few of the things HR experts do on a daily basis, and they manage to make quite a lot of money that way too. That's why getting an online HR certification might be a great idea for your future and one of the best ways to advance your career.
In addition to HR, you may also look into those useful project management professional certifications. These will make you an even bigger expert in the field of HR and PMP but in a number of other areas too, including risk assessment, budget planning, and staff management. When combined, these two certifications could help you get a new job quite easily, and that's something people around the world are hoping for!
IT
We all know that the IT industry is one of the leading industries in the world at the moment, which is why so many people are trying to become a part of this industry and earn big money doing things they love doing. The IT world is huge and you can do tons of different jobs, which is why getting an IT certification means first identifying a part of the IT industry you'd like to work in.
The certification you'll get also depends on your current IT knowledge and your level of programming skills. People who already have some knowledge and experience should always take the extra step and check out MCSE and MCSD certifications, for instance. These Microsoft-based certifications will make you a certified solutions expert and solutions developer, respectively, and could help you get a new job ASAP. If you're a beginner, though, consider getting those useful CompTIA A+ and MTA certifications instead, and start your IT career with a bang!
CPR
Whether you're already working in the healthcare industry or are just an enthusiast who wants to be able to save someone's life, knowing CRP is one of the most useful skills in the world. Lots of people think this procedure is hard to perform and are actually afraid of using it even in the most extreme cases, but this is definitely not the case.
What's more, performing CPR is something that could literally mean the difference between life and death for someone in your family or even a stranger. That's why getting a helpful CPR certification is something that could go a long way and make you a more valuable employee every company is going to appreciate.
CPA
Some people aren't fans of accounting and everything that comes with this job. However, this is still one of the most popular professions in the 21st century that comes with tons of different benefits. From job stability to a decent paycheck, this is something that might make you happy and help you earn quite a lot of money in the long run, so don't be afraid to consider this idea as well.
Getting a certified public accountant certification online may take some time because you have to complete around 150 credit hours and pass an exam that will make you eligible for this certification. However, this is certainly worth your time and effort using documents shared by your fellow students on Studocu website, and having a CPA certification might be the next great step in your professional life.
In addition to these, you could also explore business management, risk management, leadership, and network certifications – you can even get several of these and make yourself even more competitive and relevant in the job market!