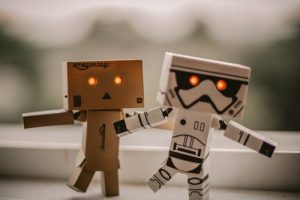 We've all heard of Robotic Process Automation (RPA). RPA is the emerging form of business process automation technology based on metaphorical software robots (bots) or artificial intelligence (AI) workers. When an organization undertakes Digital Transformation, RPA is typically the lowest hanging fruit driving most immediate impact.
But, what is Intelligent Process Automation (IPA)?
In short, IPA essentially augments RPA technology with additional emerging Digital Transformation technologies. In its full extent, IPA is comprised of 5 core technologies:
Robotic Process Automation (RPA)
Smart Workflow
Machine Learning (ML) & Advanced Analytics
Natural Language Generation (NLG)
Cognitive Agents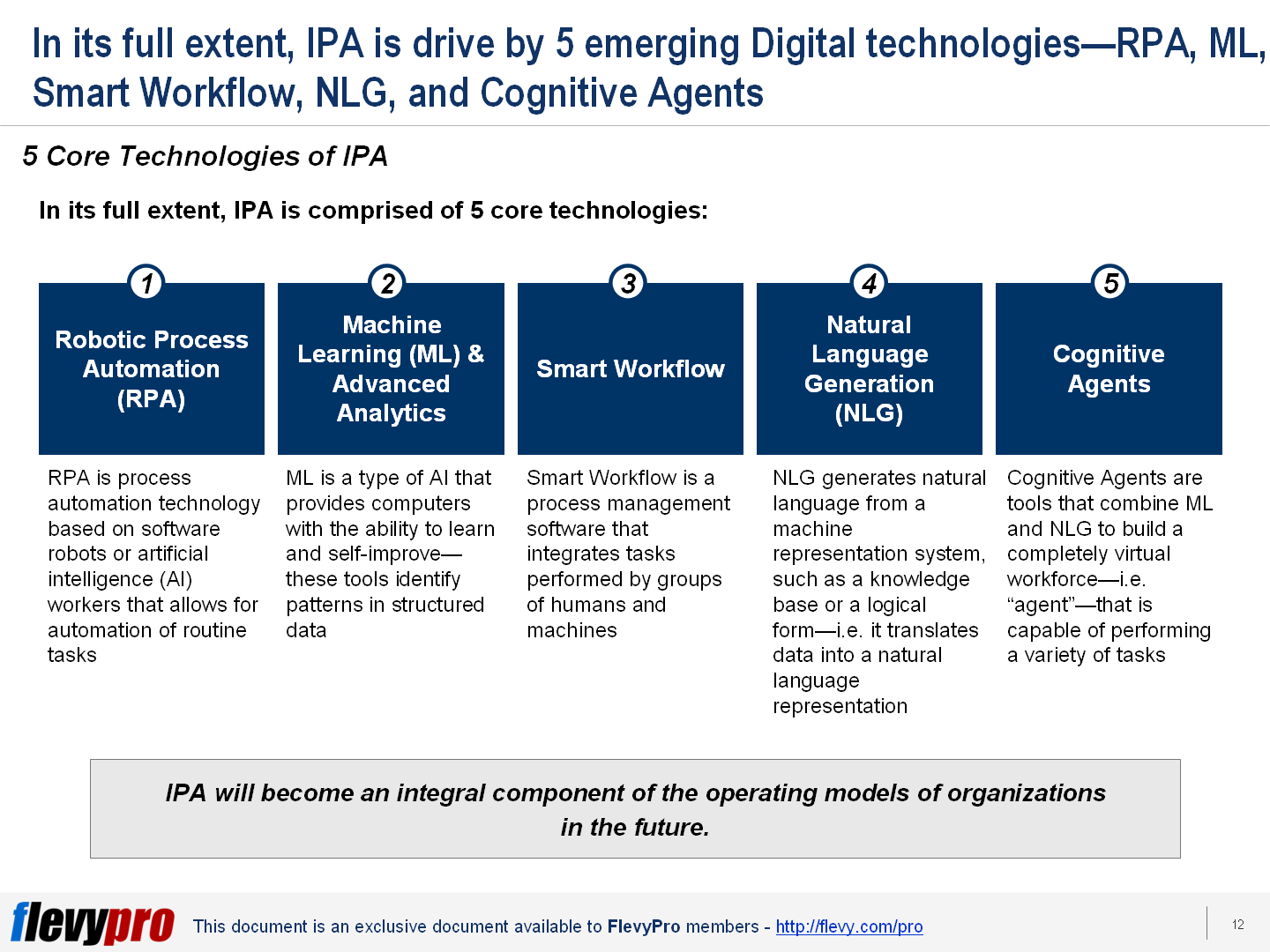 IPA replicates activities traditionally performed by humans (via RPA) and, over time, learns to do them even better (via Machine Learning).
The disruptive power of IPA is that it supplements traditional rule-based automation with decision making capabilities driven by emerging Deep Learning and Cognitive Technologies. Through this, IPA creates the following primary benefits:
Enhanced Efficiencies
Increased Employee Productivity and Performance
Reduction of Operational Risks
Improved Response Times
Improved Customer Journey Experiences
Let's go into a bit more depth into the 5 component technologies of IPA.
1. Robotic Process Automation (RPA)
RPA automates routine tasks, such as data extraction and cleansing, through existing user interfaces. The RPA "robot" has a user ID just like a normal employee. It can perform rules-based tasks, such as accessing emails and systems, performing calculations, creating documents and reports, checking files, customer complaint processing, etc. End-to-end processes can be fully automated and executed by the robot. The employee will only handle exceptions
2. Smart Workflow
These are algorithms that identify patterns in structured data, e.g. daily performance data. This is done through "supervised" and "unsupervised" learning algorithms. Supervised algorithms learn from structured data sets of inputs and outputs before beginning to make predictions (based on new inputs) on their own. Unsupervised algorithms observe structured data and begin to immediately provide insights on recognized patterns.
Advanced Analytics has already been implemented extensively within HR organizations to determine and assess key behavioral attributes in leaders and managers, so as to better predict behaviors, develop career paths, ad plan leadership successions.
3. Machine Learning (ML) & Advanced Analytics
The Smart Workflow process management software integrates tasks performed by groups of humans and machines. It can do this by sitting on top of RPA to help manage the full process. This allows employees to initiate and track the status of an end-to-end process in real time. The Smart Workflow software will manage handoffs between various groups, including between robots and human employees, and provide statistical reporting on process bottlenecks.
4. Natural Language Generation (NLG)
These are software engines that create seamless interactions between the human employees and technology by following rules to translate observations from into natural language. Structure performance data can be imported into an NLG engine to write internal and external management reports automatically.
5. Cognitive Agents
These are technologies that combine ML and NLG to build a completely virtual agent that is capable of execution tasks, communicating, learning from data sets, and even making decisions based on "emotion detection." Cognitive Agents are being utilized to support employees and customers over the phone or via live chat.
As IPA handles more mundane business processes, human employees can focus on delighting customers and intellectually challenging work.
With all the benefits IPA, the business case for IPA Transformation as part of the overarching Digital Transformation Strategy should almost be self-evident. To undertake a IPA Transformation initiative, we can follow a 6-phase approach:
Operating Model Alignment
IPA Portfolio Buildout
Minimum Viable Product (MVP) Development
Value Creation
Capabilities Development
Change Management
Want to learn more about this approach to IPA Transformation? Take a look at our framework presentation on the topic, Intelligent Process Automation (IPA).
This framework is part of the Digital Transformation Stream.  The Digital Transformation Stream also includes frameworks on the adjacent Digital technologies–e.g. RPA, ML, Analytics, etc.