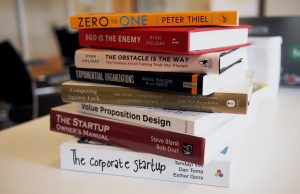 It's often said that life is the best teacher. When it comes to business, nothing could be truer. However, some things are easier to deal with if you learn from someone else. Reading books by people who have been through what you're going through will save you time, money, and stress.
This is something most successful entrepreneurs and CEOs know and often advocate for. For example, Warren Buffet reads 8 hours a day, Bill Gates reads one book per week, and Oprah Winfrey reads one book every month.
As a startup owner, it's recommended that you become a student of business, whether it's in a classroom or not. This means you should read books and seek sound advice from successful entrepreneurs the same way that college students seek their professors out for guidance.
If you happen to be a business management major, reading all these books in addition to your coursework could be draining. It's understandable. As human beings, we can't do it all. That being said, you can search 'write my essay for me cheap' if you're looking for help with school work or simply click the link provided. Not only is it affordable, but it will free you up to read the amazing books mentioned in this article.
Best Books for Marketing
Starting a business is just the beginning. The real work comes in when you need to perform market research, employ marketing techniques, bookeep, brand, and so on. Here are a couple of classics that will help in that process.
The Icarus Deception by Seth Godin
In the Greek myth this book is named after, the main character flew too close to the sun, which melted his wings, and fell into the sea. We've been told the moral of the story is to not be too ambitious. In The Icarus Deception, marketing guru and best-seller Seth Godin, provides an alternative moral of the story.
Godin argues that because we're often warned not to 'fly too high,' as a result we wind up flying too low. Although he speaks mostly about artists, Godin's advice is helpful to startup founders who are learning how to market their companies. The main takeaway is that marketing is about forming a connection with people. It's not about manipulations or 'hacks,' but about starting a conversation, solving a problem, and being genuine.
In the author's own words, "It's easy to market and manipulate your way into the quick smile or the Broadway-theater obligatory standing ovation. What's more difficult is to do the less-congratulated work of getting under someone's skin, of changing the conversation, and of being missed when you're gone."
Influence: The Psychology of Persuasion by Robert B. Cialdini
In Influence, Cialdini offers Six Principles of Influence. These are:
Reciprocation
Commitment and consistency
Social proof
Liking
Authority
Scarcity
Although it was first published in 1984, Cialdini's principles remain evergreen. They explain the six factors people consider when trying to make a quick decision. He further explains that fortifying your product with these principles will persuade clients to buy it at a faster rate.
Best Books for Branding
When you see a checkmark on the side of a shoe, what brand comes to your mind? How about when you see a mermaid on a coffee cup? Branding is what takes a product from being one among many to being recognizable. Branding helps you stand out from your competition, tell your story, and connect with the right people.
Positioning: The Battle for Your Mind by Al Reis and Jack Trout
In Positioning, marketing strategists Al Reis and Jack Trout teach the reader how to get their message across in a world that's oversaturated with messages. It's a psychological playbook on how to position yourself in your audiences' minds. The authors argue that the easiest way to get a good position is to be the first company that provides a specific service or good.
As a startup, you already have a leg up in that category. In case you have competitors, this book also teaches you how to identify your strengths and weaknesses, as well as those of your competitors.
Delivering Happiness: A Path to Profits, Passion, and Purpose by Tony Hsieh
Corporate culture has a bad reputation of being selfish, money hungry, and even evil. Take a look at popular TV tropes about them, and you'll get the gist. Tony Hsieh, CEO of Zappos and venture capitalist, takes a different approach to corporate America in his book Delivering Happiness.
Rather than focusing on money, Hsieh advocates for making the people around happy and cultivating a culture in the company. The book is written from the first person, and shows how Hsieh followed his passion, which he believes eventually led him to success.
Best Books for Leadership
Harry S. Truman once said that, "Not all readers are leaders but all leaders are readers." Leadership is a crucial part of running a startup. The right leadership can usher it into success, while the wrong leadership can crash the ship.
The Hard Thing About Hard Things by Ben Horowitz
Do you know the saying, "it's lonely at the top"? Turns out it's true. As the founder of a startup, there will be moments you'll feel all alone. In The Hard Thing About Hard Things, Ben Horowitz offers insight into the tough decisions a CEO must make. It's one of the most recommended business books to entrepreneurs because of Horowitz's willingness to be vulnerable and authentic.
He tells it like it is: there will be hard times and no amount of planning will ever prepare you for what it's like to build a business from the ground-up. In an ironic twist, he writes, "The only thing that prepares you for running a company is running a company." Despite this, Horowitz shares some lessons he's learned along the way.
Shoe Dog: A Memoir by the Creator of Nike by Phil Knight
Here's a serious question: why wouldn't you want to read a business book written by one of the most successful businessmen in the 21st Century? Shoe Dog, written by Phil Knight himself, documents the sacrifices it took to turn Nike into the international conglomerate it is today. It takes place between 1962-1980, which is the time it took Phil to travel around the world to build the Nike brand.
Apart from Knight's autobiography, Shoe Dog also gives insight into his leadership style. Along the way, he demonstrates the respect he holds for his employees and their opinions.
Conclusion
As a startup founder, there are several things to think about. Marketing, branding, and leadership are a few worth mentioning. It's impossible to learn everything on your own, so it's best to read books and seek sound guidance from trusted mentors.