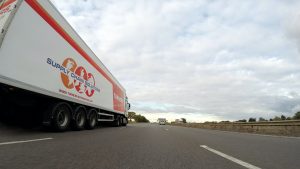 Digital Transformation has propelled technologies and innovation in Logistics.  Artificial Intelligence is taking charge of a number of repetitive logistics tasks.  Organizations are benefiting from Automation in streamlining their cumbersome processes and cutting down delivery times.
Automation is profoundly affecting the way Logistics are handled.  It is disrupting the entire Logistics Supply Chain, not just the warehousing, picking, and sorting functions.  The impact of Automation on roads, rails, and ports is immense.  Ports are increasingly embracing Automation, but they haven't yet started getting the return on their investments.
In Logistics, ocean and air shipment has potential for Automation—which is certainly under way—but its effect on enhancing throughput is yet to be seen.  Logistics operations are being transformed at quite a pace with new models, concepts, and offerings evolving rapidly.  With the current pace of technology evolution, experts believe Logistics operations would be done autonomously in the not too-distant future.
New technologies enabling Automation of the Supply Chain are continuously being evolved, with many in the pilot testing phase.  However, Supply Chain businesses are largely hesitant and confused on investing in Automation.  This is mainly because it is a bit unpredictable as to which potentially feasible prototypes will emerge as widespread technologies and generate positive return on investment and which ones will become obsolete within a short timeframe.
With the proliferation of E-commerce and worsening shortage of labor due to the pandemic, Automation is being viewed by many Logistics companies to be the only option to prepare for the future.  However, they are quite conservative in accomplishing this owing to the risks associated with the transaction.
According to McKinsey's research, the adoption rate of Automation in the Logistics sector will remain sluggish at ~3 to 5% annually till 2025.  Such a slow rate of uptake for Automation by the Logistic sector globally is attributed to 5 main obstacles.
Coopetition between Logistics and E-commerce
Uncertainty of Emerging Technologies
Issues with Automation Manufacturers
Increasing Complexity with Fulfillment
Risk of Short-term Contracts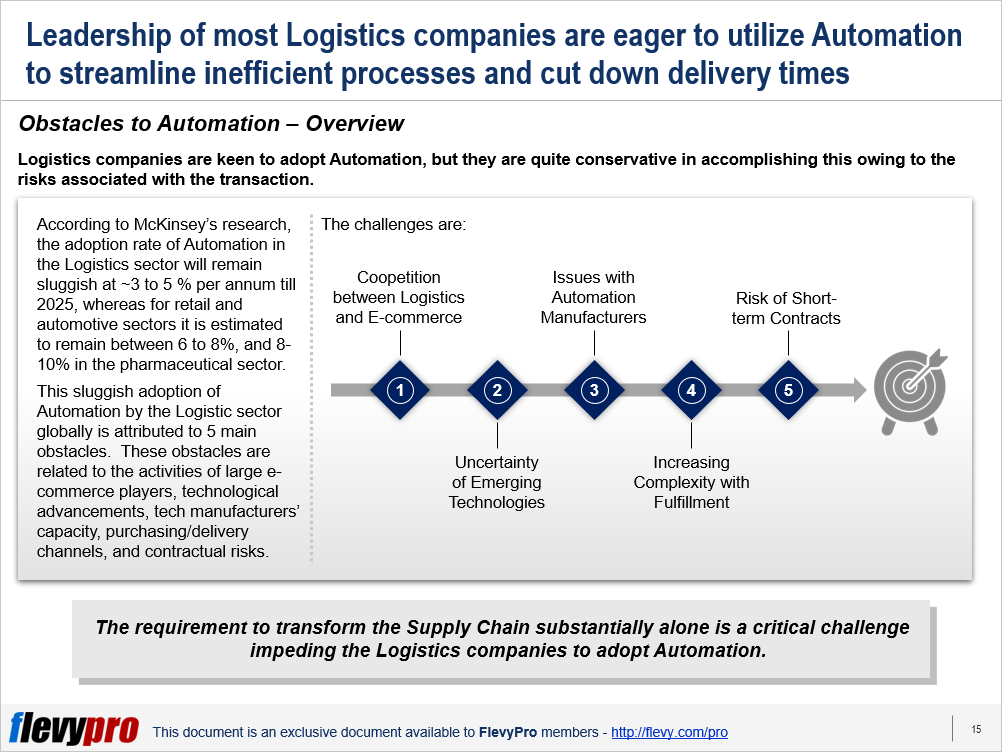 Let's talk about these obstacles in detail.
Coopetition between Logistics and E-commerce
The growth of the online retail sector is quite lucrative for Logistics companies.  However, the unusual dynamics between the online retailers and Logistics companies cause some critical challenges for the latter, including:
To gain a sizable share in this market, Logistics firms need to have 2 critical competencies: speed and variety. These 2 competencies often become a major shortcoming for the Logistics operators—e.g., managing delivery of thousands of products out of a multitude of SKUs daily (on same-day delivery term).
Excess buying power of online retailers allows them to switch from one logistic operator to the other if they do not fancy their offer. This keeps the rates, revenues, and returns on Automation investment low for logistics companies.
Large e-commerce retailers (e.g., Amazon) have their own Logistics units, allowing them to offer white-label products, which further shadows the offerings of Logistics companies.
Large online retailers can easily establish warehouses in far-off areas, in addition to, offering instant and same-day delivery services—which isn't straightforward for Logistics companies.
Large online retailers have seasonal demand shifts—highest during Valentine's Day or Christmas. To serve e-tailers during seasonal peaks, Logistics companies need to maintain excess capacity at all times, which isn't affordable for many Logistics firms.
Uncertainty of Emerging Technologies
The unpredictable impact and future of the Logistics Automation technology is another major obstacle in its acceptance and implementation.
Interested in learning more about the other obstacles and challenges in the adoption of Automation in the Logistics sector?  You can download an editable PowerPoint presentation on 5 Obstacles Hampering Logistics Automation here on the Flevy documents marketplace.
Do You Find Value in This Framework?
You can download in-depth presentations on this and hundreds of similar business frameworks from the FlevyPro Library. FlevyPro is trusted and utilized by 1000s of management consultants and corporate executives. Here's what some have to say:
"My FlevyPro subscription provides me with the most popular frameworks and decks in demand in today's market. They not only augment my existing consulting and coaching offerings and delivery, but also keep me abreast of the latest trends, inspire new products and service offerings for my practice, and educate me in a fraction of the time and money of other solutions. I strongly recommend FlevyPro to any consultant serious about success."

– Bill Branson, Founder at Strategic Business Architects
"As a niche strategic consulting firm, Flevy and FlevyPro frameworks and documents are an on-going reference to help us structure our findings and recommendations to our clients as well as improve their clarity, strength, and visual power. For us, it is an invaluable resource to increase our impact and value."

– David Coloma, Consulting Area Manager at Cynertia Consulting
"As a small business owner, the resource material available from FlevyPro has proven to be invaluable. The ability to search for material on demand based our project events and client requirements was great for me and proved very beneficial to my clients. Importantly, being able to easily edit and tailor the material for specific purposes helped us to make presentations, knowledge sharing, and toolkit development, which formed part of the overall program collateral. While FlevyPro contains resource material that any consultancy, project or delivery firm must have, it is an essential part of a small firm or independent consultant's toolbox."

– Michael Duff, Managing Director at Change Strategy (UK)