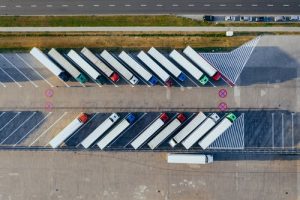 If your business relies on a fleet of vehicles in any capacity, naturally, you need to ensure your fleet is properly maintained. Effective fleet maintenance can help you save money, limit downtimes, better serve your customers, and guard against accidents.
That's why it's important to not only leverage an effective fleet management solution, but to also be familiar with certain fleet management best practices.
Some fleet management best practices are industry-specific. In general, though, the following apply to all businesses, regardless of their industry or sector. Keep them in mind to ensure your fleet is being maintained properly and thoroughly.
Consider Fleet Rotation
Maximizing the lifespan of your fleet's vehicles is key to saving as much money on fleet maintenance as possible. Thus, you should maintain data indicating which drivers drive the most miles in a given quarter or year, as well as which vehicles tend to have the most mileage. You should also track which drivers drive less often and which vehicles have the least mileage.
Rotate your fleet accordingly. When a vehicle and its driver reach a certain mileage, assign that vehicle to a driver who covers fewer miles in a year, while assigning their low mileage vehicle to the driver who covers more miles. This can keep your vehicles on the road much longer.
Maintain Timelines & Checklists
This may be a simple point, but it's so critical that it earns a spot on this list.
Fleet maintenance processes must be standardized. You need to develop a plan that involves proactively performing vehicle maintenance according to an established and strict schedule. Those performing said maintenance must also adhere to thorough guidelines and checklists to ensure all essential maintenance tasks are performed. Additionally, anyone involved in fleet maintenance must undergo rigorous and frequent training.
Assign Gas Cards to Vehicles
This is a valuable fleet maintenance tip that's nevertheless very easy to overlook! Don't make that mistake.
It's not uncommon for businesses and organizations with fleets of vehicles to provide their drivers with gas cards. Often, these cards are associated with specific drivers.
It's often better to tie gas cards to vehicles instead of drivers. This can help you more easily keep track of a vehicle's miles per gallon and carbon emissions. In turn, this helps you better track when a vehicle is due for maintenance, and whether you're complying with the EPA's National Air Quality Standards.
Additionally, only use one gas card vendor if possible. This simplifies accounting and invoicing processes.
Rely on Predictive Analytics
Again, it's very wise to use a fleet maintenance software that boasts certain key features, such as data tracking and report generation. The right software can benefit your business in various essential ways.
For example, through data analytics, you can predict when vehicles may need to be replaced with great accuracy. This helps you prepare to purchase vehicles ahead of time, while also limiting the odds that you'll purchase more replacement vehicles than you currently need. The result? Major savings and reduced downtime.
Leverage New Technology
Because it's important for both drivers and fleet maintenance specialists to be trained, you should strongly consider implementing new training methods that allow for more extensive education and practice than traditional methods provide.
For instance, while fleet maintenance training should primarily occur in-person, you can augment driver and fleet maintenance training with virtual reality training too. Many major companies, such as FedEx, have already done so.
Just remember that this isn't a full list. You also need to consider fleet maintenance best practices that may be specific to your industry. These general tips will merely help any business owner keep their fleet in proper condition.