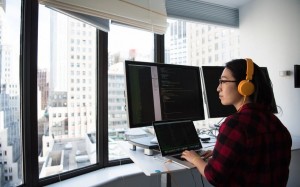 Facilities Management (FM) is going digital. Digital technologies are changing the way we imagine, plan, develop, use, and manage facilities.  Countless organizations are pursuing Digital Transformation initiatives related to FM.
This development can be daunting for Facility Managers. The role of Facility Managers have stretched beyond providing workplaces and making sure that equipment and systems are operating safely and cost effectively. Digital has redefined the workplace and change how real estate and facilities are used.
A future focused workplace integrates the use of digital technologies in a friction free economy. With the evolving business model, Facility Managers are now being pushed to thrive outside their comfort zone.
Facilities Management (FM) in the Digital Age
Digital has redefined the workplace and change how real estate and facilities are used. Digital technologies have enabled friction-free processes and business models. Companies are now given the information to make data driven decisions about how to manage and use space.
Forward looking FM leaders have grasped the enormity of the opportunity and the challenges. To date, the shift to Digital Facilities Management involves taking on a more strategic role.
The entire FM business processes must be automated.
Data on activities and systems performance must be analyzed to inform better decision making.
Strategies and capabilities must be developed to facilitate adoption of digital processes and support digital work spaces.
Surviving a Friction-Free Economy
In 1996, Bill Gates coined the term "friction-free capitalism" in his book, The Road Ahead. The idea was then futuristic. Today, it has permeated every corner of the economy.
Gates has observed the transformative power of ubiquitous connectivity to the internet and its expanding access to data. After 20 years, digitization has taken friction-free business to a new level. Entirely new business models and operating models have emerged.
A friction-free economy calls for an expanded Facilities Management mindset and system approach
Friction-free Economy – Impact on FM
In the era of the friction-free economy, the shift to online processes and data-driven decision-making will require Facilities Management function to significantly expand its role. Digitization can make FM teams far better at their traditional work and help FM contribute more broadly to the company's success.
Digital FM will allow FM teams to better anticipate and control maintenance costs and ensure facilities are functioning properly.
Digital FM will make FM teams better at aligning facilities with strategic priorities, controlling CRE costs and making sure facilities are accommodating all the workers and uses that the company requires.
 It can make FM a partner with top leadership in building flexible organizations that can compete in markets that move at the speed of digital information.
This journey will entail a dramatic rethinking of the FM function. A bit of stretching by FM leaders is required to make them move beyond their comfort zones.
As Facilities Management goes digital, it cuts across 4 dimensions.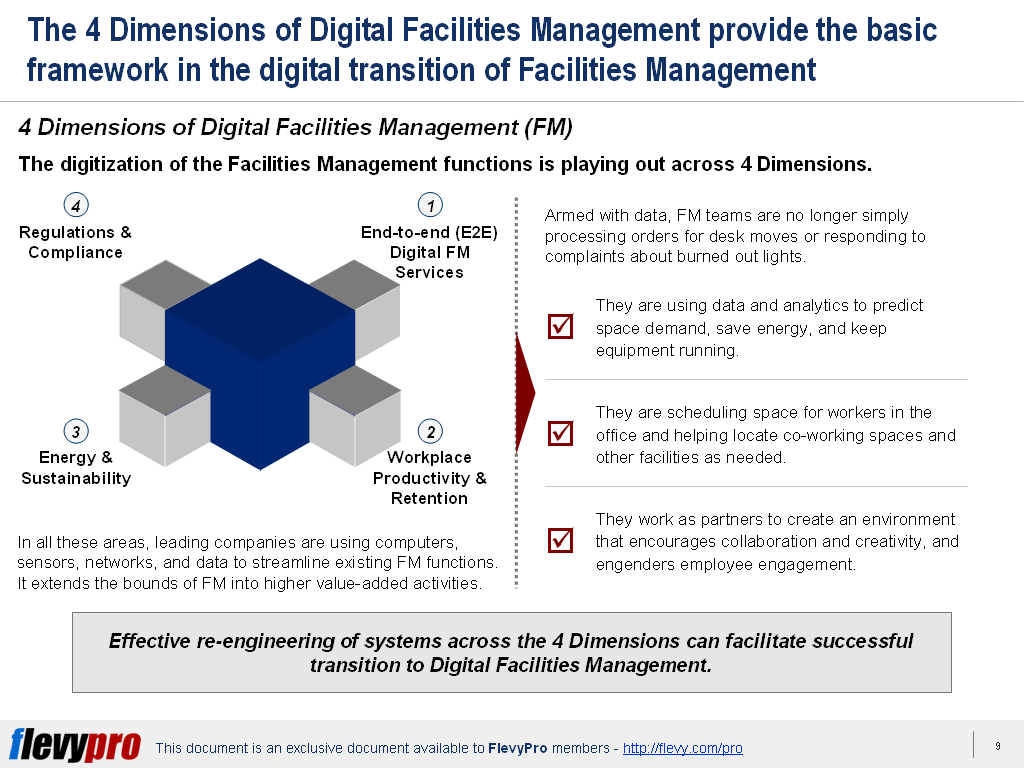 1st Dimension: E2E Digital FM Services
All FM functions are either moved into digital systems or managed more efficiently using digital technologies. When functions and processes are digitized, almost any activity can be managed and optimized through benchmarking based on performance data.
E2E automated process can be used to manage maintenance and repair, improve energy management, and provided employee focused services.
2nd Dimension: Workplace Productivity & Retention
Keeping workers connected, engaged, and productive is an important priority for companies that are waging a war for talent. Working with FM to provide the right workplace experience can give companies an important strategic advantage.
With digital FM facilities, managers can advise tenants on the right facility services for an organization's culture, by using benchmarking data from similar organizations.
3rd Dimension: Energy & Sustainability
Digital FM can also improve energy efficiency. Smart building technology has reduced energy use by using electronic controls to manage heating, cooling, and lighting.
With connected systems using machine to machine communications and sensors, Facilities Managers can take energy efficiency to another level.
4th Dimension: Regulations & Compliance
Digitization both simplifies and extend the compliance function of Facilities Management. The FM team is responsible for ensuring that what goes on in and around the building complies with government regulations and that all work is done in accordance with relevant fire, safety, and zoning codes.
It falls to management, CRE, and FM leaders to work together to make digital FM a reality. Yet, in the adoption of the digital FM, organizations are faced with technical and human factors that we need to hurdle.
The FM team needs to assess current capabilities and identify what is needed to build on those capabilities as FM goes digital. Transitioning to digital FM now calls for both executives and its organization to take strategic actions.
Interested in gaining more understanding on how to transition to Digital Facilities Management? You can learn more and download an editable PowerPoint about Digital Facilities Management here on the Flevy documents marketplace.
Do You Find Value in This Framework?
You can download in-depth presentations on this and hundreds of similar business frameworks from the FlevyPro Library. FlevyPro is trusted and utilized by 1000s of management consultants and corporate executives. Here's what some have to say:
"My FlevyPro subscription provides me with the most popular frameworks and decks in demand in today's market. They not only augment my existing consulting and coaching offerings and delivery, but also keep me abreast of the latest trends, inspire new products and service offerings for my practice, and educate me in a fraction of the time and money of other solutions. I strongly recommend FlevyPro to any consultant serious about success."

– Bill Branson, Founder at Strategic Business Architects
"As a niche strategic consulting firm, Flevy and FlevyPro frameworks and documents are an on-going reference to help us structure our findings and recommendations to our clients as well as improve their clarity, strength, and visual power. For us, it is an invaluable resource to increase our impact and value."

– David Coloma, Consulting Area Manager at Cynertia Consulting
"As a small business owner, the resource material available from FlevyPro has proven to be invaluable. The ability to search for material on demand based our project events and client requirements was great for me and proved very beneficial to my clients. Importantly, being able to easily edit and tailor the material for specific purposes helped us to make presentations, knowledge sharing, and toolkit development, which formed part of the overall program collateral. While FlevyPro contains resource material that any consultancy, project or delivery firm must have, it is an essential part of a small firm or independent consultant's toolbox."

– Michael Duff, Managing Director at Change Strategy (UK)
"FlevyPro has been a brilliant resource for me, as an independent growth consultant, to access a vast knowledge bank of presentations to support my work with clients. In terms of RoI, the value I received from the very first presentation I downloaded paid for my subscription many times over! The quality of the decks available allows me to punch way above my weight – it's like having the resources of a Big 4 consultancy at your fingertips at a microscopic fraction of the overhead."

– Roderick Cameron, Founding Partner at SGFE Ltd
"Several times a month, I browse FlevyPro for presentations relevant to the job challenge I have (I am a consultant). When the subject requires it, I explore further and buy from the Flevy Marketplace. On all occasions, I read them, analyze them. I take the most relevant and applicable ideas for my work; and, of course, all this translates to my and my clients' benefits."

– Omar Hernán Montes Parra, CEO at Quantum SFE