The Sustainability Performance of a firm can be viewed as a spectrum ranging from outstanding to inadequate. Firms rated as Sustainability Leaders are often proactive in addressing sustainability issues, exploring innovative solutions by mobilizing resources and actors interested in particular sustainability issues, and many times setting the sustainability agenda for their industry or geographic region.
Conversely, firms that are considered sustainability laggards often ignore stakeholder concerns about Sustainability and the need to change their behavior. Contrary to leading firms that usually direct their attention externally as much as internally, laggards are marked by a widespread lack of interest in Sustainability and tend to focus on their internal concerns and priorities
Corporate commitment to Sustainability-based Management is strengthening.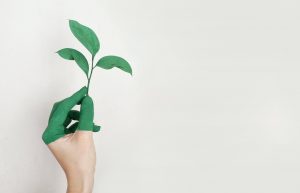 Even as organizations overall are strengthening their commitments to Sustainability, one cohort of organization is expanding its commitments far more aggressively than others. They have emerged as Sustainability Strategy Leaders, while others stand as Laggards.
A study conducted between MIT Sloan and BCG Consulting Group, addresses the reasons for the gap which separates Leaders from Laggards of Sustainability.  The study found strategic approach to Sustainability is the main differentiator between Sustainability Leaders and Laggards:
Sustainability Leaders — Leaders act on their belief that Sustainability is already at the core of their business and is a necessity to respond well to shifting customer preference.
Sustainability Laggards — Laggards view Sustainability in terms of risk management and efficiency gains.
The strategic approach also acts as a differentiator as to how Sustainability Leaders deal with other business parameters, such as:
Response to challenges and opportunities in Sustainability.
Approach to "terms" of competition in the context of Sustainability concerns.
Transformation of management practices in response to Sustainability requirements.
Making early moves even when all needed information around Sustainability is not in place is the first marked step of early adopters of Sustainability.
In a survey of global corporate Leaders conducted by BCG and the MIT Sloan Management Review, it was revealed that an economic downturn caused more emphasis to be placed on Sustainability in companies' corporate agendas.
As more companies take up Sustainability, the report reveals a striking difference between two groups of companies, based on how they incorporate Sustainability into their business operations.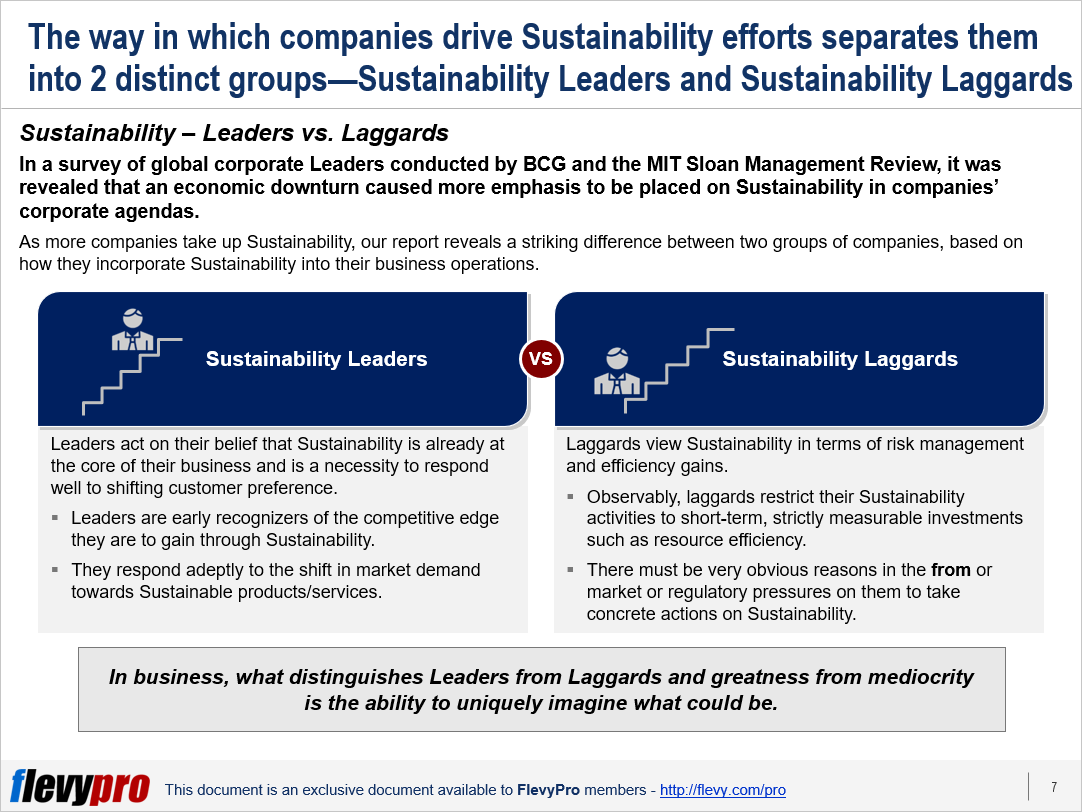 Brief Outline
Sustainability Leaders have high-leverage tactics and strategies that transform the way their organization competes on Sustainability.  They have incorporated  Sustainability into their Strategy Development and Strategic Planning process.  Likewise, they exhibit a broader perspective of Sustainability and its implications to business. They have identified a range of business drivers that support their Sustainability Investments.
Increased Margins
Increased Market Share
Greater potential for innovation in their business models, processes, and access to new markets
Competitive Advantage
There are 7 key practices consistently followed by Sustainability Leaders.
Move Early – Leaders take bold steps with an understanding that they need to make early moves even before they have all the answers in place.
Balance Long and Short-Term goals – Sustainability Leaders strike a balance between their overarching vision and being specific about areas where they can gain a Competitive Advantage.
Drive top-down and bottom-up – Leaders recognize that as much as it is a top-down exercise, Sustainability is also a bottom-up exercise.
De-silo Sustainability – Leaders do not drive Sustainability in a silo, instead they integrate it into the very fabric of their business processes.
Measure and monitor – Leaders establish metrics and baselines to measure their progress with Sustainability Initiatives.
Value intangible benefits – Leaders are distinguished by their readiness to ascribe the value of intangible benefits to competitiveness due to Sustainability measures.
Be transparent and authentic – Leaders are realistic with their Sustainability targets, and they openly communicate about their challenges and success around Sustainability.
Interested in gaining more understanding of Sustainability Leaders and their practices?  You can learn more and download an editable PowerPoint about Sustainability-Leaders vs. Laggards here on the Flevy documents marketplace.
Are you a Management Consultant?
You can download this and hundreds of other consulting frameworks and consulting training guides from the FlevyPro library.