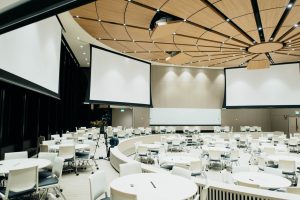 Event management software has become very popular, because it simplifies the complexities of big events. Event management tools are used by companies of all sizes and industries, for both internal and external events. They allow you to make the most of your budget, keep track of tasks, and communicate more effectively with your team members.
Read on to learn more about how event management tools can help boost your business!
What Is an Event Management Tool?
An event management tool is software that helps you plan and execute an event, from planning to execution. There are a lot of stages and overhead to manage in the event planning industry, from sourcing venues to finding caterers.
There are a lot of event management tools out there, and they all offer something unique and useful for their specific use case. Some focus on the planning, while others make it easier to meet with vendors and find sponsors. Some focus on handling the paperwork for the event, while others help you streamline the event itself, from ticketing to collecting payment for food.
With all software suites, each individual software will have their pros and cons. So it's worth trying a few and figuring out what you need for your specific needs. For example, a start-up focused on party and wedding planning might need something that focuses more on catering and guest tracking, whereas someone managing corporate events might want to try Planning Pod's event CRM.
How to Use Event Management Software for Business Growth?
Most companies don't have a dedicated event manager and rely on a team of employees to cover a wide range of responsibilities. The added task of managing a whole event can be a stressful and time-consuming distraction for the team, and can decrease your ability to execute properly.
At the same time, businesses are becoming more reliant on events for generating income and selling products. Many companies hire event managers specifically to facilitate these events, which means they have a narrow scope of responsibilities, leaving other tasks to be handled by other team members.
Event management software lets you easily assign tasks to the team. You can send them reminders, ensure that they have access to the information they need, and simplify the overall task of managing the event.
If you have more work than you can fit into your core team, for example, if you're working on multiple events at once, or there are simply too many tasks to be taken care of in-house, an event management tool will be the ideal solution.
All of the tools we've mentioned above will take some time to learn and master, but once you do, they can help you streamline your operations and reduce the time and money you spend on external vendor tasks.
3 Best Practices When Managing Events with an Event Management Software
Event management software comes with a slew of features to help you manage the tasks at hand. Here are a few best practices when managing events with an event management tool:
Leverage standard fields for key data: Whether you're relying on an event management tool or not, it's still a good idea to have standard fields. For example, if you want to send an email confirmation to a certain person, you can save that information as a standard field in your application, instead of writing a long email and scanning their name in. If you're not paying for a software suite, you can always implement some basic formatting by hand.
Ensure that all necessary fields are filled out: While you can save data in a standard field, it's a good idea to create a one-click confirmation process. In the event that you miss a person or some other required field, you'll want to automatically save that data so you don't have to look for it.
Run a full audit: If you're not using an event management tool, you might be using the software for tasks that are easy enough to do in Excel or Google Sheets. However, if you plan on hosting a large-scale event, it's best to have a more robust event management tool in place. An event management tool will make it easier to keep track of finances, book guests, and handle employee expenses, among other tasks.
Conclusion
Event management software has some great advantages for businesses. It gives you the tools to improve the experience for your guests and allows you to take the stress out of handling the event.
Remember, event management software doesn't have to be used for internal events. It can be a key tool for your events team, or even for a small-to-medium-sized business.