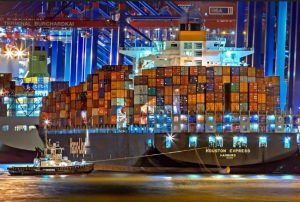 Worldwide, the Facilities Management (FM) outsourcing market is evolving. It is not just expanding but evolving. The industry is transforming from a predominantly single service local outsourcing model to an integrated services delivery model.
The changing demands in the market now require a new way of thinking about the delivery of FM. Facilities Management must learn to keep up with the revolutionary changes if it has to remain competitive.
Understanding the Evolution of Facilities Management and its Impact
The evolution of Facilities Management is a development journey of a dynamic Facilities Management model.
The 1980's was the Single-source Outsourcing Era. During this time, Facility Management (FM) transitioned from a soft FM outsourcing to hard FM outsourcing. By 1990, FM automation started integrating Contract Management and Property Management. This was the start of the Service Integration Era.
By 2000, FM expanded its integration to include Energy Management and Value driven Design. And, in 2010, Facilities Management (FM) took on a strategic initiative to increase delivery of value to clients.
Come 2020's, Facilities Management (FM) is expected to take on sustainability enhancements in the delivery of increasing value to clients.
Each evolution showed the progressive trajectory growth of Facilities Management (FM). At the same time, each phase reflects the increasing demand of customers for value and efficiency in service delivery.
However, for companies to better manage the changing dynamics of Facilities Management, companies must have a good understanding of the 5 Major Growth Drivers essential in Facilities Management.
The 5 Major Growth Drivers Essential in Facilities Management
The 5 Major Growth Drivers serve as a guidepost in the transition of FM suppliers from mere service providers to strategic partners.  These are the driving force that will continue to push FM to reshape to take advantage of evolving customer requirements.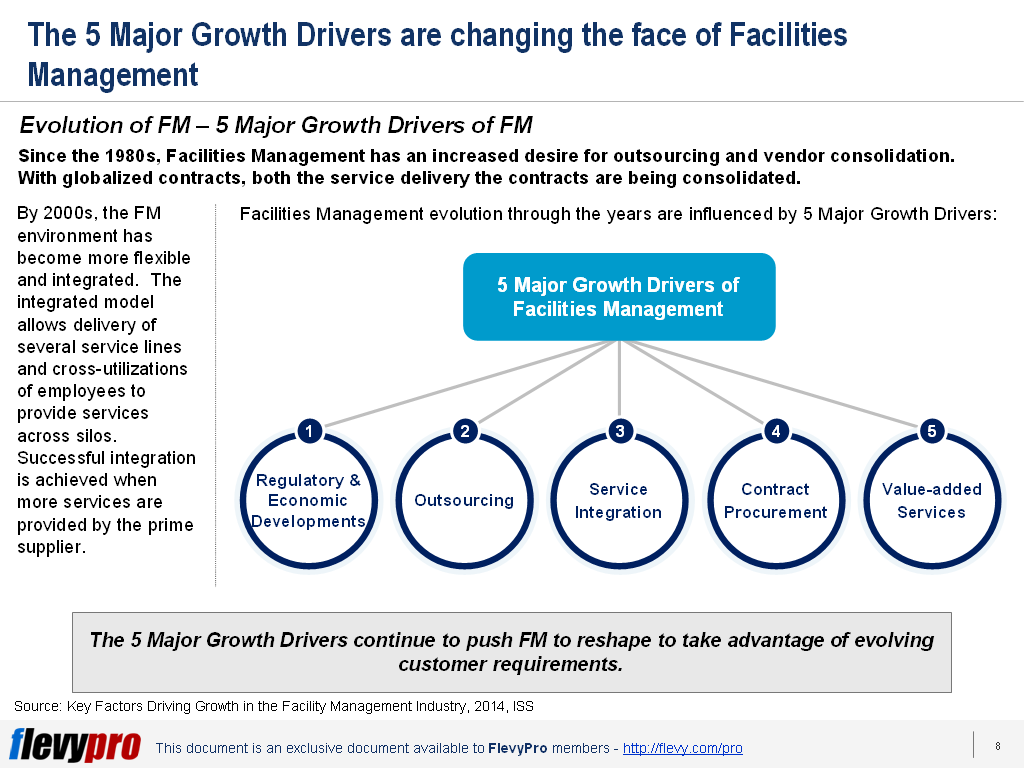 1. Regulatory & Economic Development
Economic pressure from regulatory requirements and increased competition have been pushing companies to look at how they conduct business. Strategic partners are now selected based on their ability to deliver and manage facility services while taking on associated risk.
In effect, organizations are looking for partners that will take on certain FM responsibilities. Likewise, clients are now looking for additional value-added services, improved cost performance, and mitigated risk in delivering cost certainty.
2. Outsourcing
In the 2000s, penetration of outsourced facility has increased considerably resulting in expected growth of Facilities Management by 4-5%.
Outsourcing has increased dramatically in the emerging Asia Pacific market. Yet, the size of the markets participating can offset the increased rate of penetration in the Pacific market. In fact, more than 50% of the market growth (revenue) within the Integrated Facilities Management (IFM) is linked to demand in North America and Europe.
This increased demand for outsourcing and service integration is driving growth in the global IFM market.
3. Service Integration
Service Integration necessitates specific contract standards and language that differentiates ot from a single service contract. Service Integration contracts are more performance based. It sets a standard and requires the IFM provider to maintain the standard without prescribing how.
With the growth of Service Integration, the revenue generated by the global IFM market is predicted to expand at a growing rate of 6-8%. North America is positioned to remain the largest IFM market. For now, more than 50% of the predicted growth is attributed to North America and Europe. But by late 2020s, it is predicted that China's outsourcing culture will start accepting modern IFM solutions.
4. Contract Procurement
Service providers will now be required to perform on a broader scope both geographically and across multiple lines of services. Greater value is now being derived through reduced contracts by centralized procurement.
In 2000, just a couple of international contracts exist industry wide. By 2010, the industry boasted in increase to 30 or more contracts with an average revenue of $100 – $500 million. By 2020, this is still expected to increase again and again.
5. Value-added Services
Customers are increasingly demanding that FM service providers have an intimate knowledge of their corporate mission and the competence to address the company's specific needs. The decision to outsource is moving beyond the traditional core vs non-core and cost reduction parameters.
Facilities Management is now expected to have the ability to comply with internal and external regulations. They must have the financial stability to assume the responsibility and cover the risk of non-compliance. Further, FM providers must have the ability to deliver and integrate a uniform set of facility services internationally.
Companies now expect Facilities Management providers to deliver solutions that help drive corporate initiatives.
Social: Have concern for their staff, their customers and their communities.
Environmental: Be a good corporate citizen that focuses on the impact of its environmental footprint.
Economical: Must ensure shareholder value currently and in the future.
Customers are now more demanding. They expect Facilities Management to continue to be more efficient. In fact, today's customers demand FM service providers to benchmark their quality of output against recognized best practices in the Facilities Management industry.
Interested in gaining more understanding on the 5 Major Growth Drivers of Facilities Management?  You can learn more and download an editable PowerPoint about 5 Major Growth Driver of Facilities Management here on the Flevy documents marketplace.
Do You Find Value in This Framework?
You can download in-depth presentations on this and hundreds of similar business frameworks from the FlevyPro Library. FlevyPro is trusted and utilized by 1000s of management consultants and corporate executives. Here's what some have to say:
"My FlevyPro subscription provides me with the most popular frameworks and decks in demand in today's market. They not only augment my existing consulting and coaching offerings and delivery, but also keep me abreast of the latest trends, inspire new products and service offerings for my practice, and educate me in a fraction of the time and money of other solutions. I strongly recommend FlevyPro to any consultant serious about success."

– Bill Branson, Founder at Strategic Business Architects
"As a niche strategic consulting firm, Flevy and FlevyPro frameworks and documents are an on-going reference to help us structure our findings and recommendations to our clients as well as improve their clarity, strength, and visual power. For us, it is an invaluable resource to increase our impact and value."

– David Coloma, Consulting Area Manager at Cynertia Consulting
"As a small business owner, the resource material available from FlevyPro has proven to be invaluable. The ability to search for material on demand based our project events and client requirements was great for me and proved very beneficial to my clients. Importantly, being able to easily edit and tailor the material for specific purposes helped us to make presentations, knowledge sharing, and toolkit development, which formed part of the overall program collateral. While FlevyPro contains resource material that any consultancy, project or delivery firm must have, it is an essential part of a small firm or independent consultant's toolbox."

– Michael Duff, Managing Director at Change Strategy (UK)
"FlevyPro has been a brilliant resource for me, as an independent growth consultant, to access a vast knowledge bank of presentations to support my work with clients. In terms of RoI, the value I received from the very first presentation I downloaded paid for my subscription many times over! The quality of the decks available allows me to punch way above my weight – it's like having the resources of a Big 4 consultancy at your fingertips at a microscopic fraction of the overhead."

– Roderick Cameron, Founding Partner at SGFE Ltd
"Several times a month, I browse FlevyPro for presentations relevant to the job challenge I have (I am a consultant). When the subject requires it, I explore further and buy from the Flevy Marketplace. On all occasions, I read them, analyze them. I take the most relevant and applicable ideas for my work; and, of course, all this translates to my and my clients' benefits."

– Omar Hernán Montes Parra, CEO at Quantum SFE