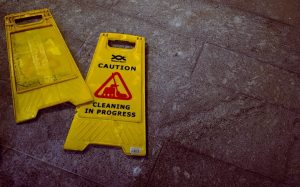 Some people view health and safety regulations as little more than a load of red tape. While some of them can be incredibly difficult and a little over-fussy to enforce, they are incredibly important when maintaining a happy and healthy place of business. Here are some of the reasons why you should enforce all health and safety regulations which apply to your business.
It Protects Your Employees and Your Customers
When it comes to basic health and safety, it is there to prevent any number of accidents happening which could injure your employees or customers. For example, there are guidelines in place about how much a person can lift on their own, plus a way to lift which won't injure your back. These are two incredibly important guidelines for protecting the health of your employees.
There are so many little things which need to be done in a business in the name of health and safety. Loose wires should be cleared away, spillages should be mopped up as soon as they occur, and clutter should be tidied away. Encourage your employees to tidy up for both their sakes and the wellbeing of your customers.
It Protects You Against Claims
Accidents happen, it is important to remember that. You can be as stringent as possible but there is still a chance that someone could injure themselves in a way you had not thought of. However, they could still try to make a claim for compensation. Claims such as these can be extremely damaging for a business, especially if they are fatal accident claims. Your reputation can be in tatters and you may find all of your business fading away.
However, if you can show that you are proactive when it comes to your health and safety, you might be able to protect yourself from too high a claim. You should be making sure that you are never in a position where such an accident could occur, but if it does you need to be able to prove that you are learning from the experience.
It Protects You from the Law
Health and safety legislation is ardently regulated and you may have to prove time and time again that you are compliant with the latest laws. If you are not willing to ensure that you are compliant, you may find yourself facing hefty fines or even have your business closed down.
At the end of the day, health and safety is one of the most important parts of your business and it really is fairly simple to enforce. If you are not willing to do so, you could risk losing everything which you have worked so hard towards. Do you really want to risk it just for the sake of a few cut corners? Read up on the latest protocols affecting your industry and prepare to make some changes. Whether it is buying new PPE gear or changing your stockroom around so it is safer for all who go in there, there is always something you can do.