Dynamics of every workshop is unique – a unique set of techniques is needed for workshop leaders to achieve expected results.
Facilitation is going to be a key component of work in the future as employers and society face bigger and more complex problems and ideas. However, facilitation is never an easy task. It requires a certain level of facilitation skills which can be enhanced by mastering the use of Workshop Facilitation Techniques.  Note that Workshop Facilitation requires different techniques and skills than normal (smaller) Meeting Facilitation.
Using a variety of techniques will help people engage fully in workshops and meetings. In organizations, workshops and meetings are normally undertaken to discuss and address problems and issues while, at the same time, intended to come up with the best ideas and solutions. This can only be achieved when we get to involve more people. But when people vary in things like how we take in information most easily, whether we prefer to speak in large groups or small ones, how much reflection time is needed to make up our minds, this calls for a range of different activities that will engage people to be active generators of ideas, information, and solutions.
The Dynamics of Workshop Facilitation Techniques
Workshop Facilitation Techniques are practical applications of the principles and concepts of group dynamics, behavioral psychology, and communication science essential to facilitate progress and success.
These are essential tools for workshop leaders to facilitate workshops such as Design Planning Sessions, Joint Requirements Planning Workshop or Strategic Planning Workshops. Workshop leaders must employ various techniques to accelerate the capture of planning, analysis, and design information, as well as ensure that participants work effectively together.
Failure to effectively harness the knowledge of participants and manage participant behavior can lead to the inability to accomplish a set of pre-defined objectives that can hamper organizational effectiveness.
Discovering the 12 Techniques in Workshop Facilitation
There are 12 Techniques in Workshop Facilitation. Learning to identify and use the proper technique will maximize workshop facilitators' capability to engage participation, harness and integrate ideas, and effectively promote in-depth thinking to achieve the workshop objectives and purpose.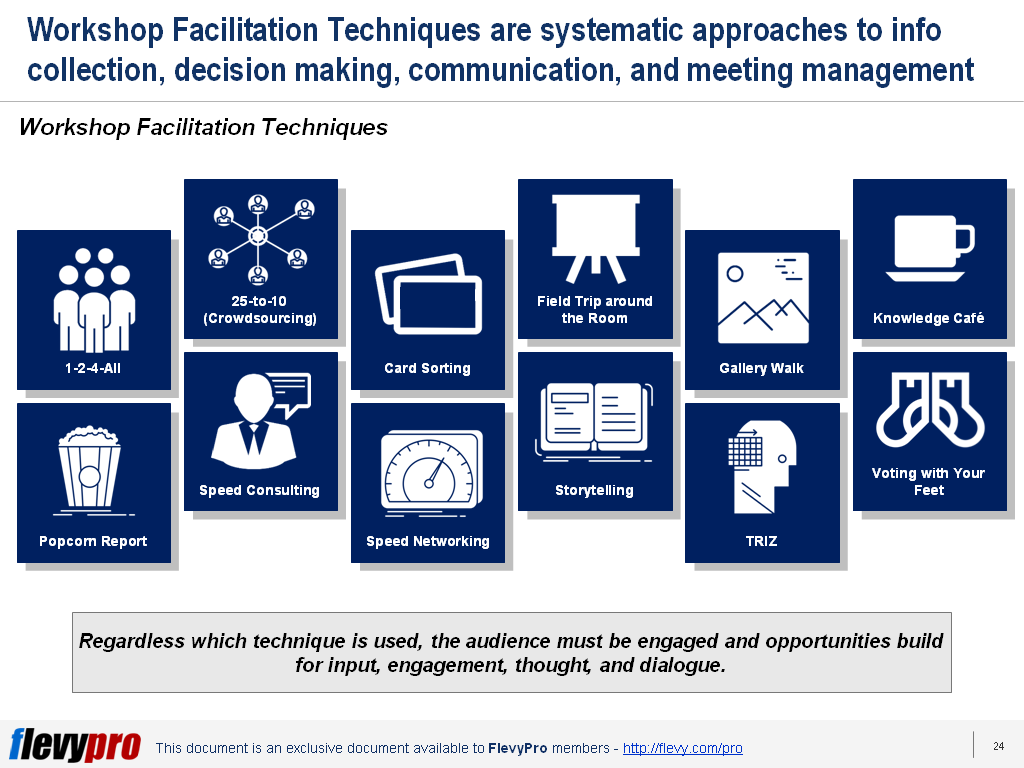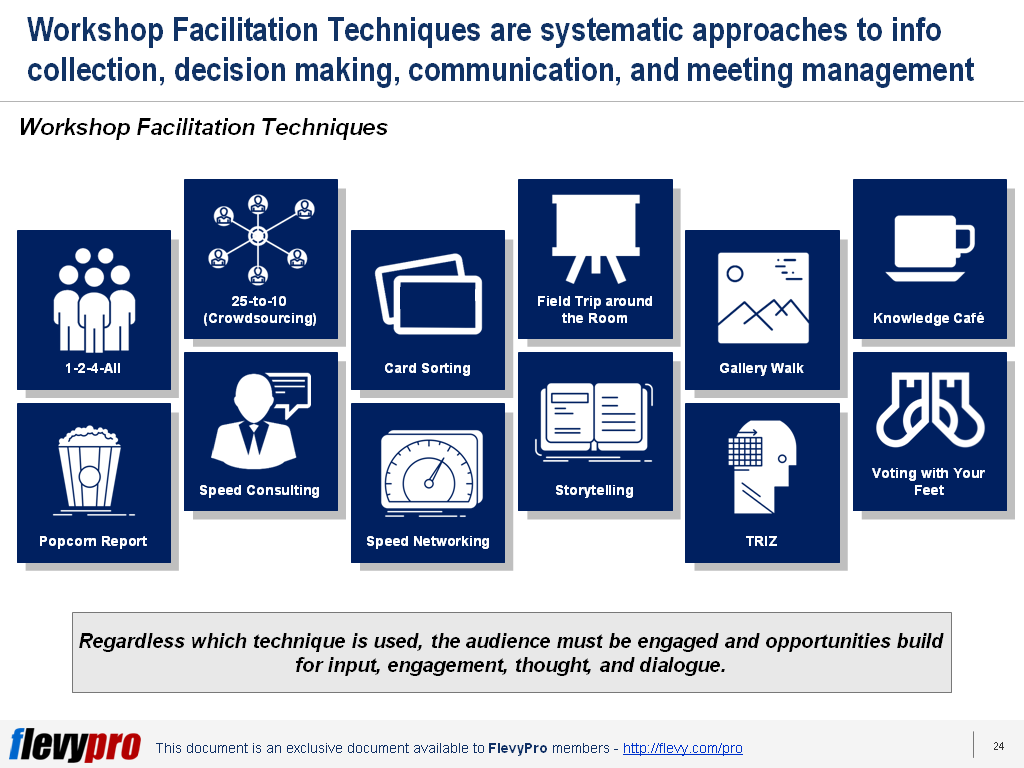 1-2-4-All.  A technique that facilitates rich conversation in small groups and integrates small groups ideas around an important issue or question.
25-to-10 (Crowdsourcing). A technique for quickly generating and rating ideas.
Card Sorting. A technique of gathering and organizing ideas that draw on the knowledge of the whole group.
Field Trip around the Room.  A technique used to organize how members of the group discuss several topics and integrate ideas on how to address them.
Gallery Walk.  A technique that gets the whole room on its feet to take a walking tour of posters for flip chart pages that reflect each group's answers to questions.
Knowledge Café. A method that fosters discussion about topics important to participants.
Popcorn Report. A technique for eliciting comments from those who feel moved to share.
Speed Consulting. A technique that draws on experiences of participants to advise another participant on how to address specific problems.
Speed Networking. A technique that gets all participants to reflect on a question and share their insights.
Storytelling. A technique of sharing the knowledge that incorporates the context, emotion, and tacit knowledge.
TRIZ. A technique that helps groups think creatively how to solve a problem or improve a complex process.
Voting with Your Feed. A technique for engaging participants to express their views for or against a position by moving from one side of the room or the other.
Each Workshop Facilitation Technique has its own specific objective and application. Their approaches may be different but there are also some techniques whose approach may be a bit similar. Regardless of what technique is used, what is important is that participants are completely engaged and the objectives set forth are met.
In the end, an effective Workshop Facilitator is one who makes use of various techniques to keep the discussion moving. When tension or discussion comes to a halt, the facilitator must be prepared and know which technique to use to continue the learning and continually make it happen.
Interested in gaining more understanding of Workshop Facilitation Techniques? You can learn more and download an editable PowerPoint about Workshop Facilitation Techniques (Volume 1)  and Workshop Facilitation Techniques (Volume 2) here on the Flevy documents marketplace.
Are you a management consultant?
You can download this and hundreds of other consulting frameworks and consulting training guides from the FlevyPro library.