Strategic Partnerships with Universities
Featured Best Practice on Education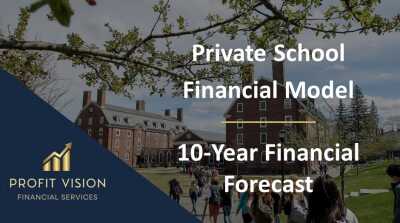 Excel workbook
Financial model presenting a business scenario of a Private School, from the development, acquisition or lease of the building, to operating analysis, projection of cash flows and a potential future sale. The model includes calculations and assumptions of Development, Acquisition or Lease Costs
[read more]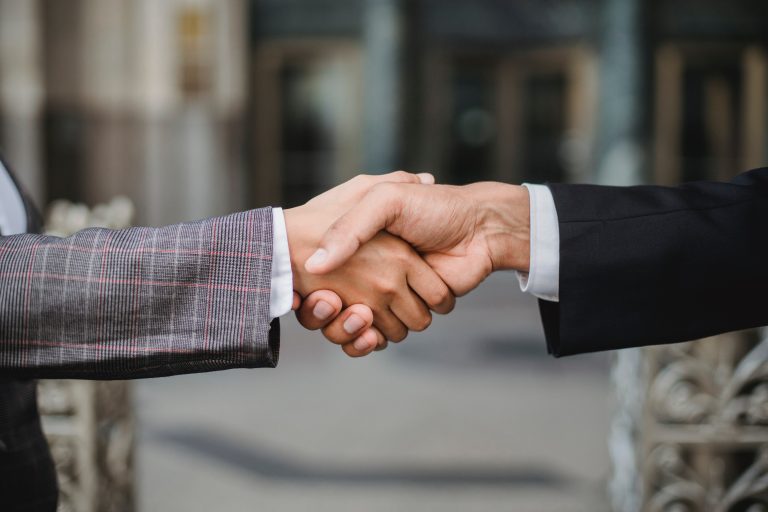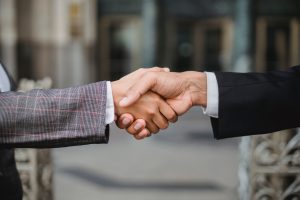 University partnerships not only serve as sources for people and ideas but are also a vital means for corporations to uncover ways of engagement with the larger Innovation ecosystem and driver of Innovation economy.
These ecosystems do not merely comprise of universities and companies rather they have a whole Innovation community that includes government entities, venture investors, and entrepreneurs with universities as indispensable stakeholders.
Although industry and universities have disparate missions, work environments, and organizational structures, more and more areas of mutual interest are being explored and discovered by them, and as a consequence more supporting infrastructure is coming into existence.
Fruitful partnering with universities comprises of having the appropriate people, processes, and organizational backing to guarantee success and to detect and manage sources of conflict.
Industry and universities now search for multidimensional partnerships that are shifting from:
Singular to the institutional level.
Informal individual associations to proper partnerships.
Knowledge-gaining occurrences to development of fresh intellectual property and ventures.
Past practice for industry-university partnerships has generally been ad hoc.  Modus operandi being someone from the industry requires a solution to a problem being faced, reaches out on their own to a contact in a university, and gets the job done.
Now there is a shift from incremental problem resolution to strategic work on major challenges.  Formation of strategic programs has led corporations to institutionalize dedicated units for university relations.  They are frequently positioned in the corporate R&D organization with reporting lines to senior management.
A 4-year research project on forming, managing, and augmenting the inherently complex partnerships between university and industry has led to the development of following 6 questions that should be asked when choosing partners:
What are the business objectives that necessitate the university partnerships?
What are the main focus areas in the university partnerships, and what selection process safeguards their alignment with the business objectives?
Which yardstick has been applied to choose the principal university partners, who are they?
What partnership arrangements pair with the set focus areas and business objectives?
What human resource, process, and organizational structures aid the university partnerships?
What key performance indicators are extremely effective for assessing the university partnerships?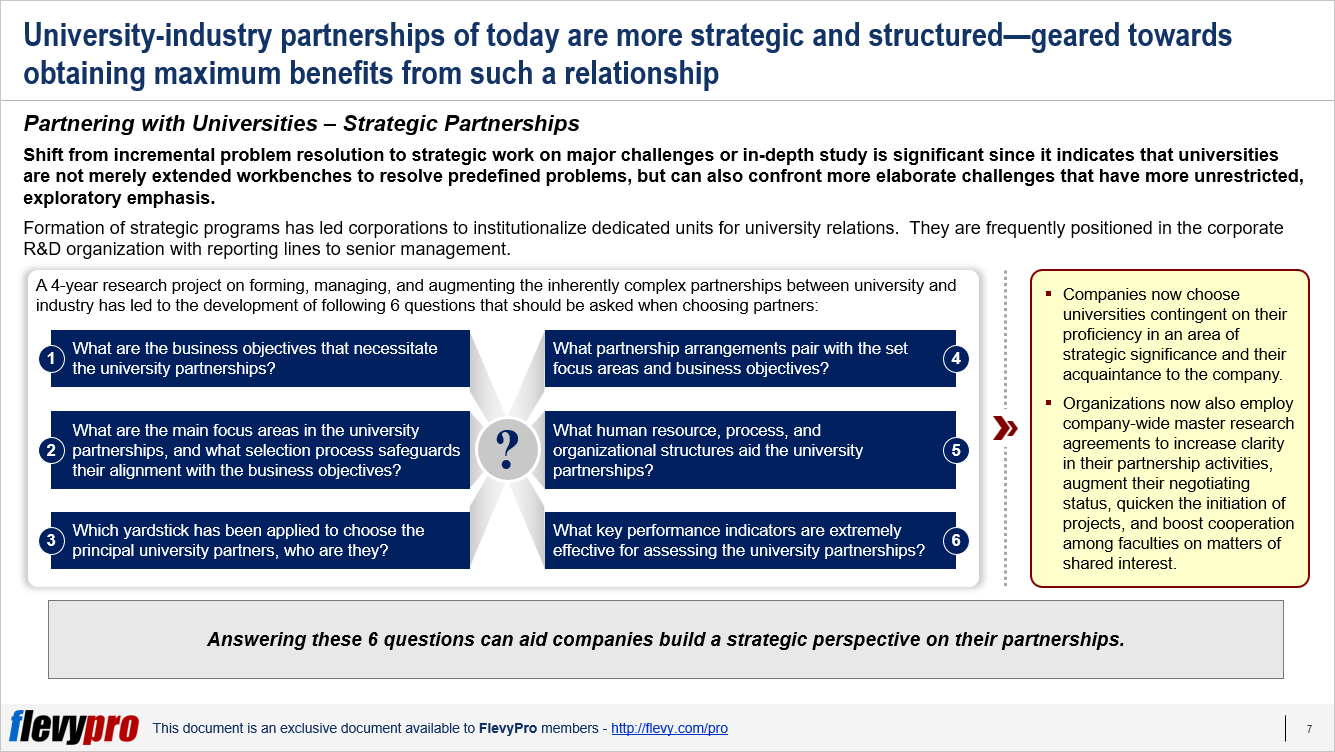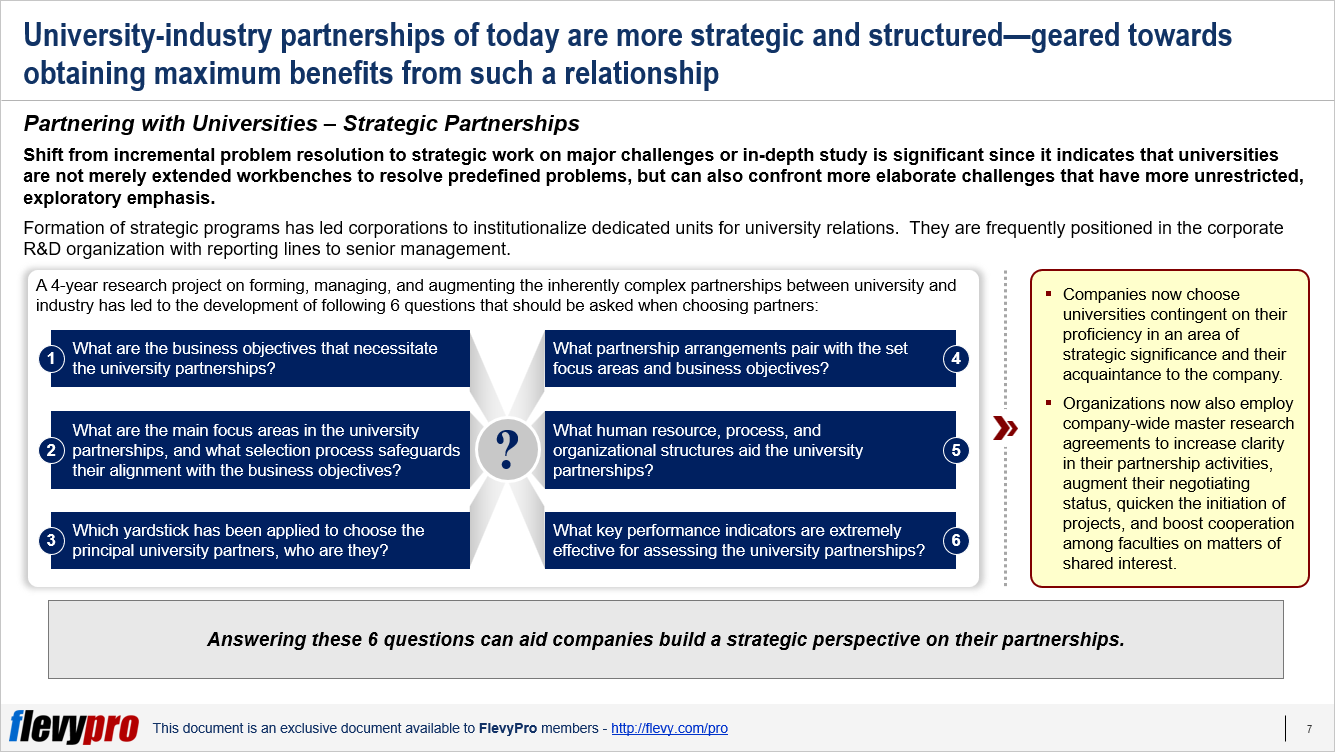 Let us delve a little into details of some of the questions.
What are the business objectives that necessitate the university partnerships?
Articulating the goals that drive the company-university relationship is key to making that partnership effective.
Corporations have many motives for desiring to participate in university partnerships, and they frequently have trouble expressing their goals in clear business terms.
Tackling this 1st question, which organizations seldom do, generates a chance for a company to paint an organized picture of its business goals and the manner in which they link to its university interactions. 
What are the main focus areas in the university partnerships, and what selection process safeguards their alignment with the business objectives?
Innovation priorities outlined in the business objectives should be the basis of selecting key focus areas for the university partnership.
In order to make sure that university partnerships line up appropriately with the company's business objectives, the selection process for such partnerships should be as thorough as an equivalent internal process would be. 
Which yardstick has been applied to choose the principal university partners, who are they?
There has to be stringent and transparent criteria in companies for partnering with universities.  It should be such that it can also be shared and understood by universities.
Interested in learning more about the 6 Questions, the 6 Benefits, and the 8 ways of partnering with universities?  You can download an editable PowerPoint on Strategic Partnership with Universities here on the Flevy documents marketplace.
Do You Find Value in This Framework?
You can download in-depth presentations on this and hundreds of similar business frameworks from the FlevyPro Library.  FlevyPro is trusted and utilized by 1000s of management consultants and corporate executives.  Here's what some have to say:
"My FlevyPro subscription provides me with the most popular frameworks and decks in demand in today's market.  They not only augment my existing consulting and coaching offerings and delivery, but also keep me abreast of the latest trends, inspire new products and service offerings for my practice, and educate me in a fraction of the time and money of other solutions.  I strongly recommend FlevyPro to any consultant serious about success."

– Bill Branson, Founder at Strategic Business Architects
"As a niche strategic consulting firm, Flevy and FlevyPro frameworks and documents are an on-going reference to help us structure our findings and recommendations to our clients as well as improve their clarity, strength, and visual power.  For us, it is an invaluable resource to increase our impact and value."

– David Coloma, Consulting Area Manager at Cynertia Consulting
"FlevyPro has been a brilliant resource for me, as an independent growth consultant, to access a vast knowledge bank of presentations to support my work with clients.  In terms of RoI, the value I received from the very first presentation I downloaded paid for my subscription many times over!  The quality of the decks available allows me to punch way above my weight – it's like having the resources of a Big 4 consultancy at your fingertips at a microscopic fraction of the overhead."

– Roderick Cameron, Founding Partner at SGFE Ltd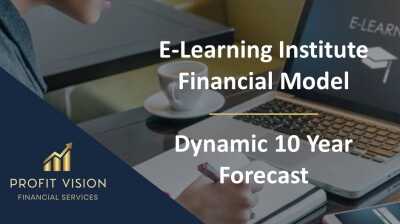 Excel workbook
Online learning is booming and has become popular among working professionals and students. The entire eLearning landscape around the globe is changing rapidly and new trends continue to emerge. As people increasingly turn to the internet to solve a variety of problems, e-learning has emerged as a
[read more]
Readers of This Article Are Interested in These Resources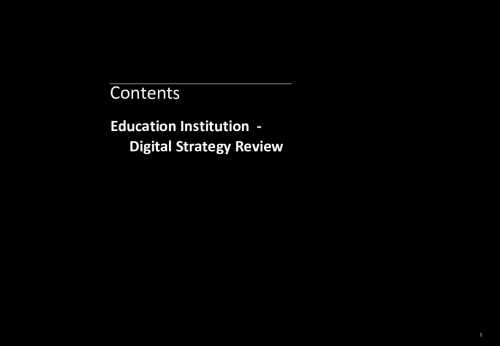 76-slide PowerPoint presentation
This deck is a generic version of a digital transformation for a world-leading university. It is a generic template that other higher education institutions can use in crafting their strategies. This deck outlines the need o have digital business leadership in research, learning, and teaching
[read more]
33-slide PowerPoint presentation

21-slide PowerPoint presentation
About Mark Bridges
Mark Bridges is a Senior Director of Strategy at Flevy. Flevy is your go-to resource for best practices in business management, covering management topics from
Strategic Planning
to
Operational Excellence
to
Digital Transformation
(
view full list here
). Learn how the Fortune 100 and global consulting firms do it. Improve the growth and efficiency of your organization by leveraging Flevy's library of best practice methodologies and templates. Prior to Flevy, Mark worked as an Associate at McKinsey & Co. and holds an MBA from the Booth School of Business at the University of Chicago. You can
connect with Mark on LinkedIn here.